Opinion
Toronto FC vs. Charlotte FC: 3 takeaways
In a contest that produced little in the way of attacking quality, it was a pair of brilliant moments from TFC's Italian DPs that proved to be the difference.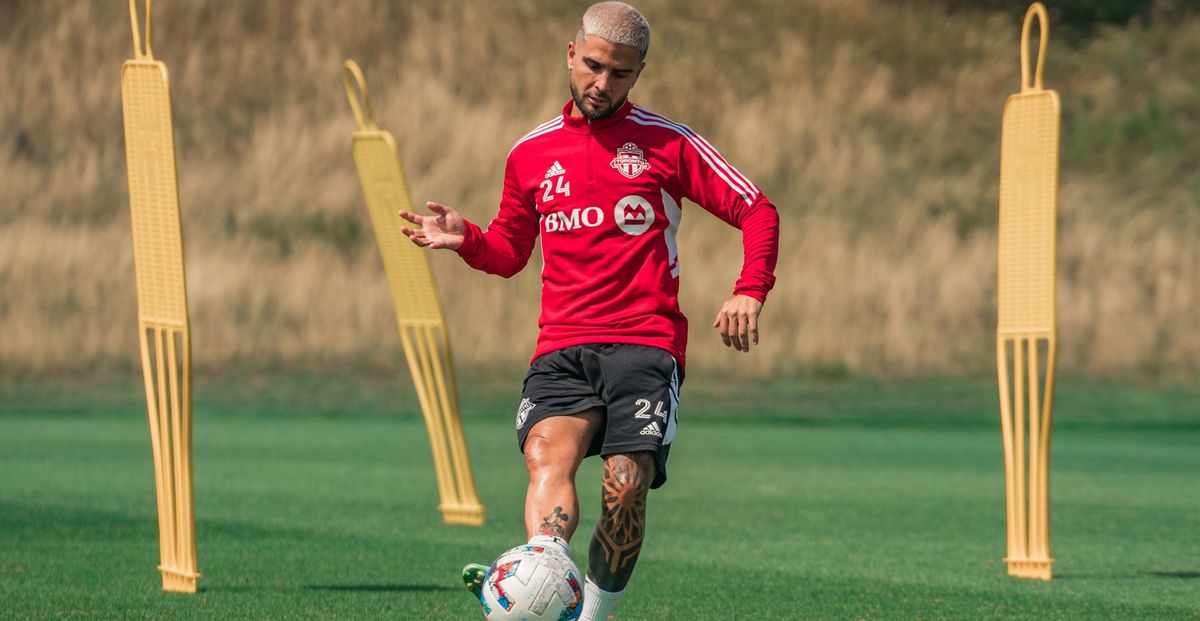 There appears to be plenty of fight left in Toronto FC.
After taking just one point from their last two matches, TFC rebounded with a hugely important 2-0 win over Charlotte FC on Saturday to get back on track and give their playoff aspirations a major shot in the arm.
It was an impressive road performance from a Toronto side in desperate need of a victory to stay in the thick of the playoff race, and that was also without top scorer Jonathan Osorio (illness) and and Mark-Anthony Kaye (still ruled out due to injury).
"When you're missing important players and everybody is called on, you really see how the group rallies in moments like that. So, that becomes what you need as you try to put a real run together down the stretch," coach Bob Bradley said in the post-match press conference.
Here are my three major takeaways from Saturday's game.
TFC Republic is on a free trial this week, so please enjoy this story and many more that will come out from behind the paywall until Sunday, Aug. 28.
You can subscribe to TFC Republic by
CLICKING HERE
, or by clicking on the subscribe button on the home page. A monthly subscription costs just $8, while a yearly subscription is $50 (a savings of 48%).
Insigne, Bernardeschi come up big
In a contest that produced little in the way of quality in the final third, it was a pair of brilliant moments in which Federico Bernardeschi and Lorenzo Insigne linked up that proved to be the difference.
In the 49th minute, Toronto earned its first corner kick of the game after nearly conceding just moments earlier. Bernardeschi whipped in his corner kick to the back post where an unmarked Insigne struck a volley into the ground that bounced up and snuck in just underneath the crossbar. It was Toronto's first shot on target of the match.
"When Fede can hit that kind of ball and you've got hard runners and that causes them to try to deal with the runners, then the possibility that you've got somebody waiting at the back, especially Lorenzo in those moments because if it comes through, his ability to finish in different ways," coach Bob Bradley said.
TFC doubled their advantage in the 66th minute, once again courtesy of the Italians. Insigne floated a cross-field ball to Bernardeschi who controlled it with his chest, and then waltzed into the box and chipped a shot just inside the far post while being surrounded by a pair of Charlotte defenders.
"I still think they are getting sharper and fitter by the day. They are always capable of making big plays. That's clear. We've seen that from both of them throughout their careers. But as they get sharper, as they can contribute more in other ways, that makes our team better. I'm not surprised and those two continue to push. I think they both know that there's more there for them," Bradley said.
Saturday was another example of the incredible influence that TFC's Italian contingent has had in a short period of time. Bernardeschi (five goals, three assists), Insigne (four goals, two assists) and Domenico Criscito (one goal) have been involved in 13 of Toronto's last 15 goals in league play, including the last seven in a row.
Goalkeeper Alex Bono smiled when asked in the post-match press conference about the stellar performances of TFC's two Italian DPs on the night.
"Nothing surprises anymore with those guys. I've seen enough in training now to know that anything is possible when they get out on that field, and it's a delight to see the things they keep pulling out," Bono said.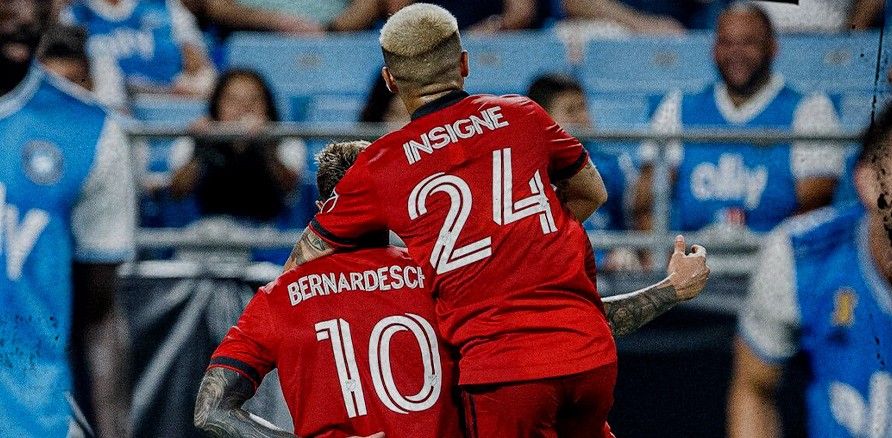 Mavinga continues to shine for the Reds
Charlotte registered 19 shots on Saturday, but only four on target, as the hosts were unable to penetrate Toronto's back line for the most of the night.
Overall, it was a solid team defensive performance that allowed the Reds to earn only their third clean sheet of the MLS campaign. But special credit must be given to veteran centre back Chris Mavinga, who had a strong night in marshalling a back line that gave very little away and kept Charlotte's dangerous attackers at arm's length.
Mavinga was a tower of strength in the heart of Toronto's defence, winning all nine of his duels and both of his aerial challenges, while also recording a game-high six tackles, and registering three clearances and one interception.
"Defensively in the back, Chris made a lot of important plays," noted Bob Bradley.
Mavinga has struggled with confidence issues and injuries during the last season and a half. But as of late, he's been one of TFC's most consistent defensive performers and has displayed the type of outstanding form he first showed when he arrived in Toronto in 2017.
"I'm happy for Chris. When he's on his game, you know, I really think he's one of the top defenders in the league. He's shown that over the years," Alex Bono said.
---
---
Bono rebounds to earn his 35th clean sheet
Saturdays' victory was especially sweet for Toronto goalkeeper Alex Bono, who has come in for a flood of criticism after coughing up soft goals in each of the Reds' previous two outings. His gaffe in last week's 2-1 loss away to Inter Miami was especially calamitous, and forced TFC to chase the game.
But in Charlotte, Bono stood tall and had good command of his box right from the opening kickoff. He looked sharp in the 17th minute when he tipped Kerwin Vargas' audacious and powerful back-heel attempt on goal from 16 yards out over the crossbar to deny the hosts what would've been the opening goal.
"Once you decide you're not going to go [for a cross into the box], it's important that you're back in a good position, and you find yourself in a set position and you just kind of react to whatever happens in front of you. That's what I did there. It came off his heel. I had a clear view of him making the touch and I saw the ball roll away," said Bono, who kept his 35th career clean sheet in all competitions for Toronto.
Bono came up with some more big saves in the second half, including one in the 65th minute when he made a diving stop on Andre Shinyashiki from inside the box after a Charlotte counter attack. The save proved incredibly timely, as Toronto marched up the field and took a 2-0 lead a minute later with Federico Bernardeschi's fifth MLS goal of the campaign.
"I was a little disappointed with the weight that I wasn't carrying over the last couple of games so it felt good to get back in there and feel confident and the guys around me played awesome," Bono said after the game. "We defended as a unit and I felt really good."
It was an important bounce-back effort by Bono in a crucial game for the Reds.
"Alex is experienced, and has an ability to put things behind [him], keep going. He knows that we're counting on him, and I'm happy for him tonight," Bob Bradley said.
(Top photo courtesy of torontofc.ca)
---
TFC Republic is a paid-subscription website. All of the content at TFC Republic is behind a paywall, and you need to be a subscriber to access it. It costs only $8 for a one-month subscription, or $50 for a full year (prices include 13% GST/HST). What a great deal, eh?  Don't miss out, and order your TFC Republic subscription today!