Newsletter
TFC Republic Weekly: May 1-7 lookahead
Toronto FC will try to win back-to-back games for the first time since last August when it hosts the New England Revolution this weekend.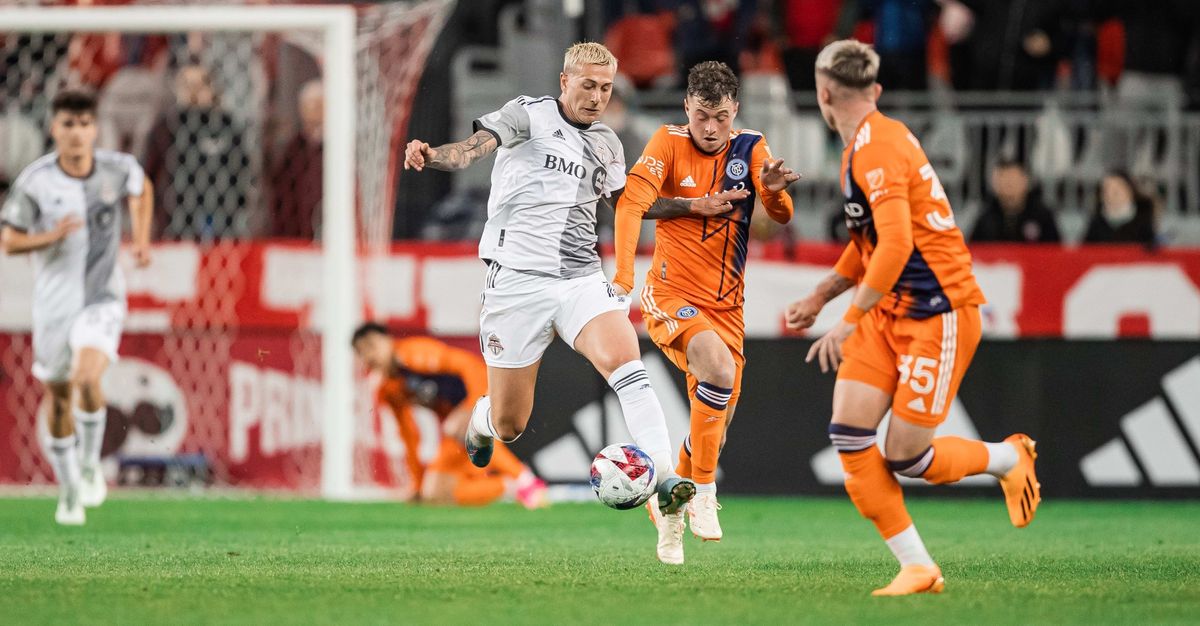 Welcome to the latest edition of TFC Republic Weekly, a free email newsletter that will land in the inbox of both paid subscribers and free members of TFC Republic every Monday.
This newsletter will look at what's in store over the next seven days for Toronto FC and set up its schedule of games for the week.
You'll also get a glimpse of what to expect at TFC Republic in the coming days.
So, without further ado...
Sapong helps to guide Toronto FC to its 2nd win
CJ Sapong made an instant impact for TFC in his team debut, offering the Reds hope as they move forward this season.
Last week's trade involving Toronto FC and Nashville SC was declared a robbery job by the Tennessee club in some quarters, with the general feeling being that the Reds gave up far too much to acquire Sapong.
But Sapong, 34, showed he still has plenty of life in his aging legs on Saturday night. The veteran forward scored the lone goal in a man-of-the-match display to help lift TFC to a much-needed 1-0 victory over New York City FC at BMO Field before an announced crowd of 21,847.
Beyond providing Toronto with an offensive spark, Sapong also selflessly ran himself ragged on the night, and did a superb job of holding up the ball in order to bring his teammates into the attack, and act as the team's first line of defence. Overall, it was an outstanding showing from Sapong, who finished the game with a team-high four shots (two on target).
"He's unselfish with his running in the box," coach Bob Bradley said. "Tonight, he got the goal but when you have a striker who runs hard in the box, it often times does a lot to create chances for others. He brings a lot of good qualities."
Toronto (2-2-6) snapped a five-game winless run and earned its first win since March 18, giving Bradley something to build upon ahead of an incredibly busy May schedule. It was also a nice rebound game from the Reds after the previous week's disastrous 4-2 loss away to the Philadelphia Union. Saturday's clean sheet was Toronto's fourth of 2023, one more than it had all last season.
"We didn't give much away; we were solid. I think our ideas in terms of how to defend, when to step up, when to be more compact, I thought those things were good. And then we got a bunch of good performances tonight. A bunch of guys played well," Bradley said.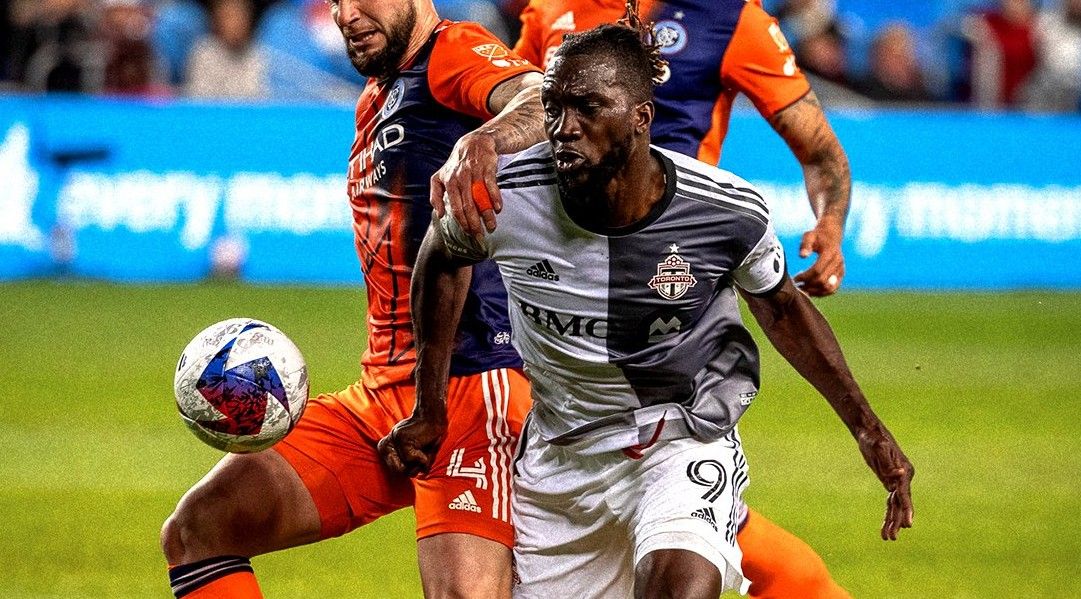 An incredibly busy May schedule for the Reds
May is going to be wildly busy for Toronto, as it has seven games across two competitions during the month – eight if it defeats CF Montreal at home next week to advance to the semifinals of the Canadian Championship.
That's a lot of soccer in a short period of time for a team that has played just 10 games since the regular season kicked off on Feb. 25. Potentially, the Reds could average one match every 3.86 days during May.
Of the seven games currently on the schedule for May, five are at home, so the Reds do have that going for them. Still, this month's glut of matches is going to test Toronto's depth and Bob Bradley's ability to rotate his squad, which is especially important with all of the injuries the team has dealt with in recent weeks.
This upcoming stretch also gives those players on the fringe of the starting 11 to prove they are deserving of more consideration going forward.
"It's always exciting to be in different competitions. So, first and foremost, you say yes. The season starts and typically you play once a week but then at a certain point there are midweek games. So, your ability to deal with all of that, [it's] challenging. It usually comes down to the depth and your roster. It provides opportunities," Bob Bradley said.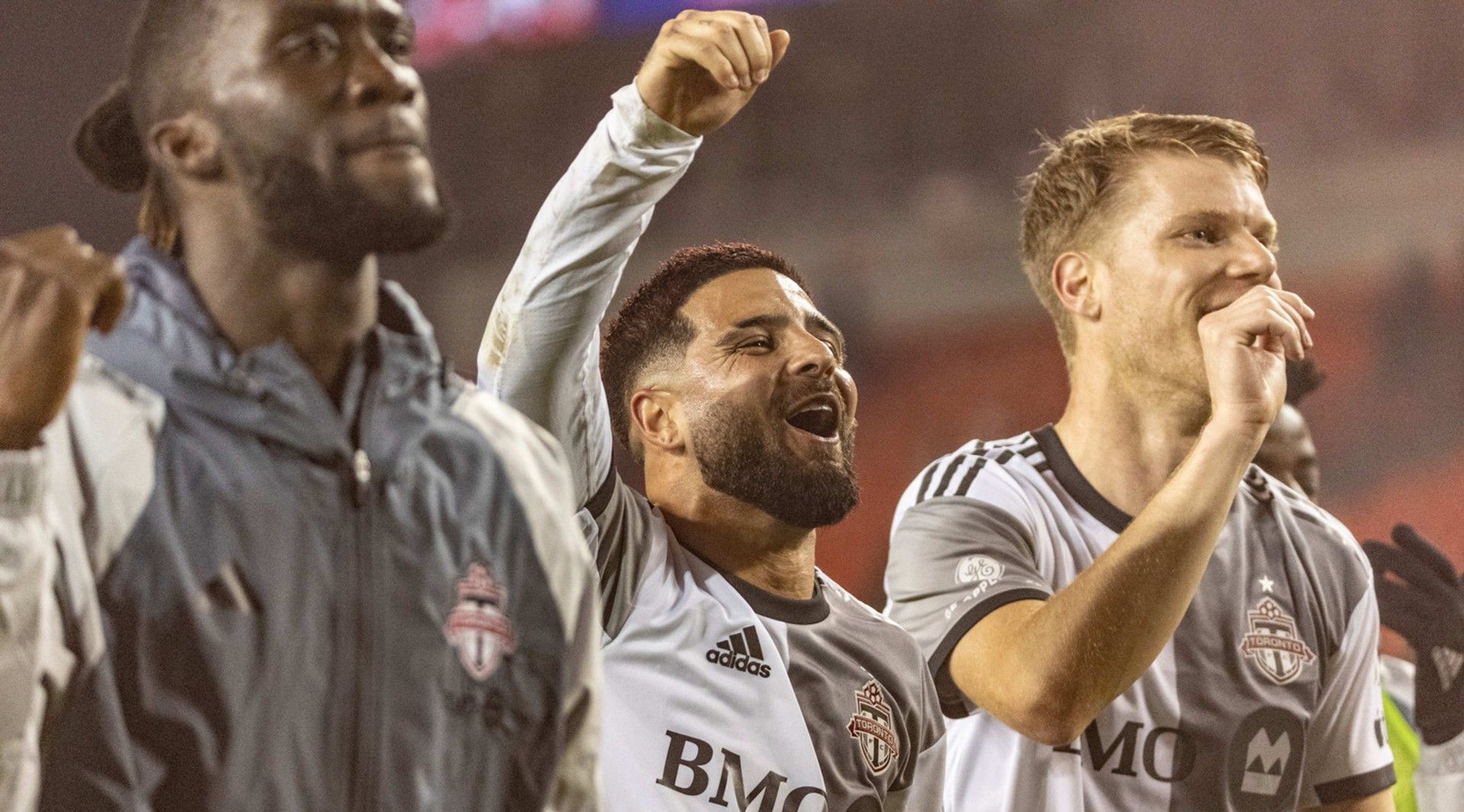 TFC vs. New England on Saturday
Toronto FC welcomes the New England Revolution to BMO Field on Saturday (7:30 p.m. ET/Apple TV) in the first of two games this season between the Eastern Conference rivals.
New England (6-1-3) sits atop the Supporters' Shield standings and is unbeaten in seven games (four wins), including a 1-1 draw against FC Cincinnati at home on Saturday. The Revolution's lone loss in the campaign came in a 4-0 setback to LAFC on March 12.
It was a pretty wild game between New England and Cincinnati at Gillette Stadium, featuring 26 fouls, 23 shots, and two controversial penalty kick decisions.
"Hard-fought game, very physical game," Revs coach Bruce Arena said. "I think the first 10 minutes of the game, they dominated us physically. We didn't adjust too well to it; it took us a little time. I think it took the referee a little time as well to sort that stuff up."
Italian forward Giacomo Vrioni leads the Revolution in scoring with three goals this year, while Spanish midfielder Carles Gil is the team's assist leader (four). Serbian goalkeeper Djordje Petrovic has started all 10 games for New England and has four clean sheets. Former TFC forward Jozy Altidore has made four substitute appearances for New England, totalling 77 minutes. His last appearance came on April 15.
Toronto and New England last met on Aug. 17, 2022, when they played to a 2-2 draw at BMO Field. Federico Bernardeschi and Domenico Criscito scored for TFC, who came from two goals down to salvage a point.
Coach Bob Bradley took a blunt view of the Reds' performance on the night, feeling his side struggled to create openings against an opponent that defended in a low block after taking a surprise 2-1 lead early in the second half.
"Overall, I think we're closer to becoming a good team. But a good team on a night like tonight scores more than two goals… and we don't give up two goals," Bradley told reporters after the game.
New England leads the all-time MLS regular season series against Toronto with 14 wins and 13 draws in 37 matches.
These teams will meet again on June 24 at Gillette Stadium.
---
---
Stories to look out for at TFC Republic
It's as though Richie Laryea never left Toronto FC. The Canadian international was one of the league's best fullbacks when he signed with Nottingham Forest, and he's picked up where he left off during his second spell with TFC. I recently spoke to Laryea one-on-one about the evolution of his game, and the possibility of him returning to England. Look for my feature story in the coming days.
Other stories that will be published later this week include:
Peter Galindo returns with his analytics and tactical column that looks at TFC's recent acquisition of CJ Sapong from Nashville SC.
In-depth pre- and post-game coverage of TFC's home game against the New England Revolution.
My regular TFC random thoughts column.
A video blog on the state of the union at Toronto FC.
The weekly notebook from TFC practice with all the latest news ahead of Saturday's game.
A feature story on Kobe Franklin.
Our weekly TFC 2 report.
A feature story on Farhan Devji, author of the new book, "Alphonso Davies: A New Hope."
And much more!
---
TFC Republic mailbag
TFC Republic will feature a regular reader mailbag column where I answer questions from subscribers about Toronto FC and Canadian soccer in general.
I'll answer the best questions submitted to me by TFC Republic readers, so feel free to drop me an email at johnmolinaro@rogers.com. You can also reach out to me via Twitter and Facebook.
TORONTO FC TICKET DISCOUNT FOR TFC REPUBLIC SUBSCRIBERS!
TFC Republic subscribers can get up to a 25% discount (with no Ticketmaster fee) on ticket prices for Toronto FC home games.
To receive the special promo code, email me at
johnmolinaro@rogers.com
(Please don't share promo code with non-TFC Republic subscribers).
(Top photo courtesy of torontofc.ca/Andy Truong)
---
TFC Republic is a paid-subscription website. All of the content at TFC Republic is behind a paywall, and you need to be a subscriber to access it. It costs only $8 for a one-month subscription, or $50 for a full year (prices include 13% GST/HST). What a great deal, eh?  Don't miss out, and order your TFC Republic subscription today!