Feature
Toronto FC trending in right direction going into the international break
It hasn't been perfect from TFC so far this season. But the club is making steady progress under Bob Bradley.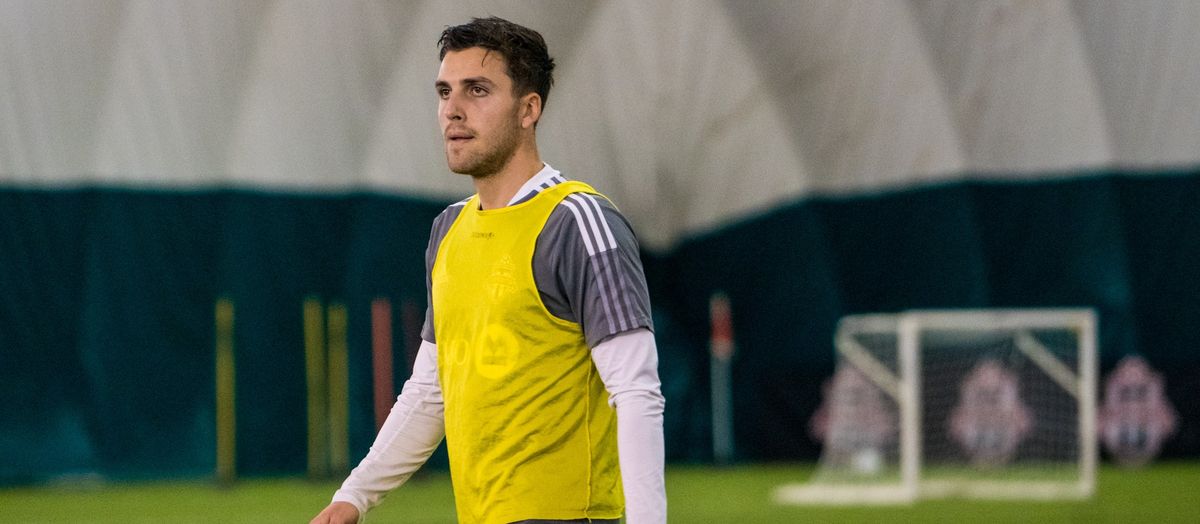 After the fourth week of the 2022 MLS season, Toronto FC has the exact same record under Bob Bradley that it had after a month into last year's campaign with Chris Armas at the helm.
Safe to say, though, that TFC's prospects look far more promising under the current bench boss than they did with Armas running the show. Saturday's 2-1 decision over D.C. United at BMO Field was Toronto's first victory under Bradley, and was just reward for a team that has shown slow but steady progress since the season kicked off in late February.
It's been far from smooth sailing for Bradley through the opening month of the campaign. A disastrous 4-1 loss to the New York Red Bulls in the home opener - the club's first game in two years at BMO Field without any COVID restrictions in place - preceded a 2-1 road defeat to the Columbus Crew in a match that saw the Reds fall apart during the second half after taking the lead for the first time this year.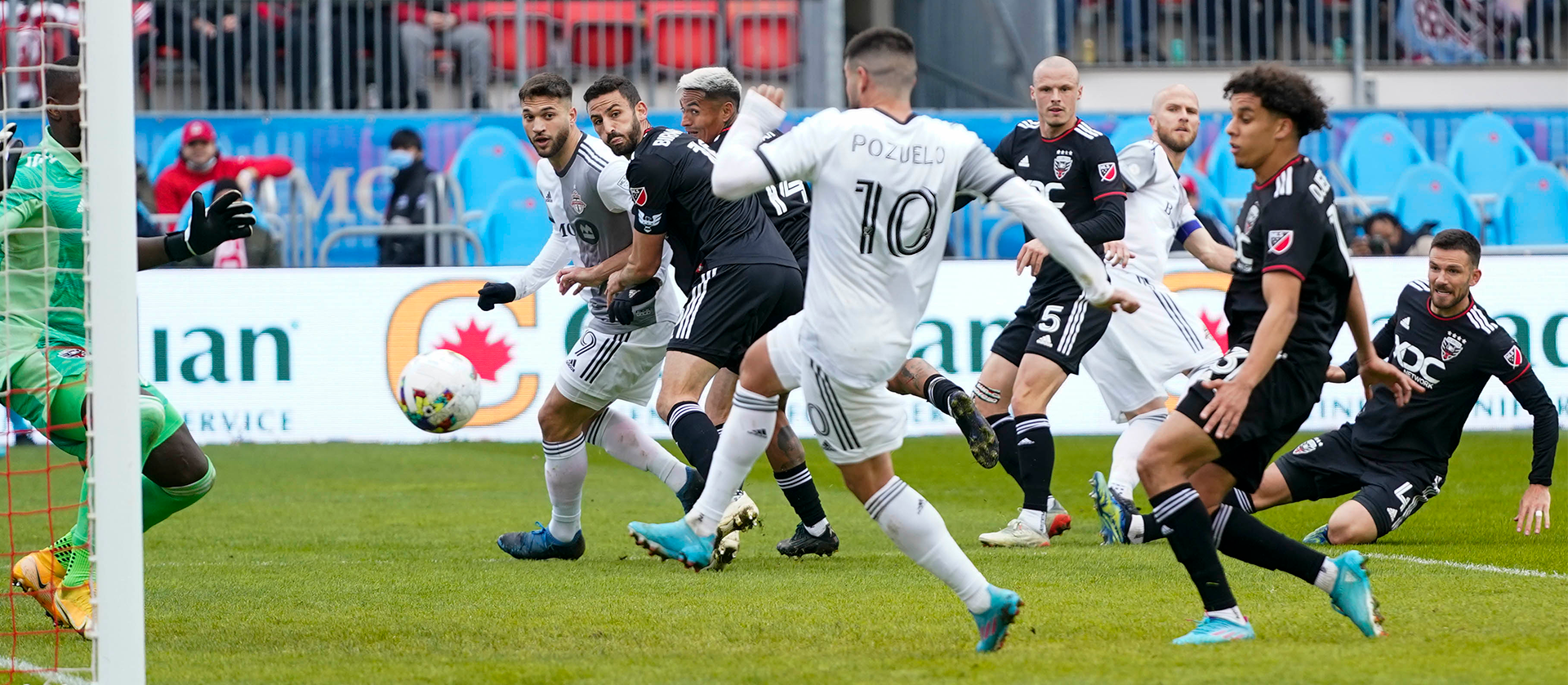 Bradley swung the axe this off-season after being hired last November, completely retooling a squad that underperformed and failed to make the playoffs in 2021. DPs Jozy Altidore and Yeferson Soteldo were shown the door, the back line was overhauled, and key starter Richie Laryea was sold to Nottingham Forest. With so much off-season change, TFC understandably looked unsettled early on in the regular season.
But this is Toronto FC, where expectations are always high, and the club's glory years from 2015 to 2019 are still firmly embedded in the collective memory of a loyal but very demanding fan base. TFC's standing within the city's crowded sporting landscape was already in critical condition after last year, and each week that passed without a victory this season meant they became less and less relevant. That's why Saturday's win over D.C. was so huge, beyond giving the team something to hang its head on going into the international break.
"This is a big step for us. … This game is huge for us. We needed to get this, and the way we performed out there we deserved the three points," said Jonathan Osorio, whose 50th career goal for the Reds in the 53rd minute stood up as the winner.
Bradley justifiably described his team's effort against D.C. as "hard fought," and was impressed with how it worked.
"In a game like this, this time of the year, it's a lot about mentality, and within the group, we always work on football ideas, but we talked a lot lately about also how you take the training that you put in and turn it into the game, and that includes getting to loose balls that. That includes winning headers. That includes just the mentality," Bradley offered.
One win doesn't cure all, of course. Nor should it gloss over the fact that Toronto has yet to record a clean sheet this season, and that three times this year it's dug a hole for itself by conceding inside the opening 20 minutes. This team remains a work in progress and continued patience will be required. Still, there are encouraging signs that the team is starting to come together under Bradley.
The acquisition of Jesús Jiménez from Polish club Górnik Zabrze last month has thus far proven to be an astute move by Bradley. The Spanish forward has two goals and an assist to become only the second player in club history to contribute to a goal in each of his first three games - countryman Alejandro Pozuelo did so in four straight when he joined TFC in 2019.
Jiménez has already established a good on field relationship with Pozuelo and Luca Petrasso, and has won the respect of his midfield teammates by routinely making himself available on the pitch in order to combine with them in the attacking phases of the game.
Some foreign players struggle at first when they arrive in MLS, unable to adjust to the travel and physical nature of the league. But Jiménez's transition has been relatively seamless.
"He's really committed himself to adapting very quickly. He's fit in very well into this team and the system that we play. It goes differently for everybody, for the foreign guys that come [to MLS], but I think he's done such a good job for us. He's an important player for us," Osorio said.
Jiménez isn't the only TFC newcomer who has made a significant splash. When looking at all of TFC's youngsters, Petrasso had the least amount of hype coming into the new season, with far more focus being paid to teenagers Jahkeele Marshall-Rutty and Jayden Nelson. But it's been the 21-year-old Petrasso, a native Toronto, who has been the breakout player among the club's crop of promising prospects.
The youth academy graduate already has three assists in his debut MLS season, and has been one of TFC's most consistent performers through the opening four games as he's slotted in at left fullback and on the left side of midfield.
---
---
On Saturday, Petrasso was a constant thorn in the visitors' side all game long, using his speed down that flank and his strength to unbalance United's defenders. He proved to be an integral part of Toronto's attack, finishing the game with a team-high three key passes. Just as impressive was how well Petrasso did on the defensive side - he ended up making two tackles, two interceptions, a clearance, and he blocked a shot.
"I think it's great. He's a kid that worked.  I saw him working on the training ground this off-season, working every day very, very hard, knowing that if he keeps working hard, when he gets his chance that he would be ready and he has taken this opportunity, the way every young player should," Osorio offered.
He later added: "It happens a lot of times that a player that's not hyped and not really talked about in the off-season or before a season that comes up. This is normal. I hope that he's not paying attention to it but if he does, it's just fuel. It's just fuel for him to show that when [he gets his] opportunity, [he's] going to be ready. I like that in a player, and I'm very happy for him."
Two of the team's most important veterans are also showing good form in 2022, including Pozuelo, who is coming off a poor 2021 campaign in which he dealt with injuries and personal issues, including the break-up of his marriage. The Spaniard has a goal and two assists in four starts this year. He helped set up Osorio's winner against D.C. with a perfectly-weighted ball to Petrasso after notching the equalizer in the 24th minute, his 25th career goal in all competitions for Toronto. The goal was a long time coming for Pozuelo, who hadn't scored in MLS since Aug. 7, 2021.
"I need to show the people I can play here [for] more years. I said to the president [Bill Manning] before I left for Spain [last winter], last year was not good for me… but now I'm focused and 100 per cent; I'm physically very good. … I'm coming with a good mentality to try to do my best this year," Pozuelo said.
Osorio, too, has hit the ground running in 2022, picking up where he left off last year when he was one of the few bright spots for the Reds. The Canadian international's goal on Saturday was his second of the season, to go along with one assist.
The hustle he demonstrated in the buildup to the goal was classic Osorio. He started the play by intercepting the ball just inside D.C.'s half, and then went on a lung-busting sprint, arriving late into the box and stretching his leg out to get on the end of Petrasso's dangerous ball and stab it home.
The Canadian international led all TFC players by completing 92.3 per cent of his passes in the game, while at the same time forming a solid partnership with TFC captain Michael Bradley in central midfield.
"He understands the game. He's still on the ball. With people around him, comfortable, sometimes able to get out of tight space and make a very, very good pass," Bob Bradley said.
"But the combination of all those qualities and what they mean to teams and the fact that you can in different moments challenge him with different responsibilities and he's smart enough to be able to take those things on, I think that speaks to everything that he's about as a player."
(Top photo courtesy of torontofc.ca)
---
TFC Republic is a paid-subscription website. All of the content at TFC Republic is behind a paywall, and you need to be a subscriber to access it. It costs only $8 for a one-month subscription, or $50 for a full year (prices include 13% GST/HST). What a great deal, eh?  Don't miss out, and order your TFC Republic subscription today!