Feature
TFC's Alex Bono on gaffe vs. Miami: 'You have to be a goldfish'
"Jordan Perruzza came up to me and said, 'You have to be a goldfish.' And I was like, what does that mean? And then he told me 'Goldfish don't remember s**t,'" Bono said.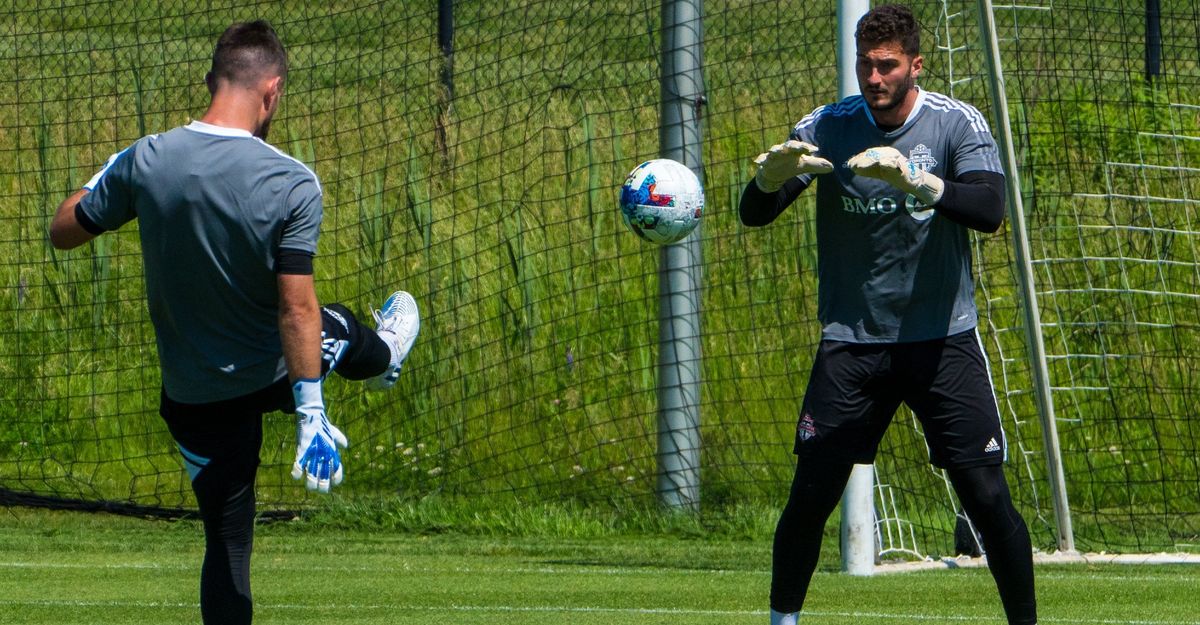 Pro sports mirrors normal life in that athletes will find out very quickly who they can count on when they're going through tough times.
In the case of Alex Bono, the Toronto FC goalkeeper has been comforted by the strong support of his teammates following his calamitous error in last Saturday's road game vs. Inter Miami.
Midway through the first half, Argentine forward Gonzalo Higuaín peeled away from TFC captain Michael Bradley off a throw-in and then centred the ball for Jean Mota, who unleashed a 30-yard blast that slipped through Bono's hands to open the scoring. It was a powerful shot from Mota, but Bono had it covered and should have made a comfortable save.
The Reds tied things up four minutes later through Lorenzo Insigne before conceding again just before halftime en route to a 2-1 loss, so Bono's gaffe was somewhat mitigated. Still, he knew he let his team down and felt bad about it. Out of all the TFC players who consoled Bono in the aftermath, it was young forward Jordan Perruzza who offered the veteran goalkeeper the best piece of advice.
TFC Republic is on a free trial this week, so please enjoy this story and many more that will come out from behind the paywall until Sunday, Aug. 28.
You can subscribe to TFC Republic by
CLICKING HERE
, or by clicking on the subscribe button on the home page. A monthly subscription costs just $8, while a yearly subscription is $50 (a savings of 48%).
"Jordan Perruzza came up to me and said, 'You have to be a goldfish.' And I was like, what does that mean? And then he told me 'Goldfish don't remember s**t.' So that was nice to have him come up to me and say that. Everyone has been very supportive about it," Bono told TFC Republic.
Rather than dwell on the error, coach Bob Bradley just had a quick word with Bono about it.
"He knows that I know that I made a mistake. Not much was said. I'm sure he was disappointed about it. He told me it was a save I had to make, and that's all that was really said," Bono explained.
So, what exactly happened on the play? How did Mota's shot from distance manage to get through Bono?
"It was just a lapse in focus. I saw it the whole way. I was already thinking about what I was going to do with the ball after I caught it. I took my eye off it and it slipped through. It's a mistake I'm certainly disappointed about. The guys all know I let us down on that first goal. They all know I felt horribly about it," Bono said.
"[Mota] hits it well, but it's something that as a goalkeeper you look back at it and say you'd really like to have that one back… We were able to fight back to 1-1, then it was a fresh start for us, and I felt we had chances to go on and win the game from there, so the mistake probably isn't as magnified as it might have been."
Bono's mistake against Miami marked the second game in a row he coughed up a soft goal. In last week's 2-2 home draw vs. the New England Revolution, Justin Rennicks latched onto a defence-splitting pass from Carles Gil into the box and then fired a low shot from an angle through Bono's legs.
For Bono, the key to moving past such mistakes is to quickly regroup in order to be ready for the next time he'll be called into action.
"You pick the ball out of the back of the net, you throw it back, you splash some water on your face, get your towel and wipe your face off, and as you wipe your face off, you're wiping away the mistake and you put it behind you. The very next action is the most important thing after you make a mistake like that," Bono explained.
"It's important that you put the mistake behind you in the very next play that you're involved in. You have to make sure you're fully focused on that and you make that next play. Once you make that next play, then you worry about the next one, and then the next one, and you build your confidence back up as the actions come along. You take it one action at a time.
"When you make a mistake like that, you can go back and look at it as many times as you want in your mind. But it's not going to change anything. You have to move on."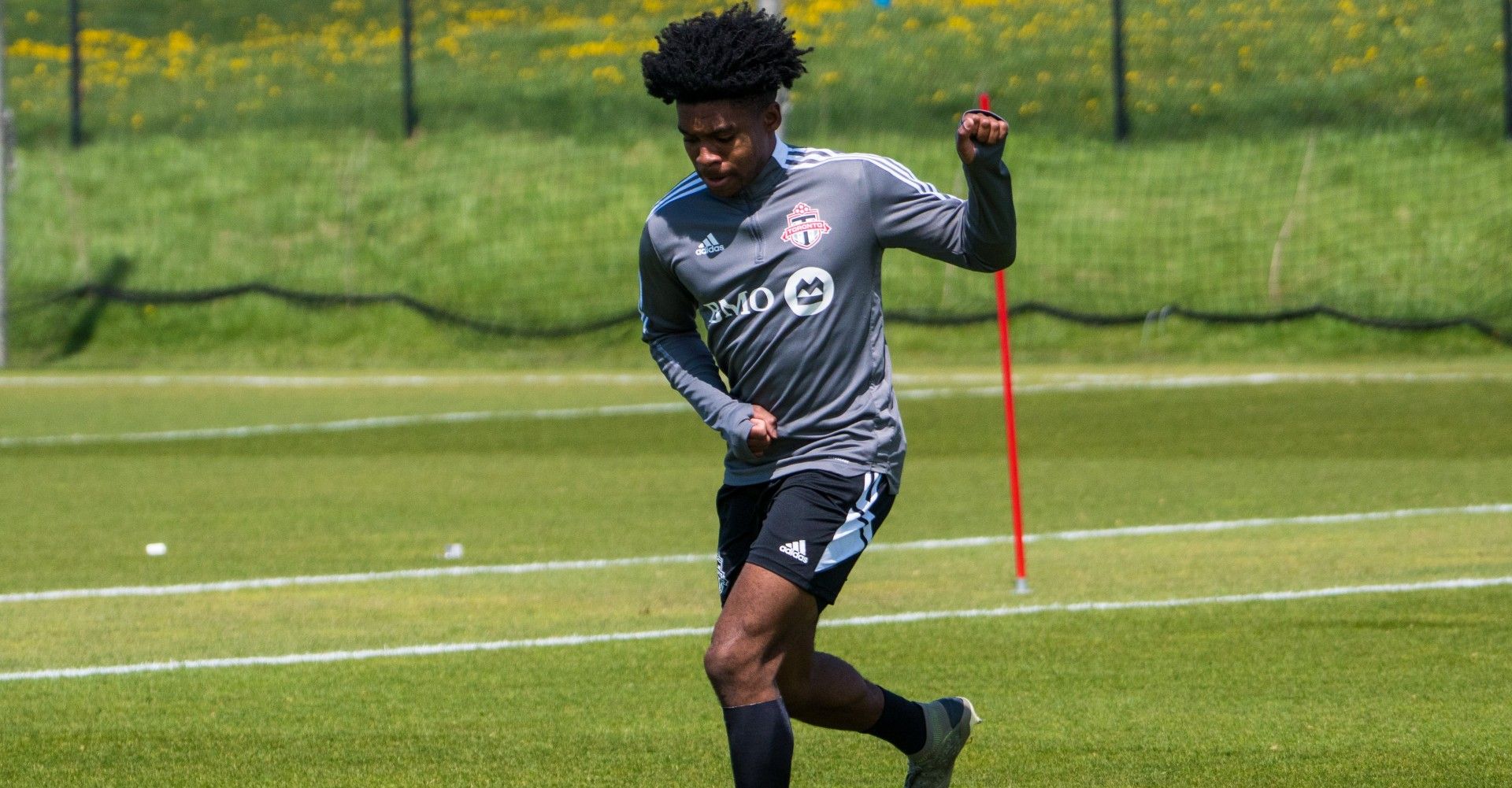 Not so surprisingly, Bono's error was the subject of discussion amongst TFC fans and commentators on social media after the game. Some of the comments were constructive in their criticism of Bono, but some were toxic in nature.
Bono didn't see any of it because he stayed off social media.
"The first thing they tell you when you're a young player and you make a mistake in a game, someone in the dressing room always comes up to you and says, 'Don't look at Twitter.' People are angry, and as players we understand that. But players are people, too. … At the end of the day, you want to be treated fairly. So, the last thing you do is look at social media in moments like that," Bono said.
Players make mistakes all the time, but it's especially bad for goalkeepers because their errors often lead to goals. Bono understands this, and though it might be unfair to him and his fellow goalkeeper, he accepts it.
"It's the nature of things. It's the way it works for goalkeepers. When the ball is coming towards the net, and everyone's eyes are on you, if you don't make the save or you make a mistake, everyone sees it. There's no hiding from it. It's not a black and white situation. … At the end of the day, you know what you sign up for as goalkeeper and how every ball that comes hurling towards the net, all eyes are on you," Bono said.
The loss in Miami not only snapped TFC's season-high five-game unbeaten run, but also dealt a big blow to their playoff aspirations.
Rather than climbing to 10th place in the Eastern Conference with a win, Toronto (8-13-6) finished the weekend in 11th, four spots and five points below the playoff line.
"Obviously, there was a lot of frustration and disappointment afterwards. We knew it was a big one for us. We knew that was a team that was close to us in the standings. It was a six-pointer, as they call it, and we wanted to go there and get a positive result. But it didn't happen. We have to move forward. If we dwell on that result for too long, we're taking our attention off the next one. Everyone has to move forward," Bono said.
With only seven games remaining in the regular season, TFC must overcome Charlotte FC (10-15-2), FC Cincinnati and New England Revolution (both 8-8-10), and the Columbus Crew (8-6-11) in order to avoid missing the playoffs for a second straight year, something that hasn't happened since 2013 and 2014.
Bono insists the Reds can make a late push and qualify for the post-season.
"We all know that it's definitely not over. There's always one team every year that sneaks into the playoffs at the end, and there's absolutely no reason in the world why that can't be us this season. Everyone in the locker-room believes it. We still have games against teams that are close to us in the standings that still haven't clinched a playoff spot, that are still fighting it out, so there's a lot of movement that's going to take place," Bono said.
---
---
As for his long-term future, that remains up in the air. Bono is out of contract at the end of this season, and would become an unrestricted free agent and free to sign with any MLS team ahead of the 2023 campaign if he doesn't ink a new deal with the Reds.
There's been no talks so far between Bono and club management about signing an extension.
"I'm just focused on finishing out the season to give myself every opportunity to set myself up for the future and help this team make a playoff push. If it's the last thing I do here and we're able to sneak into the playoffs and make a run, I'd be at peace with that. Not knowing about your future is always in the back of your mind, but at the same time, you have to focus on the here and now," Bono said.
But Bono leaves no doubts as to whether or not he wants to stay in Toronto.
"I love the club, I love the city, I love the guys, and the last thing I'd ever do is start looking to go somewhere else or look for other opportunities. My heart is here. I'd love to finish my career here. That's a testament to how I feel about the club and Toronto," Bono stated.
(Top photo courtesy of torontofc.ca)
---
TFC Republic is a paid-subscription website. All of the content at TFC Republic is behind a paywall, and you need to be a subscriber to access it. It costs only $8 for a one-month subscription, or $50 for a full year (prices include 13% GST/HST). What a great deal, eh?  Don't miss out, and order your TFC Republic subscription today!