Newsletter
TFC Republic Weekly: June 6-12 lookahead
After being crowned Canadian champions, Toronto FC will use the international break to deal with their injury issues.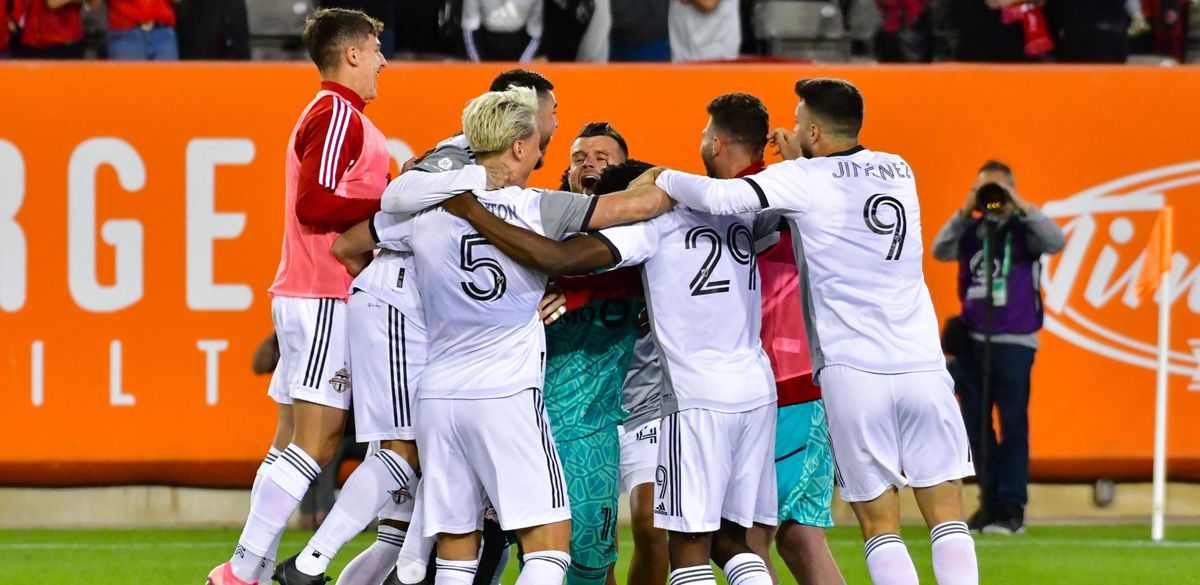 Welcome to the latest edition of TFC Republic Weekly, a free email newsletter that will land in the inbox of both paid subscribers and free members of TFC Republic every Monday.
This newsletter will look at what's in store over the next seven days for Toronto FC, and set up their schedule of games for the week.
You'll also get a glimpse of what to expect at TFC Republic in the coming days.
So, without further ado...
TFC crowned Canadian champions
Toronto FC ended its four-year trophy drought on Saturday night in Hamilton as it beat CPL side Forge FC in the COVID-delayed 2020 final of the Canadian Championship.
TFC overcame a valiant Forge in earning a dramatic 5-4 victory on penalties at Tim Hortons Field in Hamilton to claim their first trophy since 2018 and first under Bob Bradley. The Reds have now won the tournament a record eight times.
The teams traded goals early in the second half with Alejandro Pozuelo scoring for Toronto, and former TFC academy product Tristan Borges replying for Forge to set up a thrilling penalty shootout after 90 minutes of regulation time before an announced crowd of 13,715 spectators.
The teams were tied 4-4 through the first five rounds as Deandre Kerr missed from the spot for the Reds and Kyle Bekker's shot was saved by Quentin Westberg. Kosi Thompson then converted to make it 5-4 before Forge's Kwasi Poku hit the crossbar, sealing the victory for TFC over the Canadian Premier League outfit. Pozuelo, Jesús Jiménez, Carlos Salcedo and Jordan Perruzza also scored in the shootout for Toronto.
Based on the balance of play, the final result was somewhat cruel on Forge who bossed large stretches of the match and pushed Toronto FC to its limit. But like they have done several times in recent weeks, TFC managed to stay alive in the game when outplayed and held their nerve when it mattered the most.
"Coming here against Forge it's always going to be hard. They're a good team, they're experienced," Bob Bradley told reporters after the game. "As been the case for us throughout the year, there's moments where are our football's okay, there's other moments where we lose control. We're still trying to become a more consistent team that can sustain some of the good football longer. But while we're working on that, we've got to have a mentality to stick together and find ways [to win]."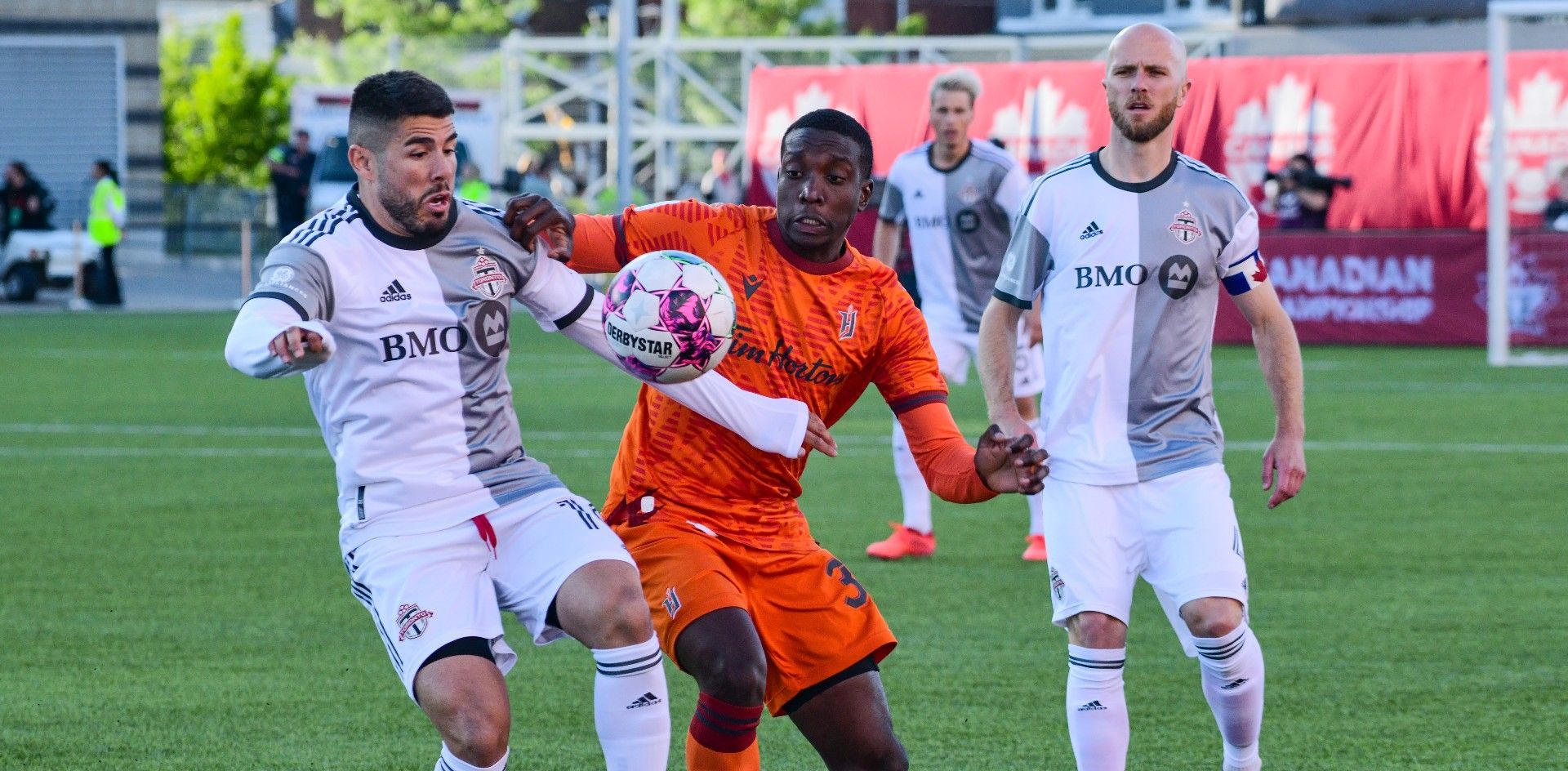 International break gives Reds a chance to get healthy
The current international break means that the Reds are now off until June 18 when they resume MLS play with a road game against the New York Red Bulls. Bob Bradley plans to give his players a few days off before resuming regular training sessions later this week.
While the break does stunt TFC's momentum (they've won three in a row and are unbeaten in four in all competitions) it also offers them a chance to get healthy, something the team has struggled with in 2022.
Toronto continues to be without fullback Jahkeele Marshall-Rutty (recovering from knee surgery), and midfielder Noble Okello (lower body) due to long-term injuries. While Okello, 21, is a far away from returning to action (he's not practising with the club), Marshall-Rutty, 17, took part in portions of training sessions last week.
"Typically, before you get minutes [in a game] you start to put together a number of training sessions in a row and then you get a sense as to fitness and the response to the initial injury. It's going in a good direction [with Marshall-Rutty] but I would still say we need more time to see how he progresses through the next phase," coach Bob Bradley said.
Also, centre backs Chris Mavinga (lower body) and Shane O'Neill (concussion protocols), and midfielder Jonathan Osorio (lower body) are also dealing with injuries, so the time off can't help but be beneficial for them, too.
"We're just hopeful that in this next stretch that good work can get [Osorio] back as quickly as possible," Bradley said.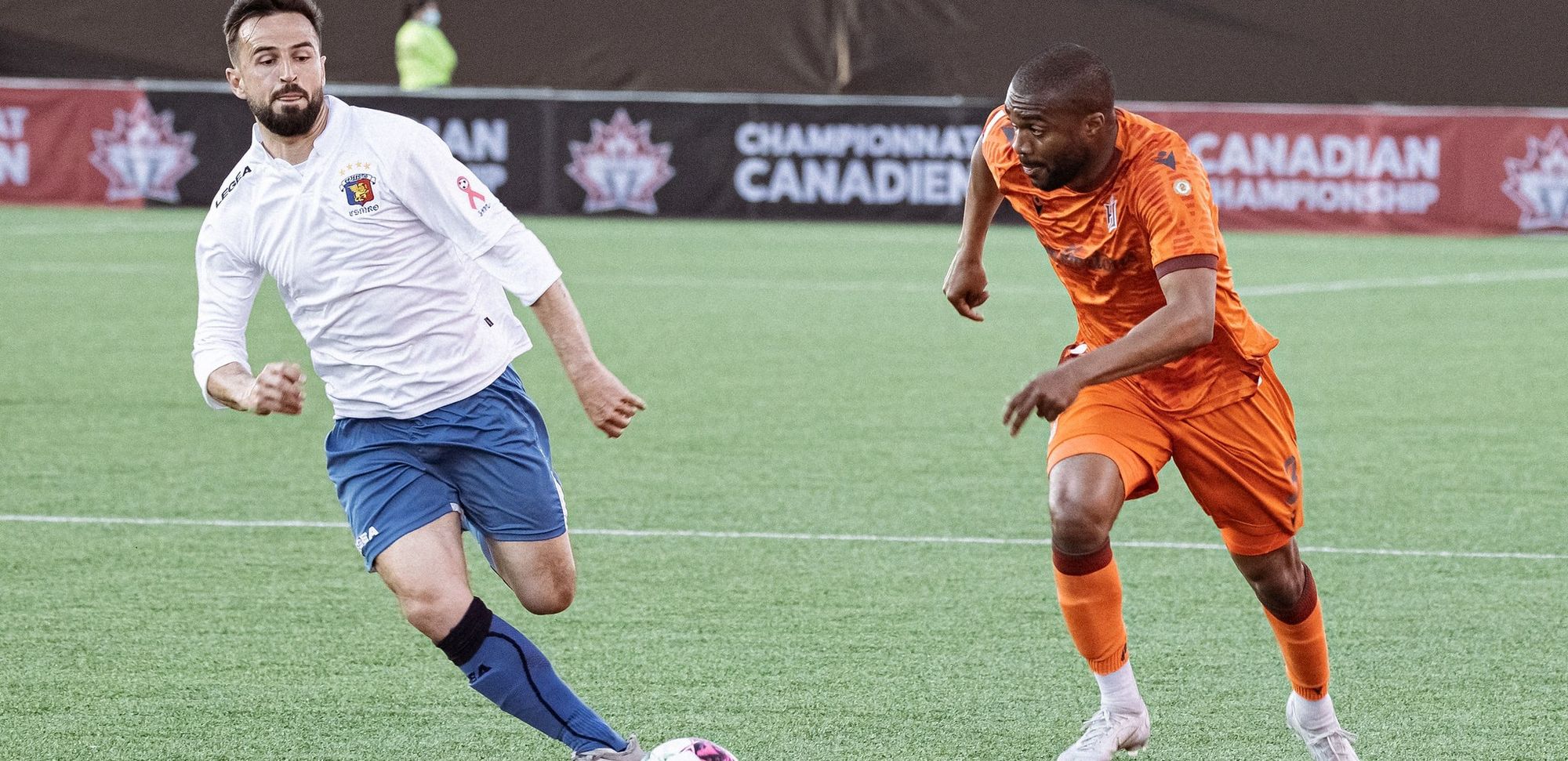 CanMNT players go on strike
The Canadian men's team's friendly against Panama on Sunday in Vancouver was called off amidst a contract dispute between the players and Canada Soccer.
The Canadian players issued a statement saying they decided not to play because the negotiations over a new contract had been "unnecessarily prolonged." In the same statement, the players said they want to see more transparency from Canada Soccer, changes in the organization's leadership, a World Cup compensation that includes 40 per cent of prize money, and a "comprehensive friends and family package" for the 2022 World Cup in Qatar.
But Canada Soccer president Nick Bontis argues the proposal the players put forward is not financially viable.
"My job as president is a responsibility to the fiduciary and stable health of this organization, not just for the last 120 years that we've been alive, but for the next 100 years we're going to be alive," Bontis said at a press conference in Vancouver. "And I can't accept that offer that will put our organization in a financial position that is untenable."
Players also want to review the deal Canada Soccer signed with Canadian Soccer Business in 2019. The 10-year agreement sees CSB represent both the men's and women's national teams in all sponsorship and broadcast deals. The players' statement said the deal with CSB "completely compromised [Canada Soccer's] ability to leverage the on-field success of our senior national teams."
The players are also asking for an equitable compensation structure for the men's and women's teams, and the development of a women's domestic league. The Canadian women's team issued a statement that in part said it does not view equal FIFA percentages for the two teams as equal pay.
"The women's national team will not accept an agreement that does not offer equal pay," the statement read. The women's team also stated that it views the proposal Canada Soccer tabled for both teams last Friday as a "positive step" toward pay equity, "and one that provides a basis for further negotiations."
The Canadian men's team is slated to play Curacao in Vancouver on June 9 and in Honduras on June 13 in a pair of Concacaf Nations League qualifying matches.
---
---
Stories to look out for at TFC Republic
National teams threatening to go on strike is nothing new in the soccer world. It happens all the time. But usually, the teams and confederations work something out so that scheduled games aren't missed. So, why did Canadian players decide not to play Sunday's game against Panama? Why led them to walk out and forced Canada Soccer to cancel the match?
I'll have an in-depth video blog breaking down this situation, how things got to this point and where things go from here. Look for it on Monday.
Other stories that will be published later this week include:
My column on the current state of the union at Toronto FC.
My piece on the big questions facing TFC coming out of the international break.
My feature story on Reds goalkeeper Quentin Westberg.
In-depth pre- and post-game coverage of Canada's Concacaf Nations League qualifier against Curaçao (assuming it takes place).
A special flashback piece that looks back at Alphonso Davies' debut for the Canadian men's team.
The latest instalment of our Toronto FC Flashback series.
And much more!
---
TFC Republic mailbag
TFC Republic will feature a regular reader mailbag column where I answer questions from subscribers about Toronto FC and Canadian soccer in general.
I'll answer the best questions submitted to me by TFC Republic readers, so feel free to drop me an email at johnmolinaro@rogers.com. You can also reach out to me via Twitter and Facebook.
(Top photo: Brandon Taylor/Forge FC)
---
TFC Republic is a paid-subscription website. All of the content at TFC Republic is behind a paywall, and you need to be a subscriber to access it. It costs only $8 for a one-month subscription, or $50 for a full year (prices include 13% GST/HST). What a great deal, eh?  Don't miss out, and order your TFC Republic subscription today!