Newsletter
TFC Republic Weekly: December 12-18 lookahead
With the start of training camp around a month away, Toronto FC will be expected to start making some important roster moves.
Welcome to the latest edition of TFC Republic Weekly, a free email newsletter that will land in the inbox of both paid subscribers and free members of TFC Republic every Monday.
This newsletter will look at what's in store over the next seven days for Toronto FC, and set up their schedule of games for the week.
You'll also get a glimpse of what to expect at TFC Republic in the coming days.
So, without further ado...
Is Toronto FC moving to slow to fill roster holes?
An interesting question was put to me in the recent edition of the TFC Republic reader mailbag: Considering the fact that training camp starts in a few short weeks, should fans be worried with the slow pace to date of new recruits coming in at Toronto FC?
Pre-season training camp usually begins in mid-January when players report back to the team following their time off for the holidays. So far this off-season, it's been pretty quiet from TFC, even though they have to find a No. 1 goalkeeper and a starting left fullback, bring in a new centre back, add some depth to central midfield, and sign a forward (who will likely be a Designated Player).
Toronto has yet to make any major moves ahead of the 2023 MLS campaign to fill these roster holes. That's not to say that the Reds won't bring in reinforcements by the time pre-season training camp kicks off next month - only that they still have some work to do.
Should you be concerned by the slow pace of new recruits coming in? I don't think so. Club management and the scouting department have to do their due diligence on prospective newcomers - they can't be in a rush to sign someone because training camp is going to start next month. These things take time and patience is required.
Toronto finds itself in a somewhat similar situation to where it was after the 2015 MLS season. The Reds needed to rebuild their back line and strengthen its midfield after conceding a league-worst 58 goals in 34 games. What did TFC do? They signed free agent Drew Moor on Dec. 16, and the centre back proved to be a key signing in helping Toronto reduce its goals against to 39 in 2016, the third-best defensive record in the league that season.
Fullback Steven Beitashour (acquired in a trade with Vancouver) and Canadian international midfielder Will Johnson (acquired in a trade with Portland) were both brought in on Dec. 18. Toronto was also without a starting goalkeeper after parting ways with Chris Konopka and Joe Bendik, but they ended up making a trade with Colorado for Clint Irwin on Jan. 18, 2016, less than a week before training camp opened. It should be also noted during other off-seasons that Jozy Altidore, Michael Bradley, Benoit Cheyrou, Sebastian Giovinco, Chris Mavinga, Justin Morrow and Víctor Vázquez were all signed with the club close to the beginning of the training camp or after it started. All of them turned out to be hugely influential players at TFC.
All of this is to say that I don't believe there's any reason to worry about the lack of off-season moves made by TFC to date, as it's not out of the ordinary. History has shown that the team has managed to bring in some pretty big impact players right before the start of training camp.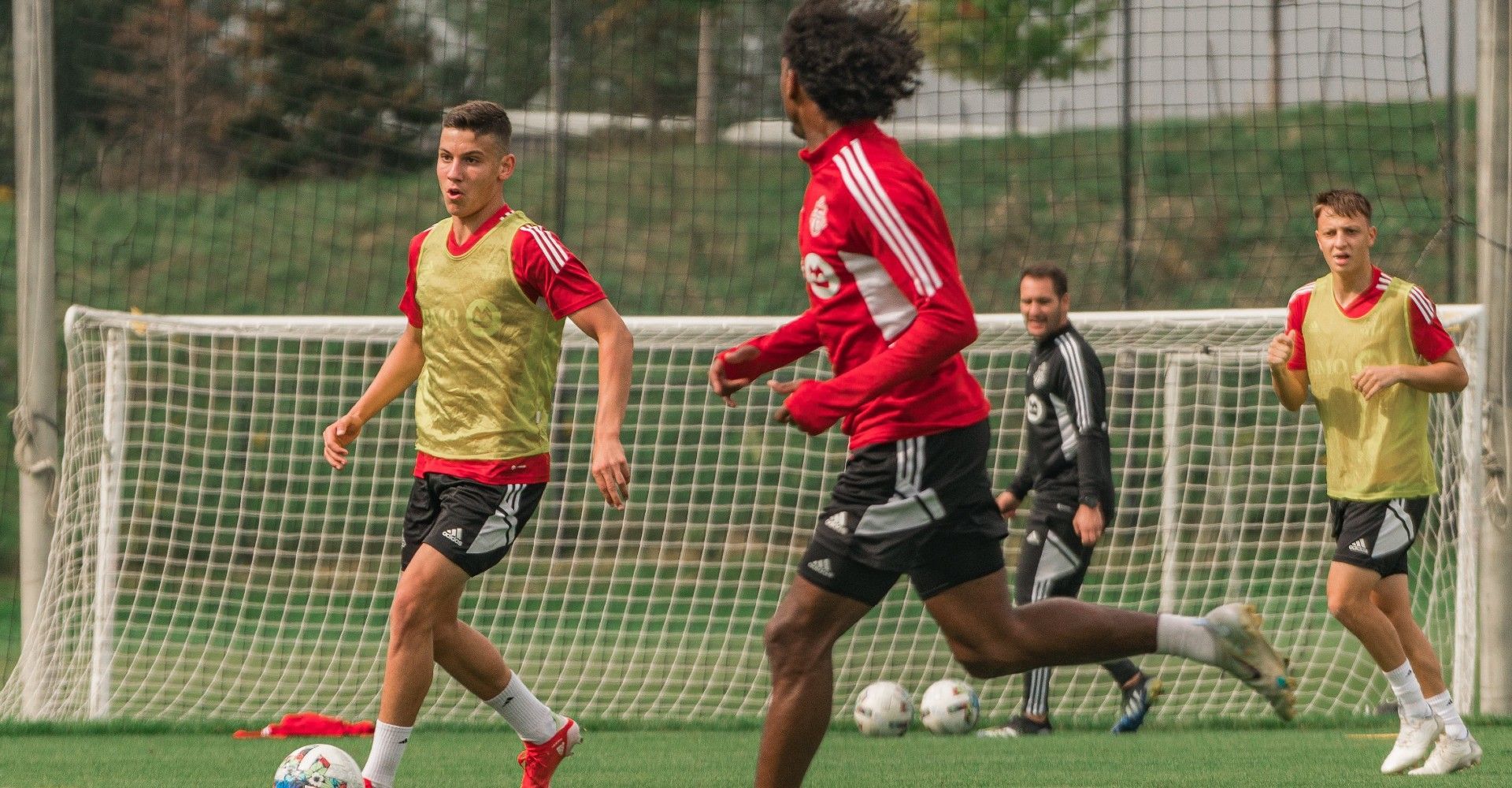 CanWNT to play at 2023 SheBelieves Cup
Canada Soccer made a big announcement last Friday when it revealed the Canadian women's team will compete at the 2023 SheBelieves Cup, which is an annual four-nations invitational tournament hosted in the United States.
No. 6 in the current FIFA world rankings, Canada will face the top-ranked U.S. on Feb. 16 in Orlando in its opening match of the competition, before taking on Brazil (No. 9) on Feb. 19 in Nashville and Japan (No. 11) on Feb. 22 in Frisco, Texas.
Canada previously competed in the SheBelieves Cup in 2021, posting a win over Argentina in-between losses to Brazil and the U.S. Those games marked Bev Priestman's first time in charge of the team after being hired in October 2020.
During the FIFA international window this past February, Canada took part in the inaugural Alan Clark Cup against hosts England, Spain and Germany. Priestman said Canada turned down the chance to play in this year's tournament in England because the other participants - Italy, South Korea and Belgium - didn't fit the profile of nations she wanted her team to face in the buildup to next summer's World Cup.
With the World Cup just over six months away, Canada needs to play Tier-1 nations as it prepares for the month-long tournament that will be co-hosted by Australia and New Zealand. On the surface, the SheBelieves Cup boasts a stronger field than the Alan Clark Cup and should give Canada a taste of what to expect at the World Cup.
"To have such a good test to start the year at the SheBelieves Cup will be critical for us and it will give us a chance to test the roster in a tournament setting," Priestman said in a media release. "We know what all three opponents can do on their day, so this is an exciting challenge and opportunity for us."
The SheBelieves Cup in February will kick off an important period of preparation for Canada ahead of the World Cup. Priestman's side is expected to play two home games during the April international window, and another two matches in late June/early July before the start of the World Cup on July 10.
The Olympic champions have been drawn into a group with No. 12 Australia, No. 23 Ireland and No. 45 Nigeria at the World Cup.
---
---
Stories to look out for at TFC Republic
Alex Bono's tenure at Toronto FC came to an end after eight seasons in October when the club announced it wasn't going to bring him back for the 2023 MLS campaign. Bono, a 28-year-old native of Baldwinsville, NY, is out of contract at the end of this year, which means he is an unrestricted free agent and will be able to sign with another MLS club. He left TFC as their all-time leader in all competitions in clean sheets (35) and wins (67), as well as appearances (157) and starts (154) for a goalkeeper.
When you talk about some of the biggest moments in TFC history, Bono was at the centre of them, including the 2017 MLS Cup and the 2018 Concacaf Champions League final.
How does Bono look back upon his time in Toronto? Was he surprised the Reds didn't sign him to a new contract? How did he feel about Bob Bradley's public criticism of the team's goalkeepers this season? I conducted a one-on-one interview with Bono last week to get his thoughts on those topics and plenty of others. Look for an in-depth two-part Q&A with Bono in the coming days at TFC Republic
Other stories that will be published later this week include:
My feature story on former fullback Luca Petrasso, who was traded to Orlando City last month. I did a one-on-one interview with Petrasso last week.
A feature story on former TFC forward Jordan Hamilton (this was supposed to run last week but ended up being delayed).
A piece that looks back at the highs and lows of TFC's 2022 campaign.
TFC Republic names its Toronto FC player of the year for 2022.
The latest instalment of our Toronto FC Flashback series.
Another edition of reader mailbag!
And more!
---
TFC Republic mailbag
TFC Republic will feature a regular reader mailbag column where I answer questions from subscribers about Toronto FC and Canadian soccer in general.
I'll answer the best questions submitted to me by TFC Republic readers, so feel free to drop me an email at johnmolinaro@rogers.com. You can also reach out to me via Twitter and Facebook.
(Top photo courtesy of torontofc.ca)
---
TFC Republic is a paid-subscription website. All of the content at TFC Republic is behind a paywall, and you need to be a subscriber to access it. It costs only $8 for a one-month subscription, or $50 for a full year (prices include 13% GST/HST). What a great deal, eh?  Don't miss out, and order your TFC Republic subscription today! (Note: All subscriptions are non-refundable once they are renewed.)