Feature
Tactical breakdown: Jayden Nelson shines on left side of TFC's midfield
The youngster has progressed in a new role for Toronto FC where he's formed a solid left-sided trio with Domenico Criscito and Lorenzo Insigne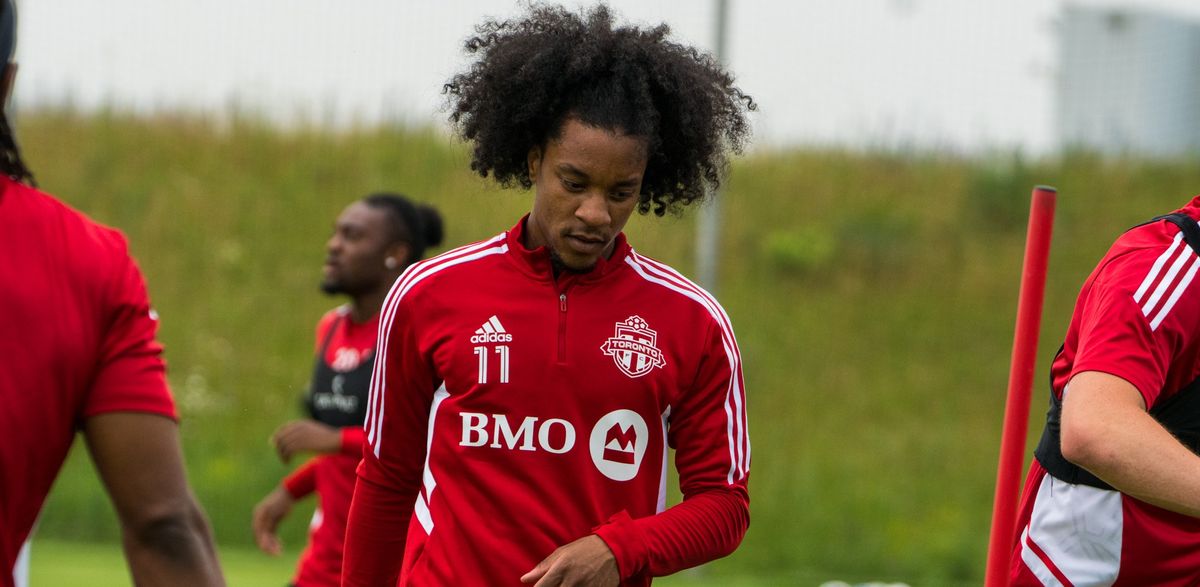 One man's misfortune is another man's opportunity, especially in the cutthroat world of sports.
That's been a recent theme with Toronto FC. Coveted Canadian international midfielder Mark-Anthony Kaye has nursed an injury for more than a month, making just three appearances since he was acquired from the Colorado Rapids in early July.
However, fellow TFC academy product Jayden Nelson has deputized for the 27-year-old in every match since Kaye last stepped foot on the pitch vs. Charlotte on July 23. Nelson has progressed as a player in a new role where he's formed a solid left-sided trio with Domenico Criscito and Lorenzo Insigne.
It's now at a point where coach Bob Bradley has a selection dilemma. Does he drop Nelson, who has formed chemistry with the Italians for one of the club's marquee summer acquisitions? It's a fascinating scenario because Kaye possesses equally strong qualities to form a lethal left-sided triangle with the Italians.
Here is an in-depth breakdown on Nelson's recent form and why he has a strong case to stay in the lineup.
TFC Republic is on a free trial this week, so please enjoy this story and many more that will come out from behind the paywall until Sunday, Aug. 28.
You can subscribe to TFC Republic by
CLICKING HERE
, or by clicking on the subscribe button on the home page. A monthly subscription costs just $8, while a yearly subscription is $50 (a savings of 48%).
Behind the Numbers
One reason why Nelson has polarized TFC fans is due to his hesitant decision-making, which might contribute to his lack of goals and assists.
It's a fair argument. Nelson ranks very low among other attacking midfielders and wingers in MLS in most shooting statistics this season.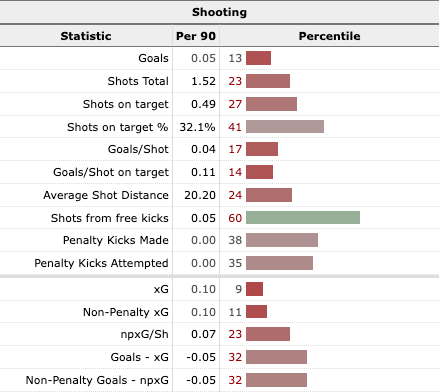 When we plot Nelson's underlying numbers on a statistical radar using an attacking midfielder/winger template, which is his natural position, nothing really jumps off the page.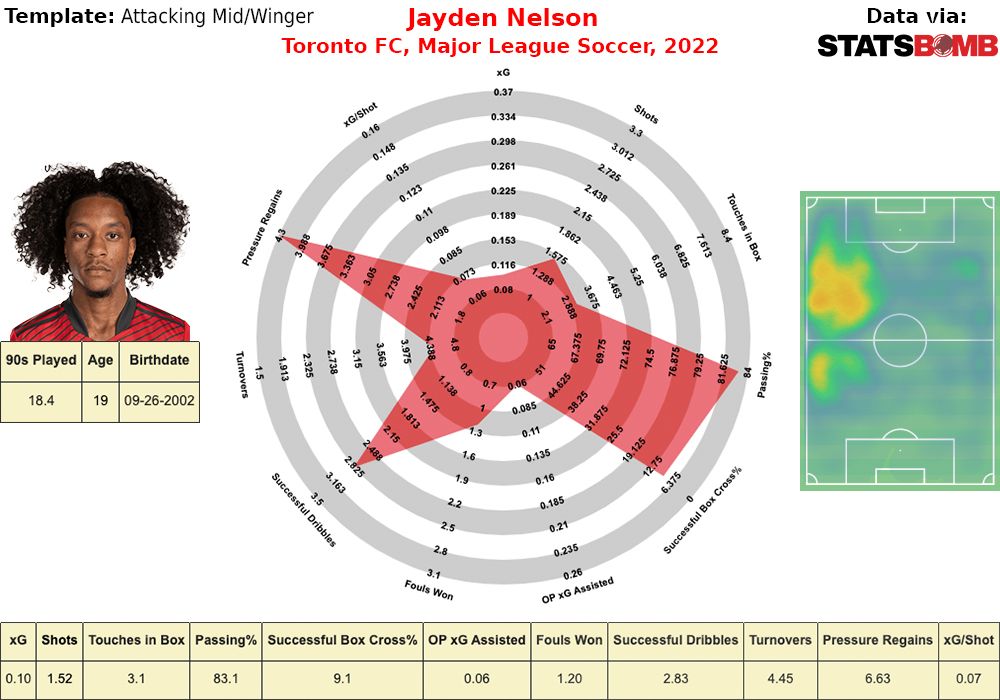 There are some exceptions, though, mainly his dribbling. That's where Nelson tends to stand out among his peers.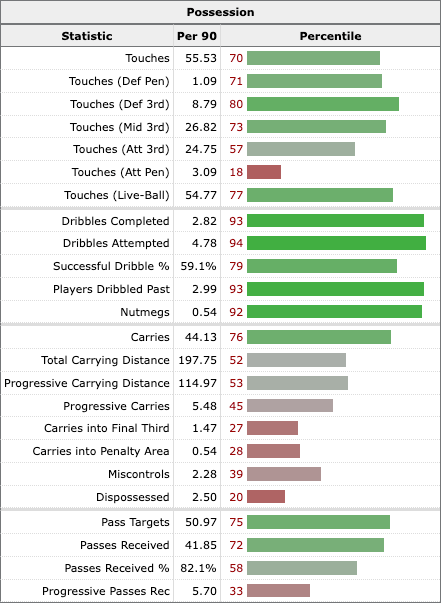 Even if Nelson's involvement doesn't directly lead to goals and assists, there's still value in a player who can maneuver through tight spaces and carry the ball forward. Just ask Junior Hoilett.
That led to Nelson's deployment as a left-sided midfielder. Even though the 19-year-old is listed as a No. 10 on pre-match lineup graphics, he's actually slotting into the left side of a midfield trio with Jonathan Osorio and Michael Bradley.
That position seems far more suited to Nelson's strengths, especially when we examine his radar using a midfielder template this time.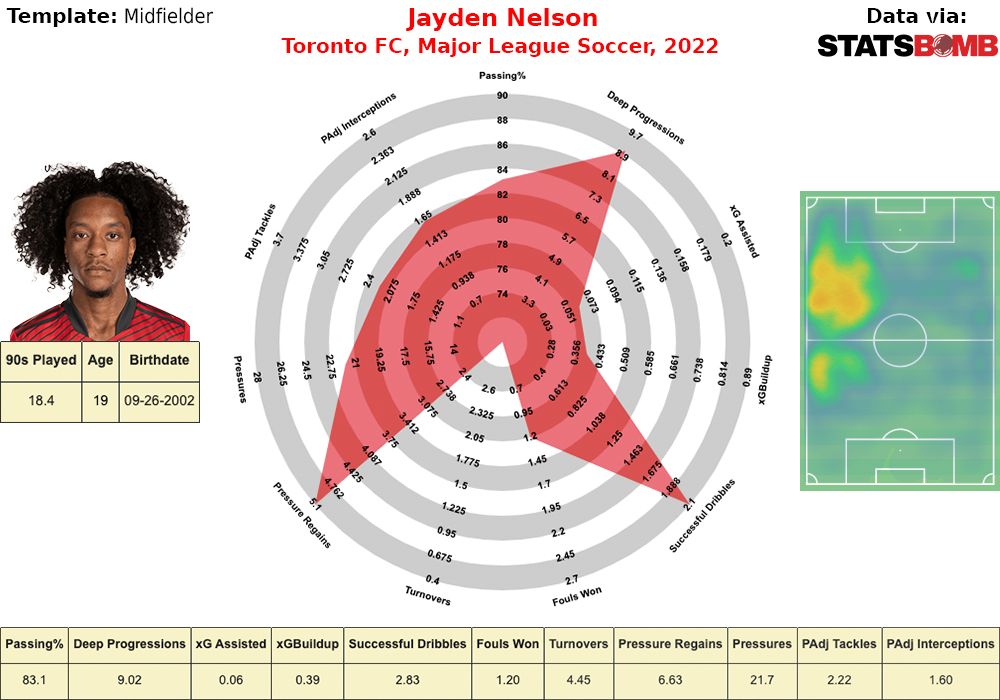 The defensive contributions are noteworthy, too. I criticized Nelson's failure to track back earlier this season but he's clearly adapted and it shows with his high output of pressures, pressure regains, tackles and interceptions.
The Italian Job
When Maurizio Sarri coached Napoli, Insigne formed one of the most feared left-sided trios in Europe with Faouzi Ghoulam and Marek Hamsik. Replicating that triangle in Toronto was always going to be integral to extracting Insigne's maximum value. At TFC, Criscito is Ghoulam and Mark-Anthony Kaye was supposed to be Hamsik, but Kaye's injury led to Nelson claiming that title. The pass maps and average positioning back that up with Nelson (No. 11) combining with Criscito (No. 44) and Insigne (No. 24).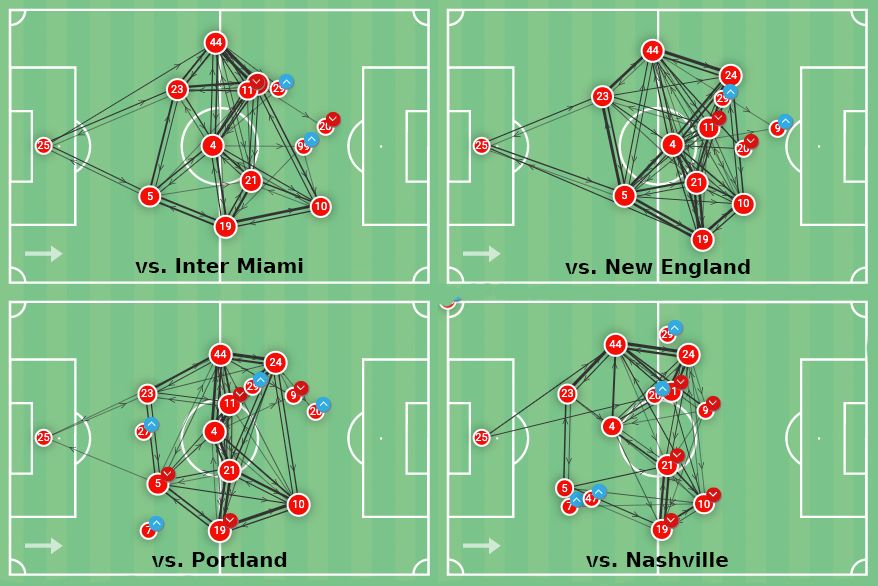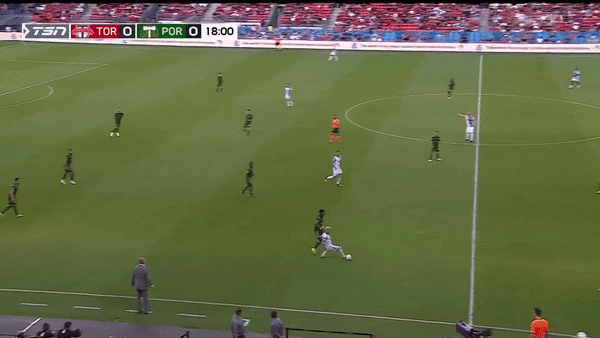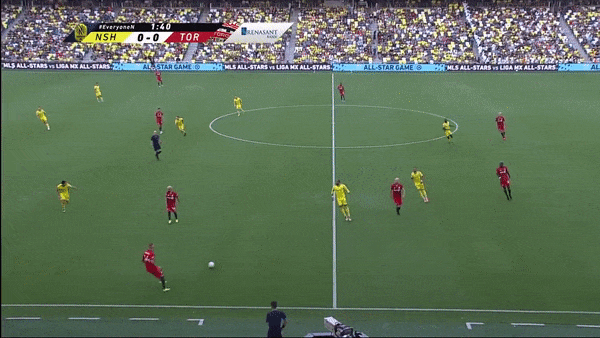 This leads to Criscito providing the width at left fullback, Insigne drifting inside when the situation presents itself and Nelson to cover for Insigne defensively while occasionally interchanging with the diminutive Italian.
Responsibility
It's all well and good to have Insigne occupying a central position in possession with Criscito overlapping. However, someone needs to provide cover in case the opponent launches a transition down a wide-open flank.
That's why Nelson stepped up out of necessity. Covering the flanks has been an issue for TFC since last season so the wide midfielders – Nelson and Osorio in this case – have to protect the wings whenever the fullbacks bomb forward.
To Nelson's credit, he's done that in spades while maintaining his efforts to harry opposing defenders.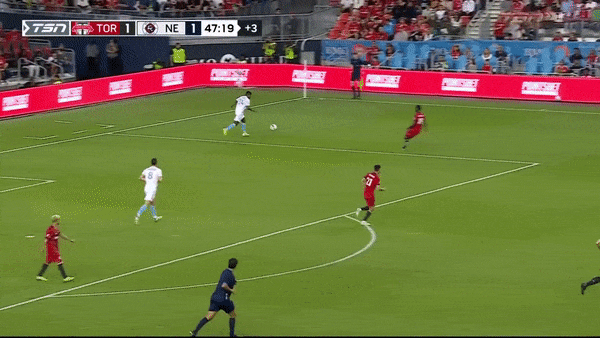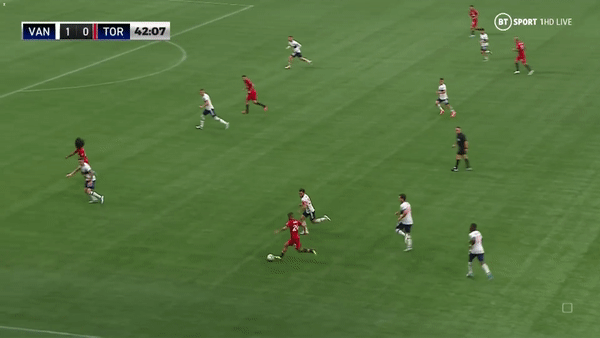 Decision-making
The midfield role is benefitting Nelson's strengths but that doesn't mean he's the finished product.
Decision-making is often highlighted as Nelson's greatest weakness. He either holds onto the ball too long, hesitates to pass or shoot and/or attempts to dribble through defenders when a simpler option is available.
That remains present in Nelson's game and it's certainly an area of improvement.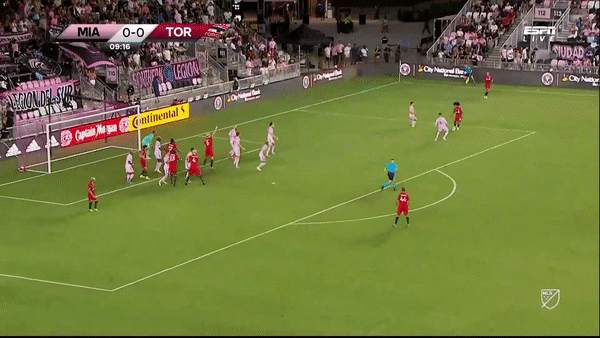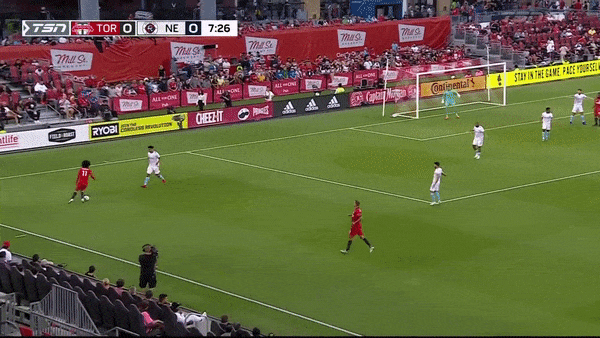 On the bright side, Nelson wasn't tracking back earlier this season and he's doing it now. Perhaps this is the next trait to undergo a major overhaul and if that's the case, his progression will be even more rapid.
(All data courtesy of StatsBomb and FBRef.com.)
Peter Galindo is a soccer writer and freelance scout based in Toronto who covers the sport for Sportsnet.ca and the MLS website, and is co-host on the Northern Fútbol Podcast, which analyzes all things Canadian soccer from the national teams to the domestic game. You can subscribe, download and stream the show on multiple platforms by clicking here. Follow Peter on Twitter.
(Top photo courtesy of torontofc.ca)
---
TFC Republic is a paid-subscription website. All of the content at TFC Republic is behind a paywall, and you need to be a subscriber to access it. It costs only $8 for a one-month subscription, or $50 for a full year (prices include 13% GST/HST). What a great deal, eh?  Don't miss out, and order your TFC Republic subscription today!