Feature
TFC's Kadin Chung: 'Just to be here every day is a blessing in itself'
The Canadian fullback has learnt the value of mental toughness after dropping down the Toronto FC's depth chart.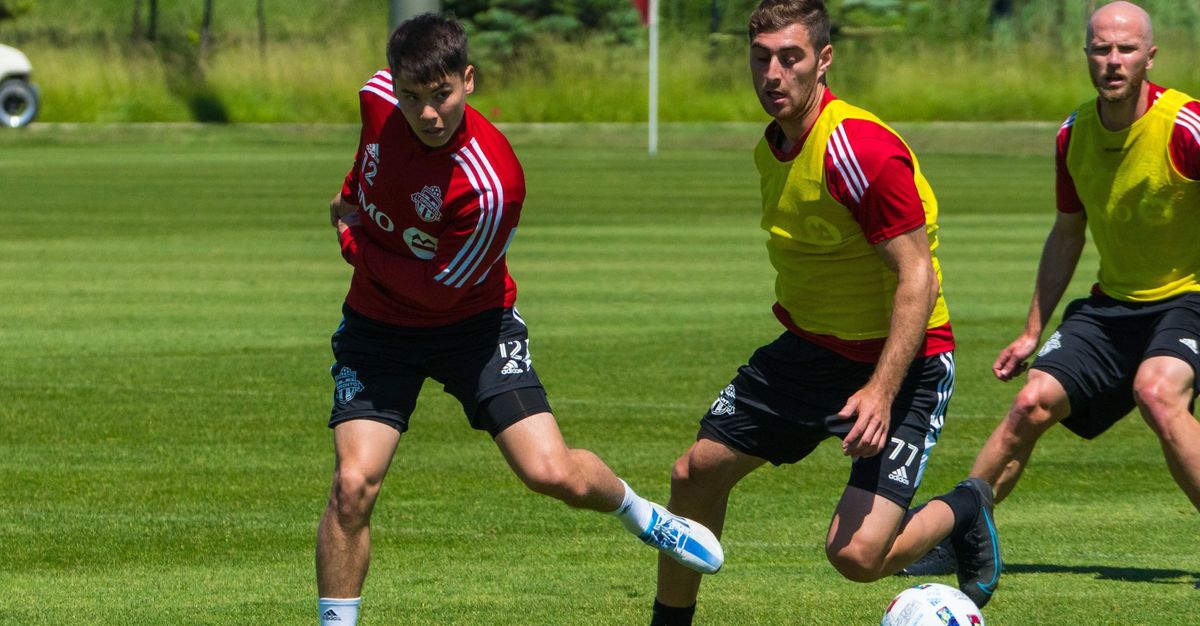 After prominently featuring at Pacific FC for three seasons in the Canadian Premier League, Kadin Chung took the next step in his career when he signed with Toronto FC in February.
For Chung, getting to Major League Soccer was a long time in coming. A native of B.C., Chung joined the Vancouver Whitecaps Residency Program in 2011, and made several appearances with their under-16 and under-18 teams. In 2015, he graduated to Whitecaps FC 2 and ended up playing three years with the USL club, but he never caught on with the Whitecaps' senior team in MLS. After a brief stint with 1. FC Kaiserslautern II in Germany, Chung returned home and joined Pacific in 2019.
Bob Bradley had tracked Chung at Pacific since his time in charge at LAFC, and when he took over as coach of TFC last November he reached out to the fullback, who ended up signing an MLS contract after a successful pre-season stint with the Reds.
At first, Chung hit the ground running with Toronto FC. He made his league debut in the second week of the campaign, and earned his first start in the following game. In total, the right fullback made eight appearances - five as a starter - through the Reds' opening 11 matches of the MLS campaign.
TFC Republic is on a free trial this week, so please enjoy this story and many more that will come out from behind the paywall until Sunday, Aug. 28.
You can subscribe to TFC Republic by
CLICKING HERE
, or by clicking on the subscribe button on the home page. A monthly subscription costs just $8, while a yearly subscription is $50 (a savings of 48%).
Then a calf injury suffered in a 1-0 road loss to the Vancouver Whitecaps on May 8 sidelined him for three weeks. He ended up playing in the COVID-delayed 2020 Canadian Championship final against Forge FC on June 3, coming on as a second-half substitute. But that was his last appearance for the Reds. He was on the bench for TFC in this past weekend's road loss to Inter Miami, marking the first time he'd even made the gameday squad since July 16.
"I felt like prior to the injuries I was having a good run of games. But that's football sometimes. It happens to the best players in the world. Yes, it's frustrating, but I can only control what I can control. So, I try to push myself in training every day and find a way to get back on the matchday roster," Chung told TFC Republic.
For Chung, being on the bench and not even dressing for games isn't something he's been accustomed to in his short career. He was a starter for Pacific during the inaugural CPL season in 2019, playing in 24 games as the team finished in fifth place. He regularly featured for the Tridents during the shortened 2020 season known as The Island Games in P.E.I. Last year, Chung firmly established himself as one of the best right fullbacks in the CPL, helping Pacific to win the North Star Shield as league champions. He also played against TFC at BMO Field in the semifinals of the Canadian Championship.
A situation like the one he finds himself in at the moment is bound to be a tough experience for any young player. For Chung, it has meant learning the value of mental toughness.
"I've never been in a spot where I'm fighting every day to play. I've been pretty lucky my whole career, so this has definitely taught me a lot about being mentally tough and embracing the challenges. It was never going to be easy, especially with a fully healthy squad, with the quality of the players we have. I never was expecting it to be easy," Chung admitted.
Chung isn't operating under any false illusions, and remains remarkably self-aware and candid about his chances of getting some playing time down the final seven games of the regular season as the Reds fight to claim a playoff berth.
"I have to look at the bigger perspective and realize where I am right now. It's been a dream of mine for a long time to play in MLS. I've accomplished that this year, and I never imagined I'd be playing with players like Lorenzo [Insigne] and Federico [Bernardeschi]. Just to be here every day is a blessing in itself. It's kinda how you look at it. Yes, of course, I'd want to be pushing to play minutes and compete. But at the same time, every experience that I'm getting is gonna help my career and push me forward," Chung offered.
"You have to have that kind of attitude or else mentally it'll be draining and it won't make things easier."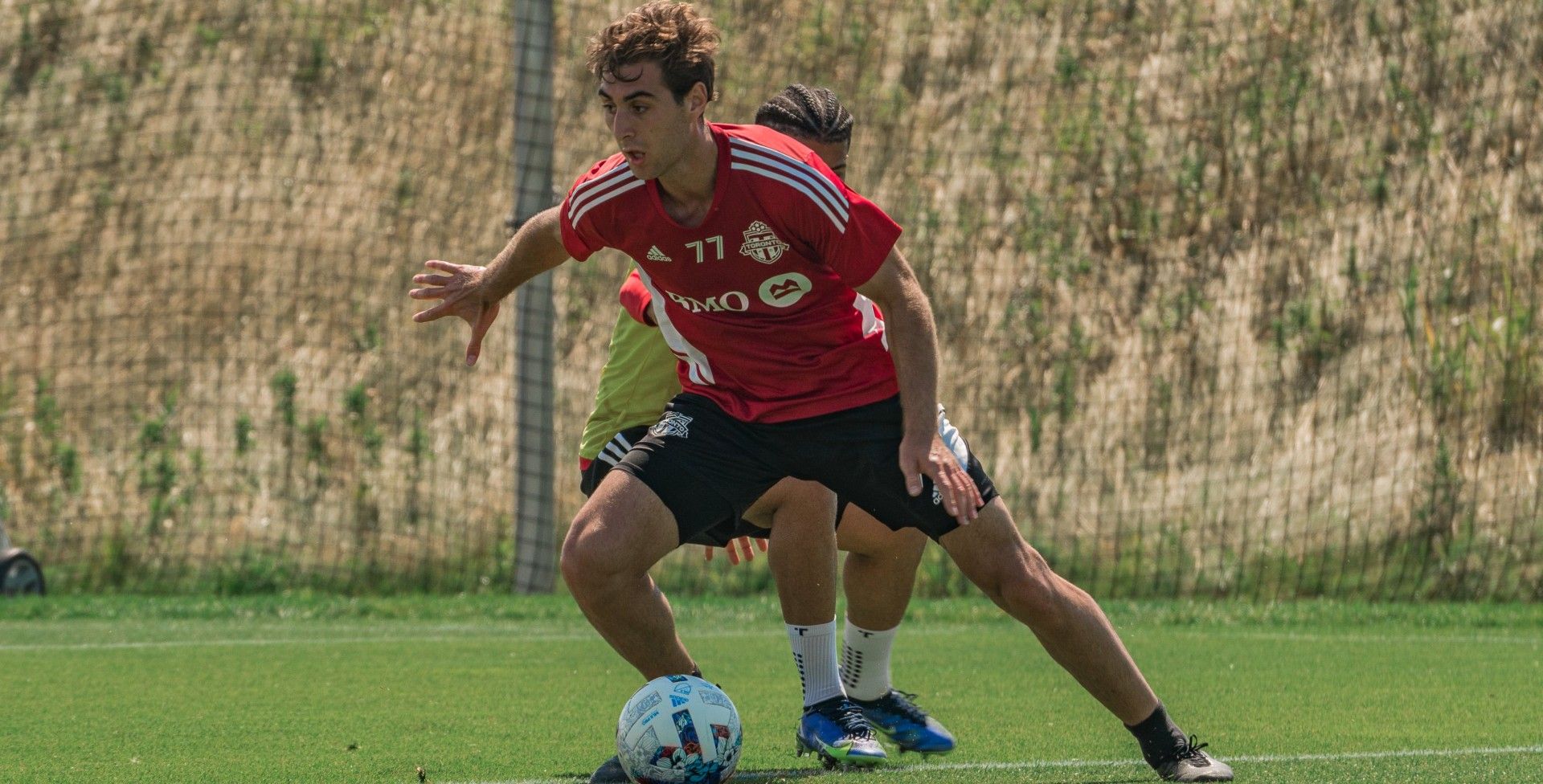 What has also made things easier for Chung has been the constant communication with Bob Bradley, who hasn't adopted an "out of sight, out of mind" attitude with his non-starters.
"Bob likes to check in on his players and make sure we know where we are. He's told me the same thing that I've echoed to myself about continuing to push myself in training. We had a large spell of injuries as a group at the beginning of the season. God forbid it happens again, but in case it does, I have to be ready for the moments that come and Bob has told me to be ready," Chung said.
He's also taken to observing veteran left fullback Domenico Criscito since the Italian's arrival at the club last month.
"Learning from a guy like Mimmo, who is in my position but on the opposite side, I mean, watching him, studying him a little bit, and learning about his mannerisms has been good for me," Chung explained.
While opportunities with the first team have been few and far between the last two months, Chung has made four appearances for TFC 2 in the MLS Next Pro league, and recorded an assist in the junior Reds' 2-1 win over FC Cincinnati 2 on Aug. 21.
"It's been great. It's a lot of young players that are trying to push themselves to get looks with the first team. We've had a lot of TFC 2 players train with us this season and even been in the gameday rosters. There are quality players there. For me, along with competing, it's getting match fitness and opportunities to get minutes in a competitive situation," Chung said.
"It's a very physical game [in MLS Next Pro], similar to MLS. The only thing I'd say, it's a lot of younger players. So, it can be erratic a little bit at times, but for the most part it's a good level of football."
---
---
While Chung's MLS career has somewhat stalled, Lukas MacNaughton's has blossomed over the last few weeks. The two were teammates at Pacific FC for three seasons and both signed with TFC prior to the 2022 MLS campaign.
MacNaughton, 27, has started eight games in a row in all competitions for the Reds, and scored his first goal for the club in the Canadian Championship final vs. Vancouver.
"It's been great. I couldn't be happier for him. It took him some time to settle in, but what he's done consistently throughout the season has been great. He's pushing to make [Canada's] World Cup roster as well, and I think he's found himself in a position where he's performing great for us, and I think he should get a look and an opportunity with Canada," Chung stated.
Chung has also kept close tabs on his former team, as Pacific currently sits third in the CPL table and looks poised to qualify for the playoffs and defend their championship. Coached by James Merriman, the Tridents have also advanced to the Round of 16 of the Concacaf League.
"James has them moving in a good direction. I feel like the belief within the group has carried over from last year. Guys on that team realize they're good players. I'm happy for them and I'm glad they're succeeding," Chung said.
If Pacific is to repeat as CPL champions, they'll have to do it without Alejandro Díaz. The 26-year-old Mexican forward currently tops the league's scoring charts with 13 goals, but he won't get a chance to add to his total after being sold to Sogndal Fotball of Norway's second division.
Chung played alongside Díaz at Pacific during the 2021 and 2022 CPL, and always knew the Mexican was destined to move on from the CPL.
"We're really good friends. I keep in touch with him a lot. When you're having as good of a season as he was, and I knew of his ambitions of pushing on and getting to another level, you could see it coming. I didn't expect it to happen halfway through the season. I thought maybe he'd finish off the season. But I'm super happy for him. It's great for him," Chung said.
(Top photo courtesy of torontofc.ca)
---
TFC Republic is a paid-subscription website. All of the content at TFC Republic is behind a paywall, and you need to be a subscriber to access it. It costs only $8 for a one-month subscription, or $50 for a full year (prices include 13% GST/HST). What a great deal, eh?  Don't miss out, and order your TFC Republic subscription today!