Feature
Toronto FC looks to be sticking with pat hand for playoff push
TFC has doubled down on sticking with experienced veterans over their crop of youngsters during the final stretch of the season.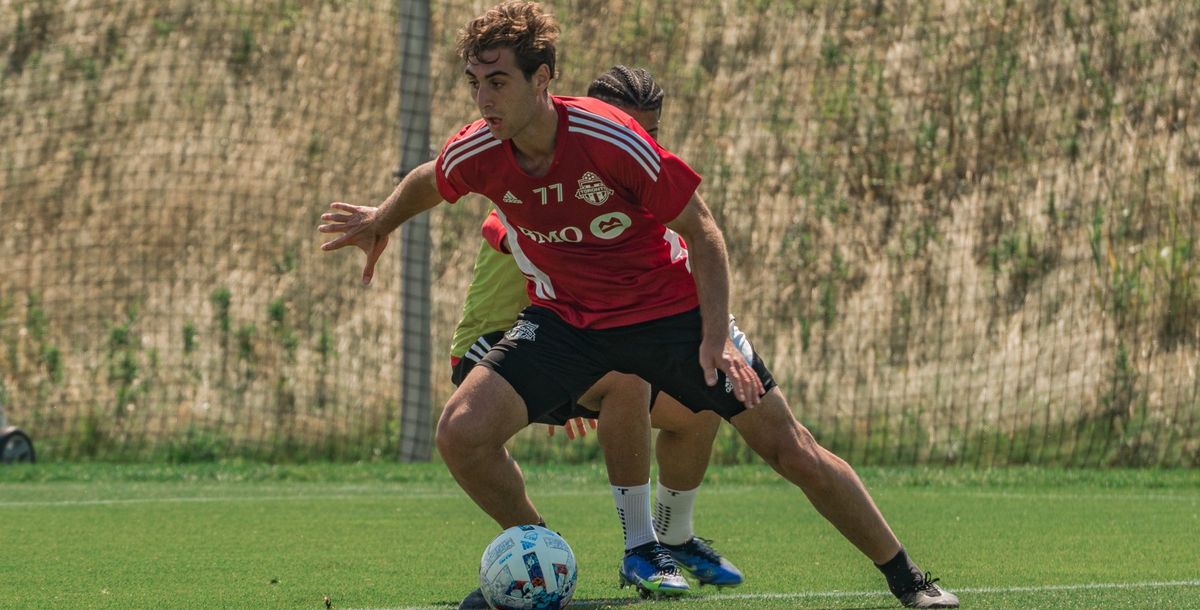 The second half of Toronto FC's 2-1 road loss to Inter Miami on the weekend revealed a lot about how coach Bob Bradley views the depth of his team as it battles for its playoff life down the home stretch of the MLS season.
With TFC trailing by a goal, Deandre Kerr and Ifunanyachi Achara came into the game off the bench at the expense of Ayo Akinola and Jayden Nelson in the 62nd minute. The double switch was the only change made by Bradley on the night, marking the second straight match he used 13 players and didn't make use of his full complement of substitutions. Over the last three games, Bradley deployed 12 starters, and had the same starting 11 twice.
Fatigue was always going to be a factor given Saturday was the Reds' third match in a week, and that they were coming off a midweek home draw against the New England Revolution. That's why it seemed odd that Bradley did not turn to his bench more on a hot night when the conditions tested the team's fitness.
TFC Republic is on a free trial this week, so please enjoy this story and many more that will come out from behind the paywall until Sunday, Aug. 28.
You can subscribe to TFC Republic by
CLICKING HERE
, or by clicking on the subscribe button on the home page. A monthly subscription costs just $8, while a yearly subscription is $50 (a savings of 48%).
It has to be said that Bradley was somewhat limited in his options. Forward Jesús Jiménez was given the night off and didn't travel with the club to Florida so that he could recharge his batteries – "I think physically, he's empty right now," Bradley said of the Spaniard. Meanwhile, Canadian midfielder Mark-Anthony Kaye missed his sixth consecutive match due to a lower-body injury.
Still, there were a number of young attackers on the bench – Jahkeele Marshall-Rutty (18), Jordan Perruzza (21), Kosi Thompson (19) and Luca Petrasso (22) – who Bradley could have turned to as Toronto valiantly fought for the equalizer that never came.
But TFC's coach defended his decision not to make any more changes and add fresh legs into the side after bringing on Kerr and Achara, explaining that he felt the players he had on the pitch at the time were best positioned to help the Reds come from behind to earn a result.
"You size up in different moments. ... Do I think that somebody that we can bring on in that moment is going to have a better chance to make a play than one of [Lorenzo Insigne or Federico Bernardeschi]? Going to the midfield, you ask yourself the same question with regard to Michael [Bradley] and Oso [Jonathan Osorio]," Bob Bradley told reporters after the loss.
"Now you go into the back line, I thought that Lukas [MacNaughton] and Chris [Mavinga] had things covered in a good way. For sure, Richie [Laryea] and Mimmo [Domenico Criscito] were tired. Richie still offers a different kind of threat coming forward. And Mimmo I still trust that through his positioning and his experience in his left foot that maybe he can make a play.
"You know, those are tough decisions because you could easily say, 'yes, but we played midweek,' and now at a certain point these guys are very tired. We thought about different things. But after the first two [Miami goals], we still thought that we were pushing the game in a decent enough way and we left it to see if one of those guys on the field could make a play."
Did sticking with a pat hand cost TFC valuable points in a loss against Miami that snapped their season-high five-game unbeaten run? It's impossible to say for sure. Bradley could have made more substitutions and the Reds could've still lost.
But it is notable that Bradley didn't think adding one of the aforementioned youngsters on TFC's bench that night – nor fellow substitutes Doneil Henry and Kadin Chung – could help improve his team's chances of getting a result in Miami.
Looking at the numbers, it's easy to see why he felt that way.
Between them this season, the group of Thompson, Perruzza, Marshall-Rutty and Petrasso have scored one goal and tallied six assists in 59 combined league appearances. Neither Perruzza nor Marshall-Rutty (both 13 games played) have scored nor set up a goal for Toronto this season.
A regular starter for the club for the first half of the campaign, Petrasso has been limited to just 13 minutes of playing time in MLS since the Italian DPs made their debuts in a 4-0 win over Charlotte FC on July 23. The Canadian has been an unused substitute in each of the last five contests. Likewise, Thompson has been relegated to an observer since Richie Laryea returned and took over as the club's starting right fullback.
---
---
Considered one of the league's brightest young prospects, Marshall-Rutty was sidelined for a good portion of the season after suffering a knee injury before returning to action in mid-June. But it took the teenager four and a half months to crack the starting 11 in TFC's 0-0 draw vs. New England on July 30. He's been limited to 29 minutes since then.
As for Perruzza, he's logged more minutes (273) in four games with TFC 2 in MLS Next Pro this year than he has in 13 appearances (223 minutes) with the senior team.
It's also telling that the Italian trio of Bernardeschi (four goals, two assists), Insigne (three goals, one assist) and Domenico Criscito (one goal) have been involved in 11 of Toronto's last 13 goals in league play, including the last five in a row. Laryea has three assists in his four games since returning, while Jonathan Osorio has five goals in his last nine matches.
What will be interesting to see is what moves TFC will make in the coming off-season, whether they remain faithful to the kids and keep them around in the hopes that they can blossom into regular contributors. Or whether they bring even more experienced players to round out the squad's depth.
In the meantime, Bob Bradley clearly knows which side his bread is buttered on. He has doubled down on sticking with the experienced veterans over the team's crop of youngsters, hoping that they can lift TFC up the Eastern Conference table and into a playoff spot as the regular season draws to a close.
(Top photo courtesy of torontofc.ca)
---
TFC Republic is a paid-subscription website. All of the content at TFC Republic is behind a paywall, and you need to be a subscriber to access it. It costs only $8 for a one-month subscription, or $50 for a full year (prices include 13% GST/HST). What a great deal, eh?  Don't miss out, and order your TFC Republic subscription today!