Newsletter
TFC Republic Weekly: March 20-26 lookahead
Toronto FC will be shooting for its first road win in MLS since last August when it faces the San Jose Earthquakes this weekend.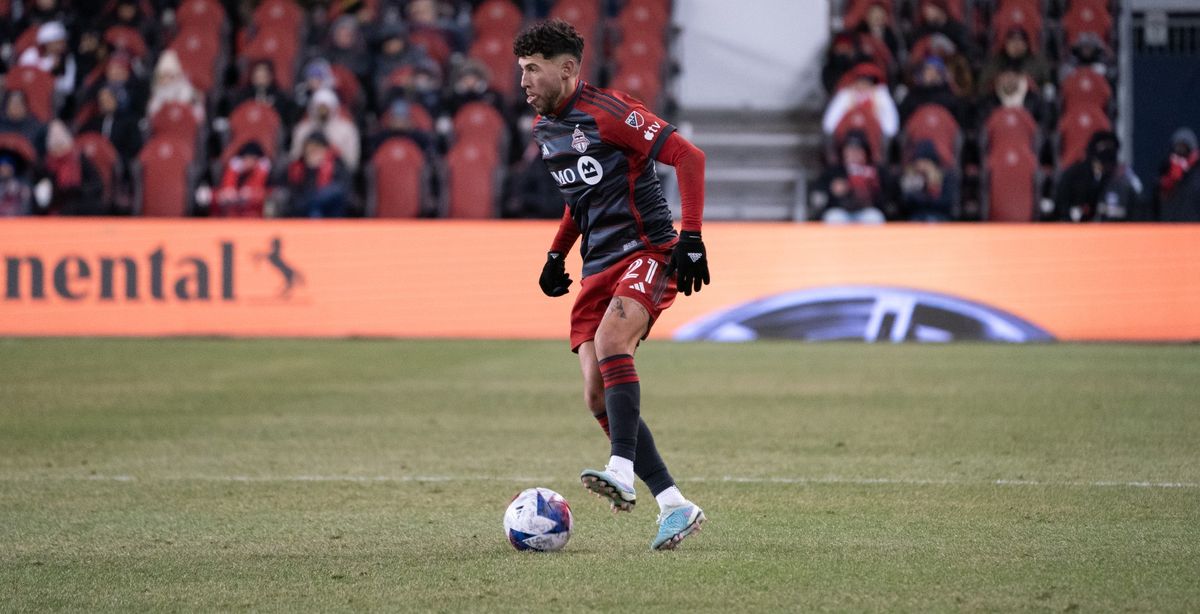 Welcome to the latest edition of TFC Republic Weekly, a free email newsletter that will land in the inbox of both paid subscribers and free members of TFC Republic every Monday.
This newsletter will look at what's in store over the next seven days for Toronto FC, and set up their schedule of games for the week.
You'll also get a glimpse of what to expect at TFC Republic in the coming days.
So, without further ado...
Toronto FC gets 1st win of MLS season
After squandering second-half leads in each of its first three games of the MLS season Toronto FC finally put its opponent away on Saturday.
TFC received goals from Canadian internationals Jonathan Osorio and Mark-Anthony Kaye in a 2-0 win over Inter Miami on a bitterly cold night at BMO Field.
The victory was the Reds' first of the campaign and snapped a nine-match winless skid (six losses) that dated back to a 2-0 decision away to Charlotte FC on Aug. 27, 2022. That was also Toronto's last clean sheet. TFC's previous win at home was a 3-1 effort over the Portland Timbers on Aug. 13, 2022.
"Especially with the way this season has begun, this win is huge," Osorio said.
Game management has been a major issue for Toronto so far this year, as underscored by its inability to see things out after going ahead. On Saturday, though, the Reds not only jumped out to a 1-0 lead in the 49th minute thanks to Osorio, they built on that advantage when Kaye scored his second goal of the year in the 69th minute. It was the first time this season that the Reds went up by two goals in a game.
"Obviously with the three games to begin the season, we were a little bit disappointed in having leads in all those three games and losing it. So, today we made it a point that we had to be aggressive, we had to be on the front foot and manage the game well, and most importantly get the three points. I think overall, the performance was really good by the team," Osorio said.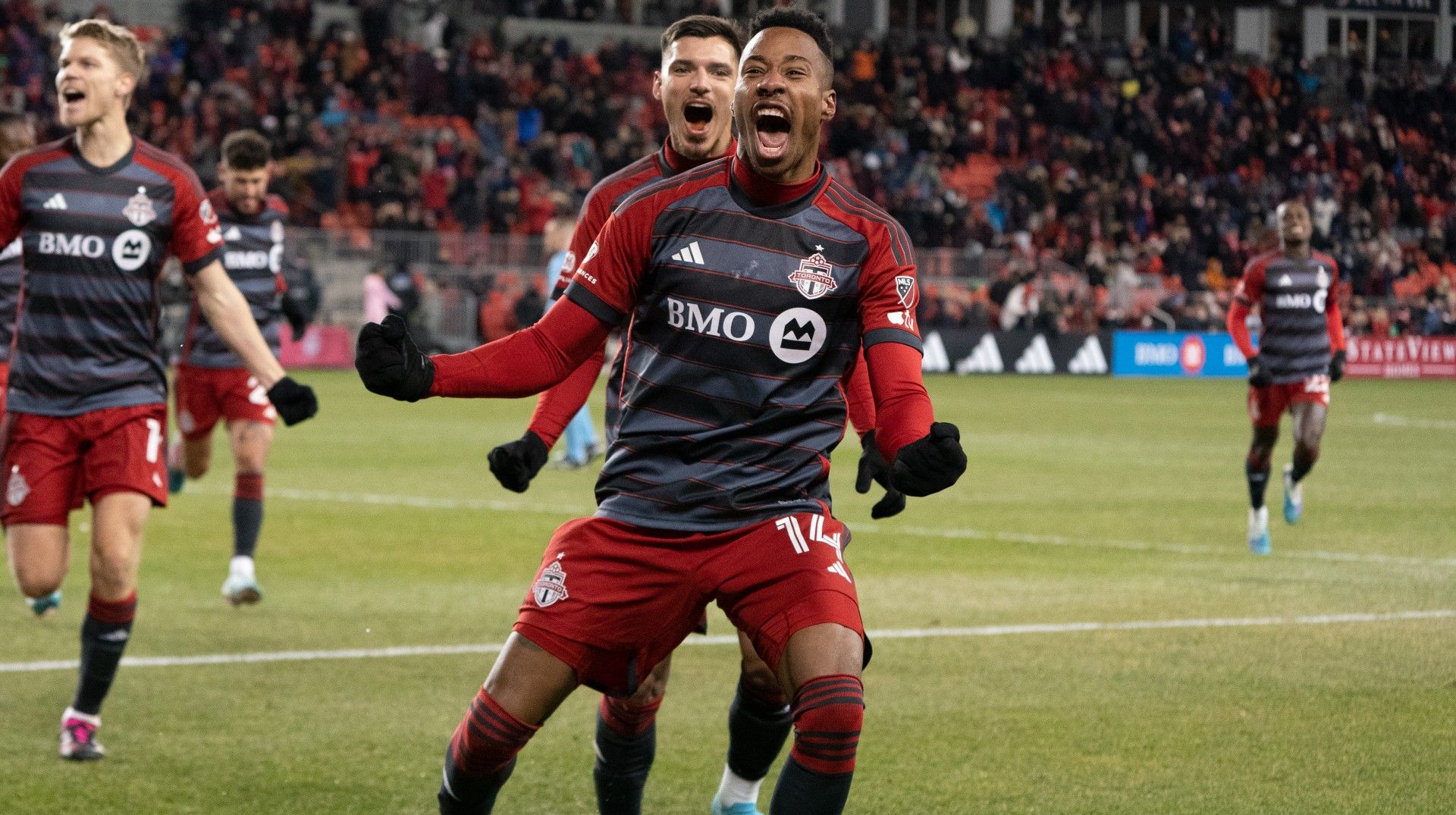 TFC vs. San Jose Earthquakes on Saturday
Toronto FC hits the road this week when it plays the San Jose Earthquakes at PayPal Park on Saturday (10:30 p.m. ET).
San Jose is coming off a 3-0 road loss to St. Louis City SC on the weekend, a result that followed back-to-back home wins for the Earthquakes. San Jose opened the season with a 2-1 loss away to Atlanta United.
Saturday's game is the first meeting between the clubs since they battled to a 2-2 draw on July 9, 2022 at BMO Field. Deandre Kerr and Jonathan Osorio scored for Toronto, who was minutes away from snapping a two-game losing streak before it conceded in injury time.
Coach Bob Bradley praised his team for the way it fought back after going down in the first half. But he also understandably bemoaned the fact the Reds couldn't close things out after putting in a strong second-half performance.
"It's just a game you have to win. When you get a good response, when you get some goals, when you have a chance at the very end to finish a game, take your points, reward yourselves, then it's impossible that at the end you don't make a play or two [to close things out]," Bradley told reporters after the game.
San Jose leads the all-time MLS regular season series against Toronto with six wins and seven draws in 18 meetings.
This is the only meeting between the clubs this season.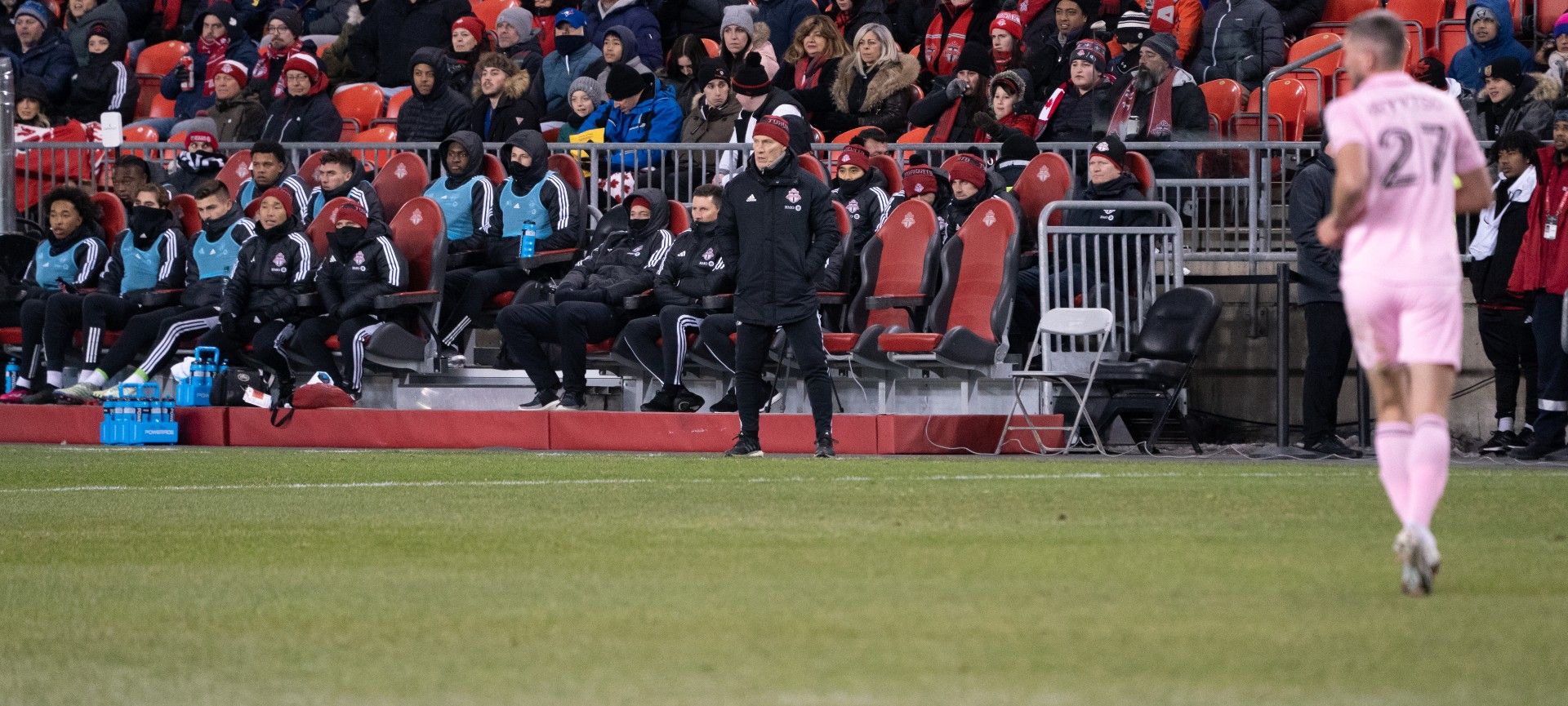 CanMNT vs. Curaçao on Saturday
The Canadian men's team will rely on a squad mostly made up of European-based players for its first games since the 2022 FIFA World Cup in Qatar.
John Herdman unveiled his 23-man roster last week ahead of Canada's Concacaf Nations League qualifiers this month, with Bayern Munich fullback Alphonso Davies and Lille forward Jonathan David among the more high-profile players named to the side. Canada will play away to Curaçao on March 25 before hosting Honduras on March 28 at BMO Field in Toronto.
Honduras sits atop Group C with six points from three games. Canada and Curaçao are tied on three points, but Herdman's side has only played twice, so it sits second in the table. The winner of this group and the three other groups qualify for the Concacaf Nations League finals in June.
The Canadians opened their Concacaf Nations League qualifying campaign with a 4-0 win over Curaçao in Vancouver on June 9, 2022. They followed that up with a 2-1 loss in Honduras four days later. Canada is 53rd in the latest FIFA world rankings. Honduras is 81st, while Curaçao comes in at No. 86.
The Concacaf Nations League qualifiers will be Canada's first matches since competing at the FIFA World Cup late last year when it bowed out in the group stage following three losses. This month's matches also come at a time when both the men's and women's teams are embroiled in a labour dispute with Canada Soccer over a new collective bargaining agreement.
Canada will be looking towards these two games as a way to build momentum for the program going forward, especially with this summer's Concacaf Gold Cup on the horizon.
"We have to pick up from where we left off [at the World Cup]," Herdman said. "We created a good foundation, I think, in the last quadrennial to give us a lot to build on moving forward. So [team] selection was more about winning matches. It was more about who's fit and not injured and who's playing at the levels required to compete against tough opponents like Curaçao and Honduras."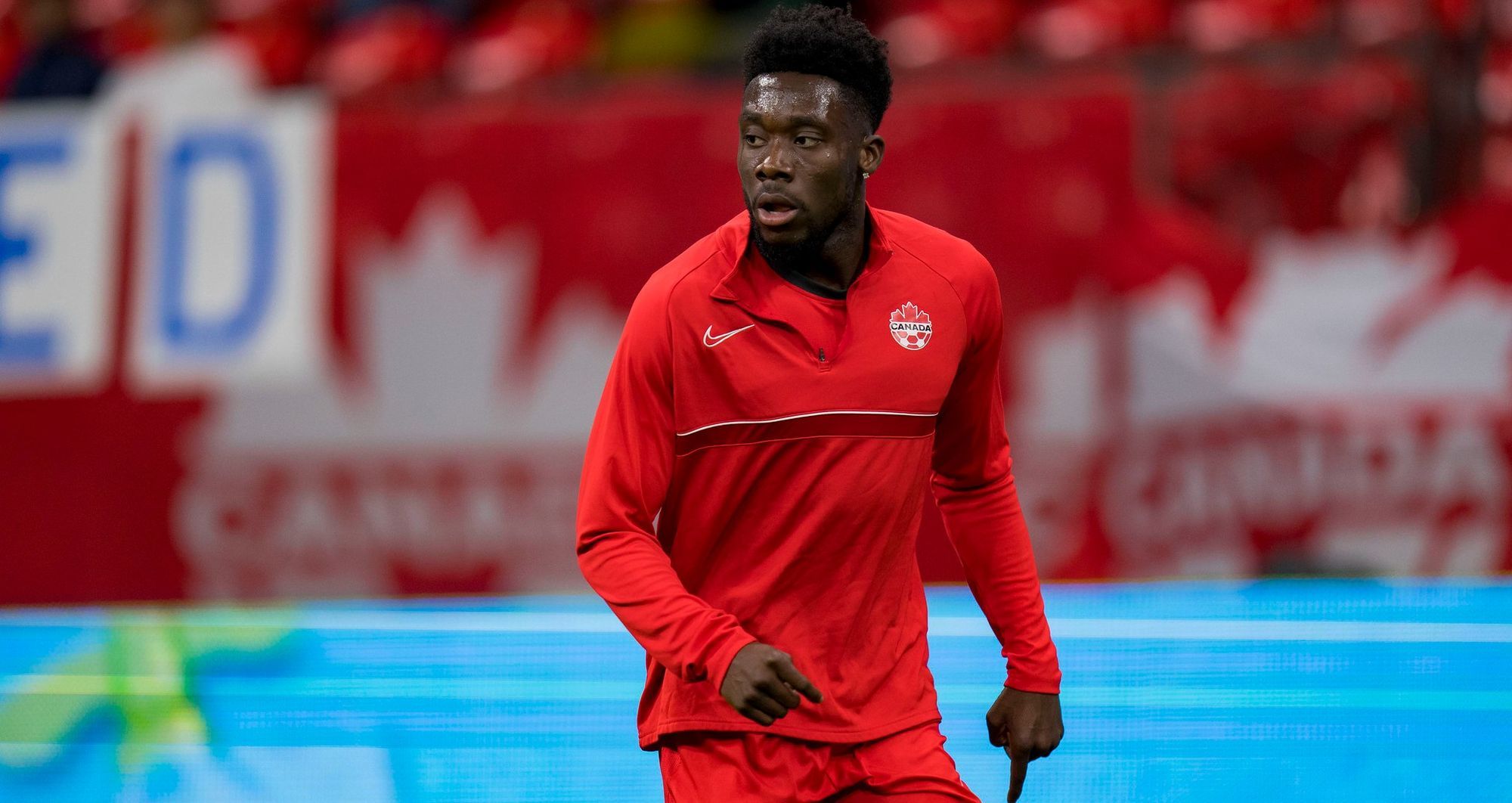 Canada Soccer officials to testify on Monday
It's Canada Soccer general secretary Earl Cochrane's turn to appear before the Standing Committee on Canadian Heritage in Ottawa.
Cochrane and Canada Soccer board members Stephanie J. Geosits and Paul-Claude Berube will testify via video conference on Monday at 11:00 a.m.
On March 9, Canadian women's team captain Christine Sinclair, Sophie Schmidt, Janine Beckie and Quinn appeared before the parliamentary Heritage Committee in Ottawa, and told the MPs that their program is being held back by Canada Soccer.
The team is embroiled in a bitter labour dispute with the sport's governing body, and Sinclair ruthlessly took Canada Soccer to task for fostering a "culture of secrecy and obstruction" in its labour negotiations with the women's team over the years.
"As the popularity, interest and growth of the women's game has swept the globe, our most painstaking battle has been with our own federation and trying to obtain fair and equitable treatment in the way we are supported and the way we are paid," Sinclair said.
The women's team has been without a labour deal since its previous pact expired in 2021. The women have struck an agreement in principle with Canada Soccer on a compensation deal for 2022, but there are other outstanding issues to be resolved.
The men's team is working on its first formal collective bargaining agreement with Canada Soccer.
---
---
Stories to look out for at TFC Republic
Toronto FC's back line looks far more solid this year thanks in part to the off-season addition of Sigurd Rosted. The Norwegian international has hardly looked out of place in MLS after plying his trade for clubs in Norway, Belgium and Denmark. I recently chatted one-on-one with Rosted to talk about how he landed on Bob Bradley's radar, what it was like playing with Canadian international Jonathan David at Belgian club Gent, and much more. Look for my feature story on Rosted in the coming days.
Other stories that will be published later this week include:
In-depth pre- and post-game coverage of TFC's road game against the San Jose Earthquakes.
In-depth pre- and post-game coverage of Canada's Concacaf Nations League qualifier against Curaçao.
A column on the state of the union at Toronto FC.
The weekly notebook from TFC practice with all the latest news ahead of Saturday's game.
A "bits and bites" column on various things going on at TFC.
A feature story explaining TFC is not on the hook for Cristián Gutiérrez's full salary after claiming him off waivers.
A video blog recapping Canada Soccer officials testifying before the Standing Committee on Canadian Heritage in Ottawa.
And much more!
---
TFC Republic mailbag
TFC Republic will feature a regular reader mailbag column where I answer questions from subscribers about Toronto FC and Canadian soccer in general.
I'll answer the best questions submitted to me by TFC Republic readers, so feel free to drop me an email at johnmolinaro@rogers.com. You can also reach out to me via Twitter and Facebook.
(Top photo courtesy of Tudor Dinica)
---
TFC Republic is a paid-subscription website. All of the content at TFC Republic is behind a paywall, and you need to be a subscriber to access it. It costs only $8 for a one-month subscription, or $50 for a full year (prices include 13% GST/HST). What a great deal, eh?  Don't miss out, and order your TFC Republic subscription today!