Match report
Toronto FC loses thriller away to New York City FC
TFC coughed up five consecutive goals in Sunday's road loss to the reigning MLS champions.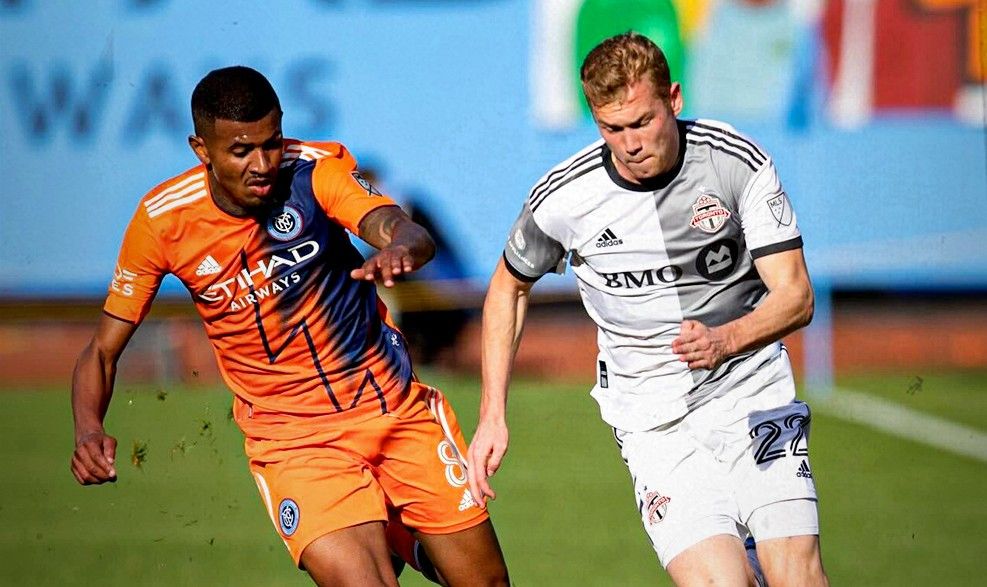 Toronto FC 4 (Jiménez 13', 28; Kerr 86; Bradley 90'), New York City FC 5 (Castellanos 38'; Andrade 49'; Rodríguez 54'; Parks 58'; Pereira 75')
Toronto has 1 road win in 9 regular season games vs. NYCFC
Osorio becomes 1st player to earn 300 appearances for TFC
Don't let the final score fool you.
Toronto FC's 5-4 loss to New York City FC on Sunday at Citi Field Stadium suggests the contest was a lot closer than it was, when in truth the damage could have been far worse.
The reigning champions generously spotted Toronto a two-goal lead inside the opening half hour before scoring five consecutive goals and then holding on for a slim victory to halt the Reds' unbeaten run at four games.
Toronto (3-3-2) was humbled at the feet of New York (3-3-1), unable to slow down the home side's awesome attack, or prevent them from routinely bossing them in midfield and getting in behind the defence. Not even a brilliant brace from Jesús Jiménez, who continues to shine as one of the best newcomers in MLS, could put a positive spin on what was TFC's worst defensive performance of the year. Toronto's lack of mobility in midfield was exposed by NYCFC, with captain Michael Bradley struggling to keep pace for stretches of the match.