Feature
Why should Bill Manning stay in charge at Toronto FC?
It was a question that was put directly to TFC's long-standing president earlier this week. His answer didn't inspire a lot of confidence.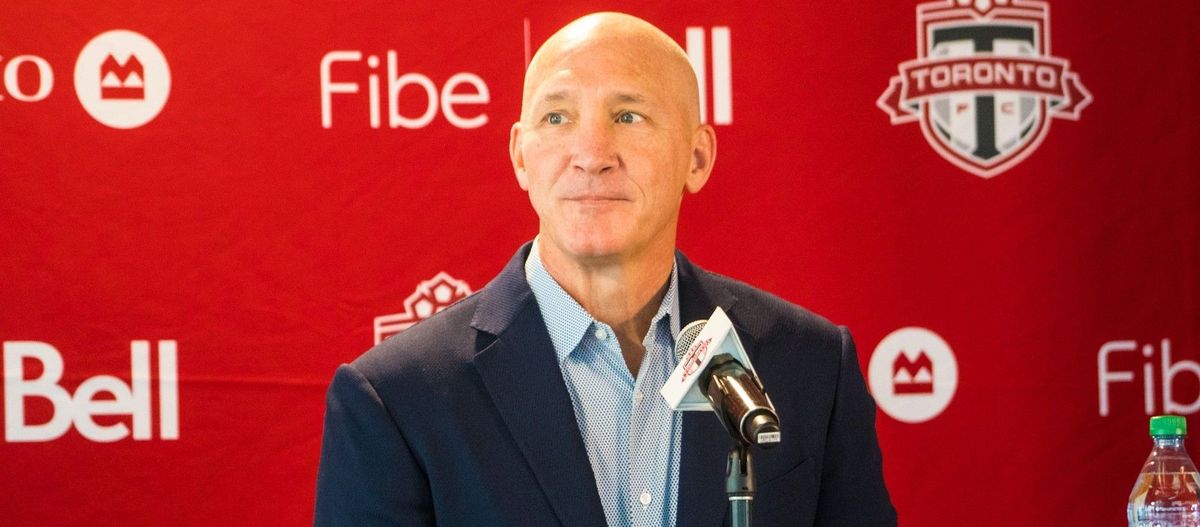 This story is out from behind TFC Republic's paywall and is free to read.
You can subscribe to TFC Republic by
CLICKING HERE
, or by clicking on the subscribe button on the home page. A monthly subscription costs just $8, while a yearly subscription is $50 (a savings of 48%).
As the loud music blared and Toronto FC players wildly celebrated inside the locker room at BMO Field following their 2017 MLS Cup victory over the Seattle Sounders, club president Bill Manning was the very picture of 1950s crooner cool.
Standing alone in the corner, Manning was subconsciously doing his best Frank Sinatra impression, with the top button on his shirt undone and his dress pants still perfectly creased, as he languidly swigged from a bottle of champagne. Had someone handed him a microphone then and there, he likely would've started singing, "Fly Me to The Moon."
Manning had every right to feel good about himself, as his TFC side just completed an MLS season that still stands as one of the greatest in league history. You couldn't have possibly been able to wipe the cat-ate-the-canary grin from his face.
That was only six years ago, but it must seem longer to TFC's embattled president. Manning cut a distinctly different figure on Tuesday when he addressed the media for the first time since announcing roughly 24 hours earlier that Bob Bradley had been fired as the team's coach and sporting director.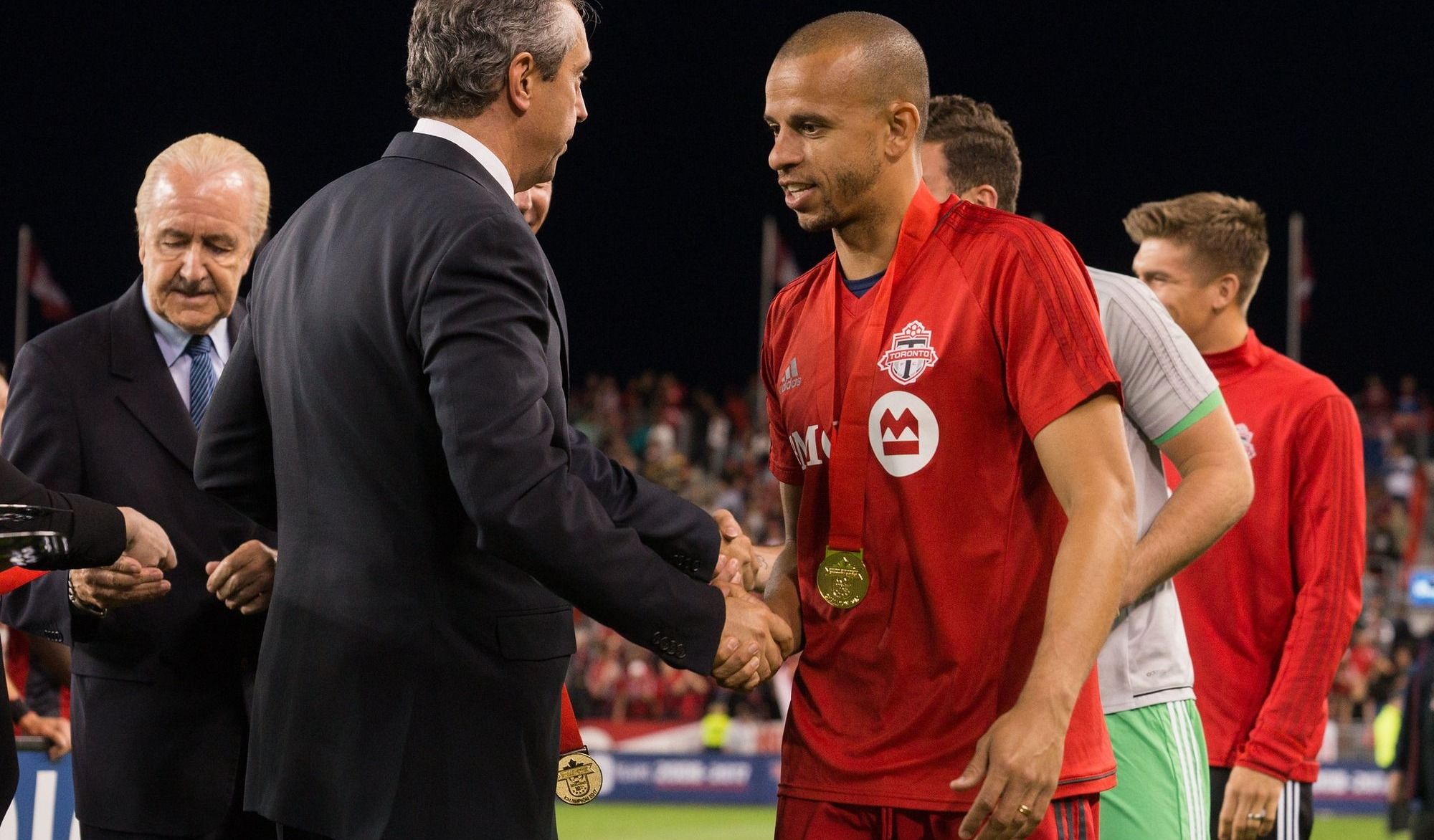 With just three wins through the first half of the MLS campaign, Toronto is in serious danger of missing the playoffs for a third straight year, despite having the league's most expensive roster. TFC is in a dire situation at the moment, a fact acknowledged by Manning, who spoke in solemn tones and had a painful expression etched on his face while fielding questions from reporters for more than 30 minutes.
"I don't think any of us expected to be here where we are with the first team and I apologize to our fans that we are in this moment making a coaching change. With the years that I've been here, through the highs and the lows, this is one of the most difficult moments of my career. You take some lessons that you've learned, and I am fully committed to getting this going in the right direction," Manning said.
But whether Manning should be the person charged with the hefty responsibility of getting this once-proud franchise back on course remains the question.
As much as Bradley is at fault for TFC's current woes, Manning also shares in the responsibility. He hired Bradley and the pair worked in tandem to build the current roster. Given that, and given how badly the team has underperformed the last two and a half seasons, why should Manning remains as club president? It's a question that TFC Republic put directly to Manning during Tuesday's press event. His answer didn't inspire a lot of confidence.
"I've been president for eight years, and we had a lot of good years. … I look back on my own experience and what I have learned over those years. I wouldn't be in this position if I didn't win in my career. I've been fortunate enough to have some trophies and multiple teams that have won. Losing humbles you and it is not fun. But I have such a conviction to turn this around," Manning replied.
"I bear great responsibility and it's difficult. But there's nothing more I want to do than raise this team up again to win some trophies. You have to visualize things. Failure is part of life. I've done a lot of self-reflection. And it's easy to feel good about yourself when you're winning. I will always bet on myself."
There's no denying Manning's resume. He's worked for the NFL's Philadelphia Eagles and the NBA's Houston Rockets. During his time at Real Salt Lake, he won an MLS Cup in 2009 and finished runners-up in 2013. In 2011, RSL reached the Concacaf Champions League final and nearly became the first MLS club to win the continental tournament. Installed as TFC club president in 2015, Manning played a pivotal role in changing the culture within the organization and was one of the chief architects of a TFC team that won a historic treble in 2017. So, there is a certain pedigree there.
But things change pretty quickly in pro sports, a sobering lesson that Manning has learnt during his tenure at TFC. You're only as good as your last MLS Cup run, and the Reds' previous one was in 2019. A team that used to be looked upon with envy by other MLS clubs is now being snickered at behind its back. So, with all due respect, Manning's CV counts for very little right now – otherwise Toronto wouldn't be in the mess it's in.
This has become a familiar refrain from Manning. Whenever there has been a crisis of some sort to deal with, he has mentioned his previous successes, and leaned into his resume and past experiences when pressed as to why he should be trusted to fix things.
Manning's reputation was once beyond reproach, so bright was its lustre. But, bluntly, a lot of the shine has worn off. On Manning's watch over the previous three years, things have unravelled, beginning with TFC's greatest coach in Greg Vanney being allowed to walk away because he wanted more say in matters pertaining to roster development.
"It was never ever my intention to leave Toronto," Vanney told TFC Republic last summer.
After Vanney's departure, Manning signed and then extended Ali Curtis, who turned out to be one of the worst GMs in club history (and Curtis, in turn, hired one of the team's worst-ever coaches in Chris Armas). The team has swapped DPs in and out with reckless abandon, and then Bob Bradley was given the keys to the kingdom by appointing him head coach and sporting director, which didn't come close to having the desired effect.
Considering how disastrous Manning's last two major hires turned out to be, skepticism in his abilities is, quite rightly, at an all-time high.
Yet, Manning seemed to downplay the significance of his mis-steps, and again brought up his resume when pressed by TFC Republic about how his recent appointments didn't work out.
---
---
"When you hire someone, when you appoint someone, you don't anticipate it not going well. … Everyone experiences moments that don't go their way. It doesn't mean that they're not right for the job, or it doesn't mean that they're a failure, or it doesn't mean they stink at their job. It's how you deal with that. And it's how you react, how you adapt," Manning said.
"For me, having the pulse of the club, again, I will bet on myself that I'm going to make the right appointments here, that I'm going to help us win. The last few years have not gone well, but I think my accomplishments during my career give me a unique view of what it takes to win in this league. I believe in myself and I believe in those around me to set this right."
But tellingly, Manning added: "I have to prove it."
Indeed, he does. If Manning considers this one of the most difficult moments in his career, one can't even imagine how bad it'll get for him should he botch the hiring of the TFC's next full-time coach. That very well could be the last straw, so Manning must get this right for his sake, and for the sake of the team.
Toronto FC simply can't continue to lose relevance in this crowded sports market and be the laughing stock of the league. The long-term future of the franchise hinges on his next move.
(Top photo courtesy of torontofc.ca)
---
TFC Republic has a comments section! At the very bottom of every story, there is a feature where you can post your comments, so be sure to share your thoughts and views.
TORONTO FC TICKET DISCOUNT FOR TFC REPUBLIC SUBSCRIBERS!
TFC Republic subscribers can get up to a 25% discount (including no Ticketmaster fee) on ticket prices for Toronto FC home games.
To receive the special promo code, email me at
johnmolinaro@rogers.com
(Please don't share promo code with non-TFC Republic subscribers).