CanWNT
Christine Sinclair headlines Canadian roster for Australia friendlies
The iconic Canadian captain will be looking to add to her 190 international goals next month.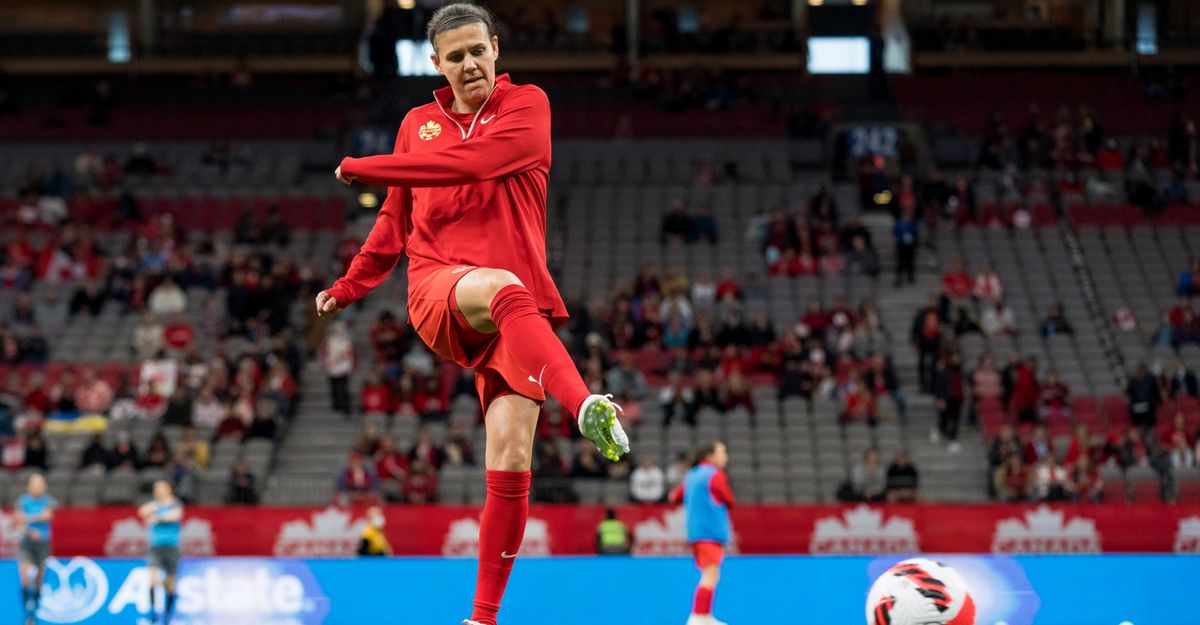 There's a few key players missing, but coach Bev Priestman has put together a strong Canadian women's team roster for next month's pair of international friendlies in Australia.
Among the 23 players named on Tuesday to Priestman's Canadian squad was Canadian captain Christine Sinclair. The veteran forward, a 39-year-old native of Burnaby, B.C., is international soccer's all-time top scorer (among both men and women) with 190 goals in 315 appearances for Canada since debuting as a 16-year-old in 2000. Her last goal came in a 6-0 win over Trinidad and Tobago on July 5 at the Concacaf W Championship.
Canada will face Australia on Sept. 3 at Brisbane's Suncorp Stadium and Sept. 6 at Sydney's new Allianz Stadium. These games are very important for the Canadian women's team, as they'll help it prepare and acclimatize for next summer's World Cup, which will be co-hosted by Australia and New Zealand. Canada is No. 7 in the current FIFA world rankings, five spots above Australia.
Priestman has also called up two newcomers in midfielder Simi Awujo and forward Clarissa Larisey. Awujo, 18 and born in Atlanta, is a sophomore at the University of Southern California, and recently competed for Canada at the FIFA U-20 World Cup in Costa Rica. Larisey, a 23-year-old from Ottawa, has scored nine goals for Celtic this season in the Scottish league.  
Notable absences from Priestman's latest Canadian roster include fullbacks Vanessa Gilles, Ashley Lawrence and Jayde Riviere, midfielder Gabrielle Carle, and forwards Deanne Rose and Évelyne Viens.
TFC Republic is on a free trial this week, so please enjoy this story and many more that will come out from behind the paywall until Sunday, Aug. 28.
You can subscribe to TFC Republic by
CLICKING HERE
, or by clicking on the subscribe button on the home page. A monthly subscription costs just $8, while a yearly subscription is $50 (a savings of 48%).
"I think you really can't hide from the fact that [the squad] is missing some key starters. You've got Jayde, Vanessa and Deanne all injured, and Ashley due to personal reasons will also be missing this trip. Four big names who have been a big part of the squad are missing … but principally I've opted to assess some new faces, some players that I haven't seen in a while," Priestman told reporters on Tuesday afternoon.
Priestman said she doesn't believe Gilles is dealing with a long-term issue, and that Rose is also on the path to returning. She also revealed Riviere could be "a longer term issue."
Viens and Carle are having strong seasons with Swedish club Kristianstads DFF, but both were not picked for these two games against Australia. They were also left off the Canadian roster for the Concacaf W Championship earlier this summer.
Priestman stressed that their omissions doesn't have anything to do with a lack of form.
"I'm watching them very closely and they are doing well. ... I just felt I needed to assess some new players. There's some positional gaps that we need to look at and that's why I chose some other players to come in," Priestman explained.
Priestman described Larisey as a someone who could play a number of attacking positions.
"When you talk about a versatility towards tournament rosters, that opens a door. But individually, what I've seen from her is she's got pace, she's direct, she scores goals," Priestman said.
Priestman's side has been out of action since July 8 when it lost 1-0 to the United States in the final of the Concacaf W Championship in Mexico. The Canadians sport a record of six wins, three draws and two losses in 2022. Their only other defeat this year was to Spain at the Alan Clark Cup in February.
Australia announced its roster last week and it includes Chelsea forward Sam Kerr, who finished as the top scorer in England's FA WSL in 2021-22. Also named to the squad were defender Steph Catley and forward Caitlin Foord of Arsenal, and Manchester City defender Alanna Kennedy. The Matildas lost to South Korea in the quarter-finals of the 2022 Asian Cup in January. They followed that up by playing four friendlies from April to June, including a 1-1 draw against Portugal in their last outing.
Australia leads the all-time series against Canada, with seven wins and three draws in 16 meetings since their first game against each other on Dec. 12, 1997. In their previous encounter, Canada earned a 2-0 win over Australia during the group stage of the 2016 Rio Olympic tournament.
This will be the first time in 14 years Canada faces the Matildas in Australia.
Canada's group stage opponents for next summer's FIFA World Cup will be determined during the official draw on Oct. 22 in Auckland.
---
---
CANADA'S ROSTER
Goalkeepers: Sabrina D'Angelo (Vittsjö GIK/Sweden), Lysianne Proulx (SCU Torreense/Portugal), Kailen Sheridan (San Diego Wave FC/NWSL).
Defenders: Kadeisha Buchanan (Chelsea FC), Jade Rose (Harvard University), Shelina Zadorsky (Tottenham Hotspur), Sura Yekka (Le Havre AC/France), Janine Beckie (Portland Thorns), Allysha Chapman (Houston Dash), Marie Levasseur (Fleury FC/France), Bianca St-Georges (Chicago Red Stars).
Midfielders: Simi Awujo (University of Southern California), Jessie Fleming (Chelsea FC), Julia Grosso (Juventus), Quinn (OL Reign), Sophie Schmidt (Houston Dash), Desiree Scott (Kansas City Current).
Forwards: Jordyn Huitema (OL Reign), Cloé Lacasse (SL Benfica), Clarissa Larisey (Glasgow Celtic), Adriana Leon (Manchester United), Nichelle Prince (Houston Dash), Christine Sinclair (Portland Thorns).
(Top photo courtesy of Canada Soccer)
---
TFC Republic is a paid-subscription website. All of the content at TFC Republic is behind a paywall, and you need to be a subscriber to access it. It costs only $8 for a one-month subscription, or $50 for a full year (prices include 13% GST/HST). What a great deal, eh?  Don't miss out, and order your TFC Republic subscription today!