Feature
Toronto FC loanee Jordan Perruzza adapting to life in CPL
"My goal is to do well here in Halifax and then come back to Toronto with a bit of a chip on my shoulder," Perruzza told TFC Republic.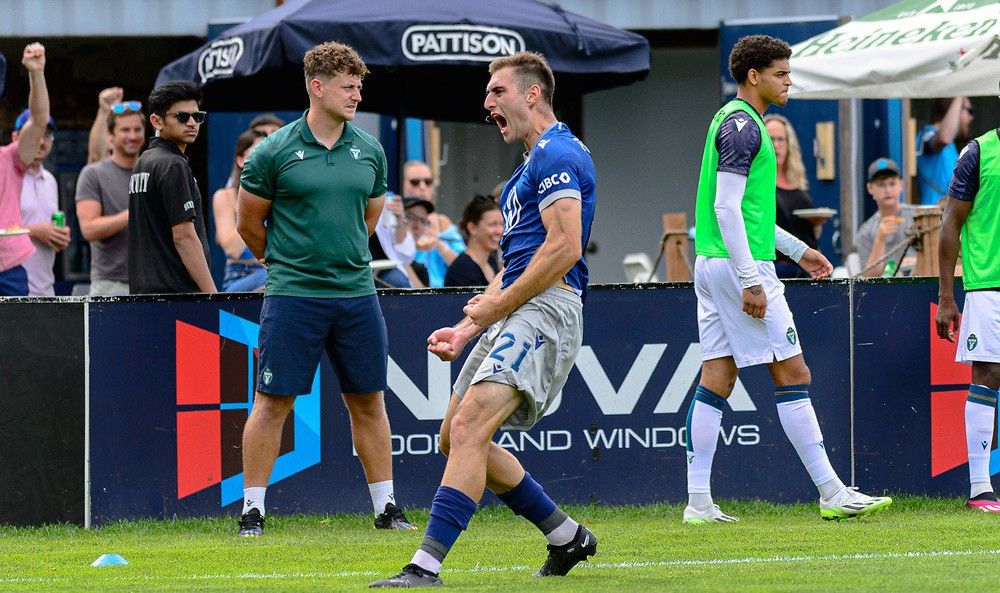 TFC Republic is on a
free trial this week
, so please enjoy this story and many more that will come out from behind the paywall until Wednesday, Sept. 13.
You can subscribe to TFC Republic by
CLICKING HERE
, or by clicking on the subscribe button on the home page. A monthly subscription costs just $8, while a yearly subscription is $50 (a savings of 48%).
Jordan Perruzza could see the handwriting on the wall at Toronto FC.
Having struggled for playing time since making his MLS debut in 2021, Perruzza continued to be overlooked this season as he fell further down the depth chart at the forward position. Things weren't going to get better for him during the final months of the season, especially after the club brought in Prince Owusu and Cassius Mailula during the summer to strengthen its attacking options.
All of this led to a conversation between Perruzza and club GM Jason Hernandez, and the next thing you know the 22–year-old forward was sent on loan to Halifax Wanderers FC last month for the remainder of the 2023 Canadian Premier League season under first-year coach Patrice Gheisar.
For Perruzza, this loan stint represents a big chance for him to get his career back on track.
"There's no real hiding from my lack of minutes in Toronto. Obviously, there's a lot of competition in TFC at the striker position. It's not been an easy year; it's been tough to get chances for the strikers that have been playing. I waited it out last year hoping to get minutes, but I really only got my minutes with TFC 2. Speaking to Jason, we agreed that this would be a good opportunity for me to prove myself, get my name back out there and hopefully find my rhythm to finish off the season," Perruzza told TFC Republic.
"It's no secret that Toronto has been struggling this season. It's been tough for everybody at the club. I felt like I was struggling too in that scenario. I was just looking for an opportunity to be in a better position for myself and coming to Halifax after speaking to Patrice would be an interesting opportunity for me. I knew coming here wouldn't be easy. But I felt I needed to act and make a decision on my own to benefit myself, and hopefully I find myself in a better position and find TFC in a better position when I return."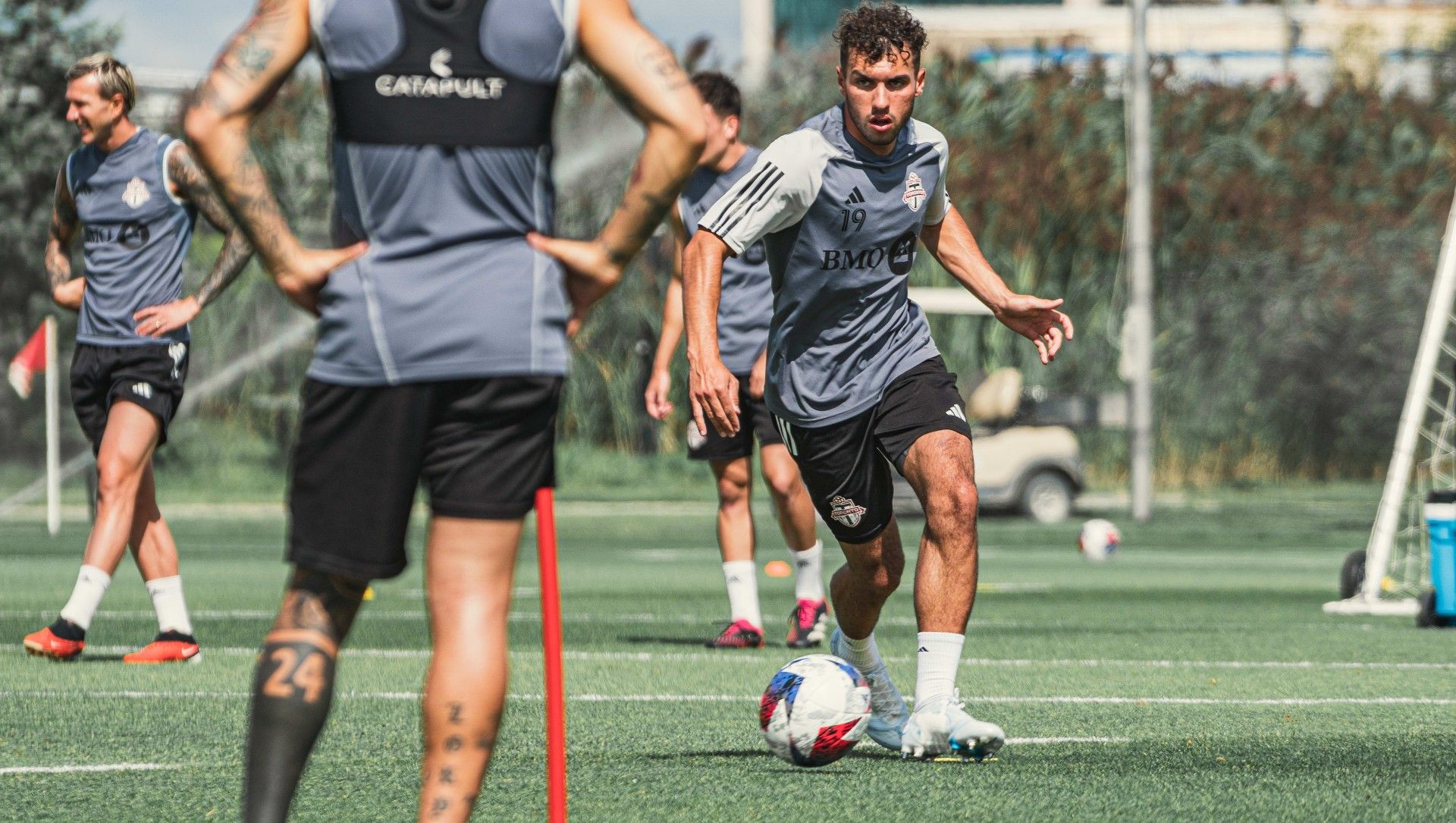 TFC is pretty much all the Toronto native has known during his career. Perruzza entered the team's youth academy in 2012 before moving to Italy two years later when he joined the youth setup at Empoli. He returned to Canada in 2018 and signed with TFC 2.
He ended up going out on loan to San Antonio FC of the USL in 2020 before officially becoming a senior team player for Toronto FC on Jan. 1, 2021. Once again, he was loaned out to San Antonio FC and TFC 2 in 2021, but he also made his first team debut that same season on April 14 as a substitute against Club Leon in the Concacaf Champions League and played in his first MLS game three days later vs. CF Montreal.
Perruzza went on to make seven appearances in all competitions during the 2021 campaign and scored his first MLS goal in a 1-1 draw away to Atlanta United on Oct. 30. He ended up making 13 league appearances in 2022, earning his first start against Orlando City on Sept. 17. He played in five MLS games this season before going on loan to Halifax.
Overall, Perruzza has two goals in 30 appearances in all competitions for TFC. His solid work ethic didn't make up for his lack of goals, which is one reason why playing time was hard to come by for the youngster.
"I've always worked hard. I've always believed that minutes are a reward for your hard work, and that doing well in training would get you minutes. So, if I wasn't getting picked, maybe it was because I wasn't good enough at the time or maybe I wasn't doing the right things. I believe I always worked hard every day. I've never had any complaints about my attitude or work ethic. In the appearances I've had this year, I haven't scored; I haven't proven myself at the MLS level, so I can't be too bitter about not getting a lot of opportunities at that level because I really didn't do anything major or exceptional," Perruzza admitted.
Thus far the move to Halifax has paid off for Perruzza. He's already played in more games (seven), had more starts (five), played more minutes (385), scored more goals (one) and collected more assists (one) in his brief time at the CPL club than he had for TFC in 2023.
Perruzza made his debut for the Wanderers off the bench in a 2-1 home loss to Pacific FC on Aug. 7. He earned his first CPL start five days later in a 3-0 win over visiting Vancouver FC, and on Aug. 20 he earned a penalty and collected an assist in Halifax's 1-1 draw away to reigning league champions Forge FC. He opened his CPL goal scoring account in a 2-1 home win over York United on Sept. 4.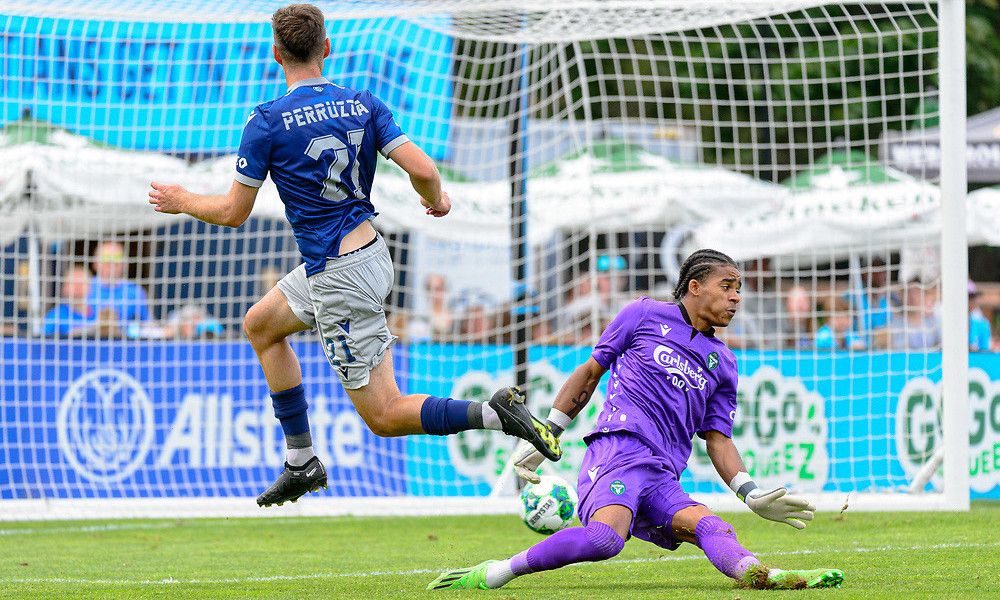 "I thought I had a strong performance against Forge. I felt I put them in difficulty at moments with my runs in behind, and my holdup play, and trying to link up and combine. Every game that has gone on so far, I feel like I'm getting better and growing into the role and the task that Patrice has been given me. So, it was another good performance and a result on the road against probably the strongest team in this league," Perruzza offered.
He added: "It's tough joining a team three quarters into the season for the final stretch. I feel like it's me getting used to all of them and having them get used to me up front."
Halifax currently sits fourth in the overall CPL table, one spot and single point above both York and Atlético Ottawa who are chasing the final playoff berth. It's a tight race and with four games left in the campaign, the hope for Halifax is that Perruzza can help it hold on and qualify for the post-season for only the second time in club history and first since 2020.
It's a far cry from the TFC side Perruzza left behind that languishes in last place in the MLS Eastern Conference and is on course to suffer its worst ever campaign and fail to make the playoffs for a third straight year.
"It's been exciting here. With a new experience comes new challenges and that's what's got me very excited – the challenge of having an important role again and feeling like the team is depending on me in certain moments. So, it's been great embracing this new challenge," Perruzza said.
Perruzza has previously played at Wanderers Grounds as he started and scored for Toronto in a 2-1 victory over Halifax in the 2022 Canadian Championship. That game gave him a brief taste of CPL action, but he was still somewhat caught off guard during his first few games for the Wanderers.
"It's a quality league. There's no lack of quality at all. It's intense, it's physical – I didn't expect it to be this physical. Defenders are physical with every challenge they go into; they're coming in hard. There's not a lot of time and space when you get on the ball; going down a level I kind of thought I'd have more time but that hasn't been the case. It's very fast with the rhythm of the games. It's a very good league and I'm so happy I came here because it's a challenge," Perruzza explained.
He also called the CPL "a big step up" from MLS NEXT Pro, which is one reason why he wanted to test himself in the league, rather than go on another extended loan with TFC 2 this season.
"You're playing against established professionals in the CPL compared to MLS NEXT Pro is younger, players looking to gain experience in their first taste of professional football. I feel like this is more physical, faster; you're playing in fuller stadiums here," Perruzza said.
"I could've made the easy decision to play in my backyard in Toronto and play for TFC 2. But I wanted to get out of my comfort zone and force a new challenge on myself."
---
---
His transition at Halifax has been eased by the fact that he's playing alongside former Toronto teammates Doneil Henry, Aiden Daniels and Yann Fillion, and for a coach in Gheisar who has pushed him.
"He's a very demanding coach who expects a lot out of his players. He's been very good, very open with me. Our relationship away from soccer has been very good since I got here; he's very personable and cares about every single player. He treats everyone the same and it's been great working with him for this little bit and I'm excited to keep working with him," Perruzza said.
"He's been giving me instructions before games; he really hasn't tried to critique me in any way, just letting me find my way into games, which has been good."
The hope for Perruzza is that he can continue to play at a high level for Halifax and continue in his development, while at the same time do enough to make himself a bigger part of TFC's future plans.
With that in mind, the pressure is now on him to perform and show the MLS club what he can do.
"I'm someone who puts an endless amount of pressure on myself. It's how I was raised; to always perform my best. I want to go out there and score goals and help this team win games," Perruzza stated.
"I came here because I saw an amazing plan in place for them to go out and win [the North Star Shield]. I wanted to be a part of that. The lack of minutes and games was one piece. The other piece is winning a piece of silverware this season would boost my stock a little bit and I could be seen as someone who can win, and not just be viewed as a decent player.  I want to be known as a winner, too."
Under former coach Bob Bradley, Perruzza signed a new deal with Toronto FC in early 2022 that ties him to the Reds through the 2024 MLS season with a club option for 2025. Of course, Bradley is now gone, and new coach John Herdman is expected to take over from interim bench boss Terry Dunfield on Oct. 1.
Perruzza has remained in contact with several of his TFC teammates since his move to Halifax, speaking to DP Lorenzo Insigne and the team's other homegrown players on a daily basis. He's also had several talks with Hernandez.
"Every conversation I've had with Jason has been about me doing my thing and then next year being a start over for everybody at TFC. Who knows what next year will look like. My goal is to do well here in Halifax and then come back to TFC with a bit of a chip on my shoulder," Perruzza offered.
(Top and middle photos courtesy of Trevor MacMillan/Halifax Wanderers)
---
TFC Republic has a comments section! At the very bottom of every story, there is a feature where you can post your comments, so be sure to share your thoughts and views.
TORONTO FC TICKET DISCOUNT FOR TFC REPUBLIC SUBSCRIBERS!
TFC Republic subscribers can get up to a 25% discount (including no Ticketmaster fee) on ticket prices for Toronto FC home games.
To receive the special promo code, email me at
johnmolinaro@rogers.com
(Please don't share promo code with non-TFC Republic subscribers).