Feature
Tactical breakdown: Storylines to watch from TFC this season
Toronto FC will be looking for Canadian international Mark-Anthony Kaye to have a bounce-back season in 2023.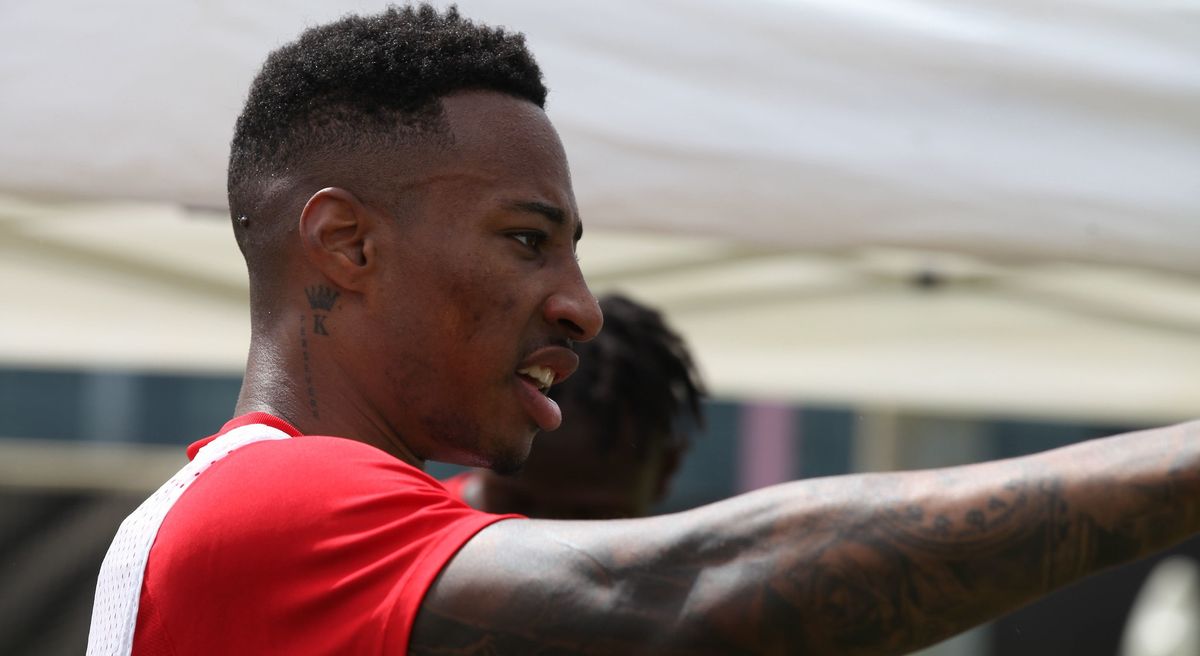 Toronto FC kicks off its 2023 regular season on Saturday against D.C. United with a litany of questions surrounding the team.
The majority of the holes in the squad were addressed during the off-season, especially at the back with the signings of goalkeeper Sean Johnson, along with centre backs Matt Hedges and Sigurd Rosted.
On paper the defence has been shored up, but whether it'll be enough for TFC to mount a playoff run is another matter.
Here are some tactical storylines to follow as Toronto FC's season begins.
TFC Republic is on a
free trial this week
, so please enjoy this story and many more that will come out from behind the paywall until Sunday, Feb. 26.
You can subscribe to TFC Republic by
CLICKING HERE
, or by clicking on the subscribe button on the home page. A monthly subscription costs just $8, while a yearly subscription is $50 (a savings of 48%).
Is Johnson the answer at goalkeeper?
Goalkeeping was one of the most polarizing topics in TFC land last season. Alex Bono is gone, though, and has been replaced by another MLS Cup winner in Sean Johnson.
The 33-year-old earned $550,000 U.S. in annual guaranteed compensation in 2022 with New York City FC, according to the MLS Players Association salary guide, whereas Bono made about $557,000.
Even accounting for a potential raise, there is optimism that Johnson will be an upgrade on Bono. The U.S. international is a commanding goalkeeper who should invoke more confidence with his decision-making, whereas Bono always looked uncertain when claiming crosses or stepping off his line in general.
However, a glance at the underlying numbers tells an intriguing tale. Despite facing six fewer shots, Johnson posted 0.6 goals saved below expected, compared to Bono's 0.1 goals save above expected in 2022, per FBRef.com.
Toronto's defence was one of the league's worst last season. NYCFC has typically boasted a stingy record, and that was the case in 2022 as well, so it's fair to raise the point.
On the flip side, Johnson recorded at least 1.9 goals saved above expected from 2018 to 2021 with NYCFC maintaining positive defensive records in each season. Perhaps last year was an anomaly, and the playoff win over CF Montreal was a return to the norm.
But with a new-look defence and a team that has lacked defensive organization for multiple seasons now, it'll be fascinating to see if Johnson patches up some of those issues.
Defensive upgrades?
Matt Hedges, Sigurd Rosted and Raoul Petretta, all off-season acquisitions, are slated to start the opener for TFC with Johnson in goal and Richie Laryea at right fullback.
Laryea's game is highly familiar in these circles, but the question is whether Hedges, Rosted and Petretta can shore up the back line.
Hedges has MLS experience and was a consistent starter for FC Dallas last season. At 32, he's still a capable distributor and disruptor of play, although he has dipped in some areas like aerial duels, tackles and carries – potentially due to his age.
Luckily for Hedges, Rosted's strengths are in those weaker areas, so both centre backs should complement each other well.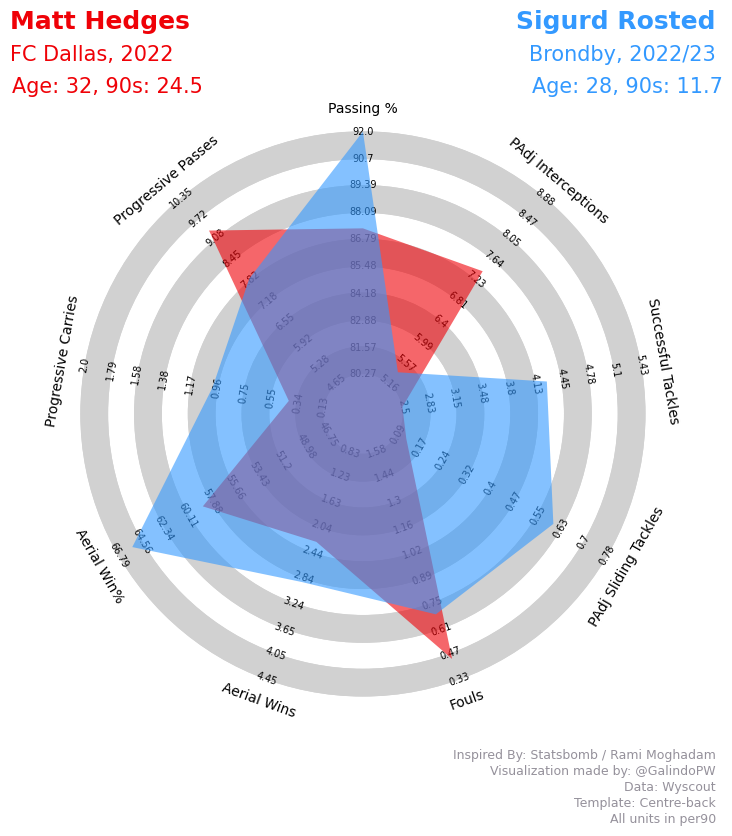 Petretta only logged around 560 minutes in the Turkish Super Lig so we can't glean enough from his statistical radar from a small sample size. However, the 25-year-old was among the league leaders in defensive duels won, interceptions and successful defensive actions per 90 minutes, according to data from Wyscout.
The offensive numbers don't stand out, but that will happen for a fullback on a relegation candidate. Just ask Sam Adekugbe.
The hope is that playing on the left side with Mark-Anthony Kaye and Lorenzo Insigne in a forward-thinking side should unlock Petretta's attacking potential.
Can Kaye return to form?
Prior to Kaye's injury in 2022, we saw flashes of what he could've provided in a thriving, fully fit side.
Kaye eventually returned before the end of last season, but TFC's playoff hopes were all but shot at that stage.
Now the 28-year-old is hoping for a bounce-back season with his hometown club. Kaye will surely be buoyed after the injury and the World Cup appearance, although his lack of match fitness seemingly caught up to him in the Group F finale against Morocco.
Provided Kaye can stay fit, though, he's proven that he can be a dynamic box-to-box midfielder for a top side in MLS. There's no reason why he can't rediscover that form.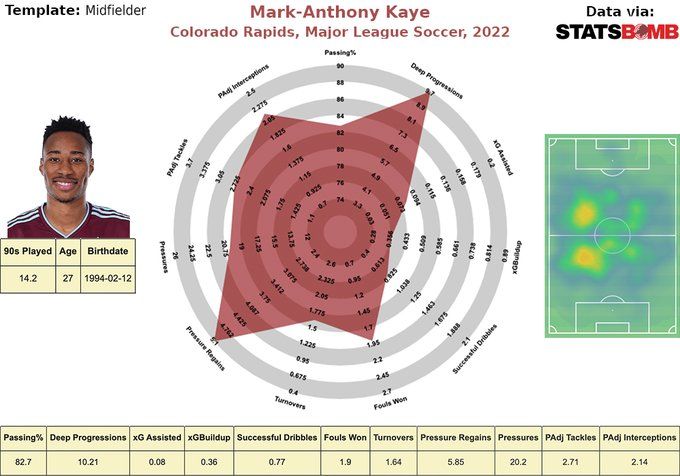 How will Diomande fit with the Italians?
Yes, Adama Diomande is 33. Yes, it's been a while since he's been an impactful striker in MLS. But if there's anyone who knows how to play with a pair of wingers who'll likely hoover up the majority of a team's shots, it's Diomande.
At LAFC under Bob Bradley, Diomande usually slotted between Carlos Vela and Diego Rossi or Brian Rodriguez. Vela, Rossi and Rodriguez loved to play direct on the dribble and produce shots.
Sound familiar?
Normally, Vela would move inside from the right wing, while Rossi or Rodriguez started wide at the touchline before eventually driving into the middle.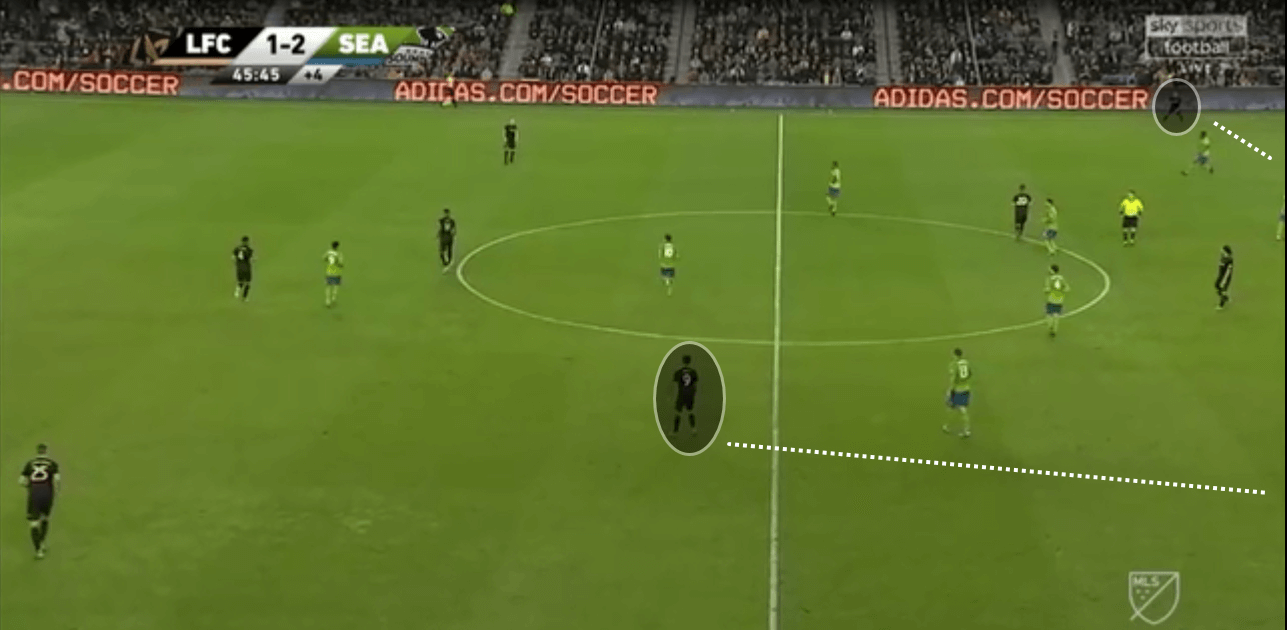 Diomande usually dropped deep to open up space or executed late runs into the box, which led to him scoring 22 goals in two seasons with LAFC while recording 0.6 expected goals (xG) per 90 minutes.
This not only allowed LAFC to have one or two forwards drop deep into Zone 14, but it also freed up extra space for the midfielders to exploit via late runs.
All of Insigne, Bernardeschi, Kaye and Osorio will thrive because of that, and Diomande might be the last piece of the puzzle if he can replicate his role from his LAFC days.
Peter Galindo is a soccer writer and freelance scout based in Toronto who covers the sport for Sportsnet.ca and the MLS website, and is co-host on the Northern Fútbol Podcast, which analyzes all things Canadian soccer from the national teams to the domestic game. You can subscribe, download and stream the show on multiple platforms by clicking here. Follow Peter on Twitter.
(Top photo courtesy of Canada Soccer)
---
TFC Republic has a comments section! At the very bottom of every story, there is a feature where you can post your comments, so be sure to share your thoughts and views.