Newsletter
TFC Republic Weekly: June 20-26 lookahead
Toronto FC returns to Canadian Championship action this week when its hosts CF Montreal in the semifinals.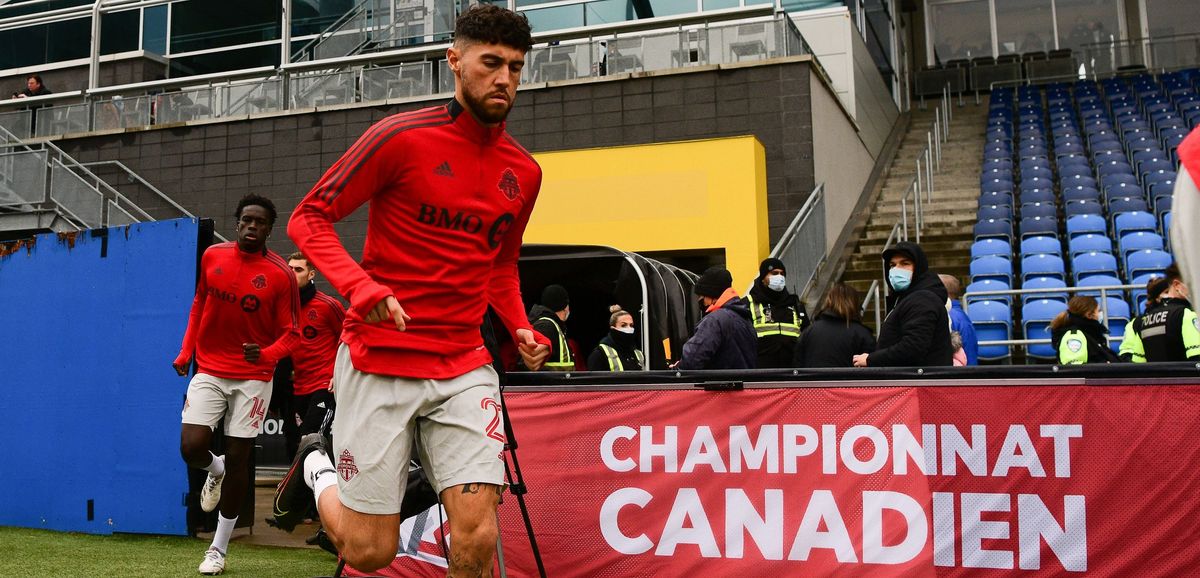 Welcome to the latest edition of TFC Republic Weekly, a free email newsletter that will land in the inbox of both paid subscribers and free members of TFC Republic every Monday.
This newsletter will look at what's in store over the next seven days for Toronto FC, and set up their schedule of games for the week.
You'll also get a glimpse of what to expect at TFC Republic in the coming days.
So, without further ado...
Another learning experience for TFC's kids alright?
After going unbeaten in four games in all competitions, Toronto FC crashed back down to earth over the weekend when it suffered a 2-0 loss away to the New York Red Bulls.
Not for the first time this season, TFC coach Bob Bradley inserted a number of young, inexperienced players into his starting 11 due to injury concerns. While youngster Noble Okello remains unavailable due to a long-term injury, veterans Jonathan Osorio and Chris Mavinga (both lower body) were also ruled out for the trip to Red Bull Arena.
It has to be said that Jayden Nelson, Kosi Thompson, Luca Petrasso and Deandre Kerr didn't exactly wrap themselves in glory on Saturday night, especially on the defensive side. Petrasso and Thompson struggled with New York's pace down the wide areas of the pitch in moments of transition. Kerr and Nelson were both wasteful in attack, while Nelson continues to be a defensive liability - his marking of Lewis Morgan was beyond suspect on New York's opening goal.
Saturday was another learning moment this season for TFC's young players. Bradley admitted after the game that some of his kids struggled to deal with the pace and New York's physicality as the game wore on.
"I still think that we don't have enough guys that when the games are fast and have a little more of a physical element are at the level they need to be," Bradley explained.
"[But] That's part of the growth of young guys."
TFC vs. CF Montreal on Wednesday
The Reds continue their journey in this year's Canadian Championship tournament when they host CF Montreal on Wednesday in the semifinals.
Toronto booked its spot in the final four after earning a scrappy 2-1 win away to HFX Wanderers FC of the Canadian Premier League last month in Halifax.
"I think it's a bit easier for the CPL teams to really get up for it and bring the intensity, especially at home. When you're the underdog, that comes naturally, and they brought it. They brought it, to be fair, and I don't think we did for most of the game. So, credit to them. They gave us a hard match," said Jonathan Osorio, who scored the winner for Toronto.
TFC has won this tournament a record eight times, but they lost in last year's finals at Stade Saputo when they suffered a 1-0 defeat at the hands of CF Montreal. Toronto closed out its nightmare of a 2021 season with a completely limp performance in the Canadian Classique, and finished the year without a playoff appearance and a trophy for the first time in franchise history since 2014. In many ways, the game was a microcosm of the entire season – TFC were flat for the majority of the contest, before finally springing to life in the final five minutes.
The winner of Wednesday's semifinal advances to next month's final. The Vancouver Whitecaps host the CPL's York United FC in Wednesday's other semifinal.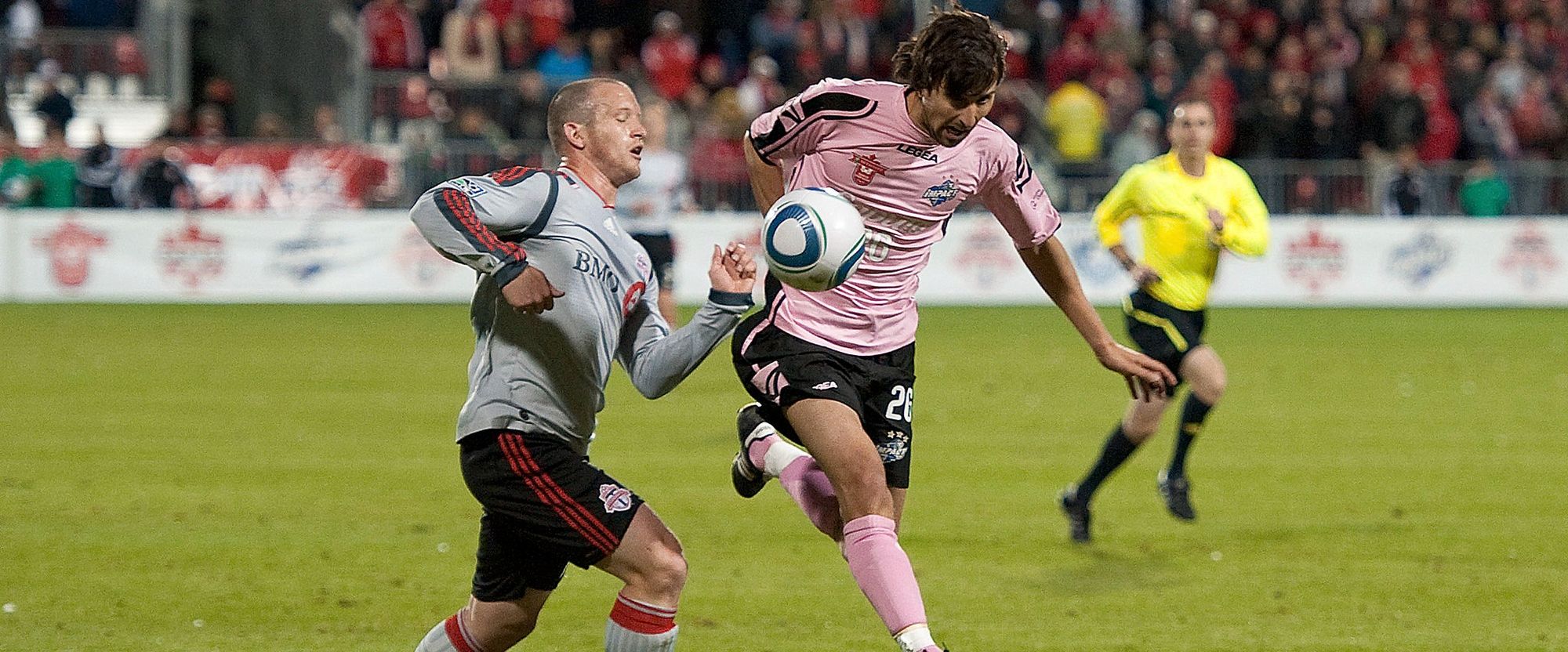 TFC vs. Atlanta United on Saturday
TFC returns to MLS action on Saturday when it hosts Atlanta United in the first of two games between the clubs this season.
Toronto went winless against Atlanta in three matches (two losses) in 2021, including a come-from-behind 1-1 draw on the road in their previous meeting on Oct. 30, 2021 in Georgia.
Atlanta had that game won but its wastefulness in front of goal allowed TFC to stay in it longer than they deserved before substitute Jordan Perruzza equalized in the final minutes of regulation time with his first career MLS goal. Perruzza was making only his fourth appearance for the Reds after debuting in the league earlier in the season.
"It's a tie that has a taste of [a] win for several reasons. We had a lot of younger players in the starting line-up… and then we had a lot of experience as well on the field, so it was a really good mix. It's a good blend," former coach Javier Perez told reporters after the game.
Atlanta (5-5-4) currently sits in ninth place in the Eastern Conference standings, three spots and four points above Toronto (4-8-3), and is coming off a 2-0 home win over Inter Miami this past weekend.
The all-time regular season series between Toronto and Atlanta is tied at three wins apiece with four draws.
These teams will meet again in Atlanta on Sept. 10.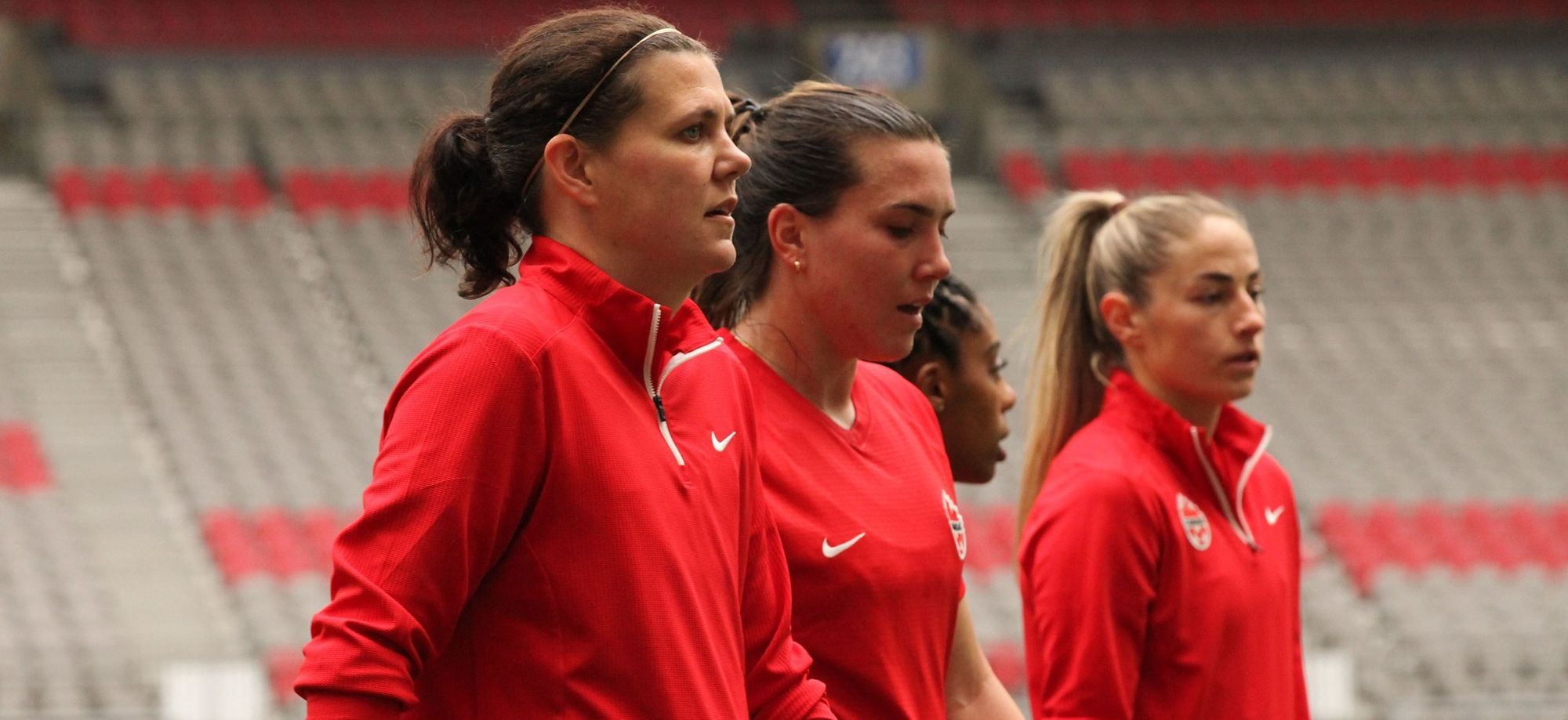 CanWNT vs. South Korea on Sunday
Canada, No. 6 in the current FIFA world rankings, hosts No. 17 South Korea in an international friendly on June 26 at BMO Field.
Besides Christine Sinclair (310 caps), there are four others who have 100 or more caps on Bev Priestman's roster: Sophie Schmidt (212), Desiree Scott (175), Kadeisha Buchanan (118), and Ashley Lawrence (105). Midfielder Jessie Fleming has 99 caps.
Of the 28 squad members, 21 were members of the gold-medal winning team at last summer's Tokyo Olympics. This Canadian squad is missing veteran goalkeeper Stephanie Labbé for the first time since 2008, following her retirement in April. Also absent is goalkeeper Erin McLeod (120 caps). With Labbé out of the picture, Kailen Sheridan has taken over the starting job in net for Canada.
There are three new faces in camp for Canada's following the team's pair of friendlies in April: goalkeepers Anna Karpenko and Lysianne Proulx, and fullback Bianca St-Gorges. Only Bianca St-Gorges (one cap) has previously played for Canada at senior level.
The game vs. South Korea serves as preparation for the Concacaf W Championship, which runs from July 4-18 in Mexico. It's an incredibly important competition, as four berths at next year's World Cup in Australia and New Zealand are at stake. The Concacaf W champion also automatically qualifies for the 2024 Paris Olympics.
Canada leads the all-time series against South Korea with eight wins in nine games dating back to 2000.
The Canadian women's team has been idle since April when it played Nigeria in a pair of friendlies. The Reds defeated the African nation 2-0 on April 8 in Vancouver before playing to a 2-2 draw three days later in Victoria.
---
---
Stories to look out for at TFC Republic
Would it surprise you to learn that Jon Conway is the longest-serving member of the Toronto FC organization? The former MLS shot stopper began his post-playing career as a goalkeeper coach for TFC's youth academy in 2012 before moving up to the senior team in 2014. It's a position he's held ever since while working under five different head coaches.
I recently sat down for a lengthy one-on-one chat with Conway to talk about his 10 years of service for TFC and much more. Look for my feature story in the coming days.
Other stories that will be published later this week include:
Peter Galindo's weekly analytics and tactical feature focuses on TFC rookie Kosi Thompson.
In-depth pre- and post-game coverage of TFC's Canadian Championship semifinal vs. CF Montreal.
In-depth pre- and post-game coverage of TFC's home game against Atlanta United.
In-depth pre- and post-game coverage of the Canadian women's team friendly vs. South Korea at BMO Field.
The latest instalment of our Toronto FC Flashback series.
And much more!
---
TFC Republic mailbag
TFC Republic will feature a regular reader mailbag column where I answer questions from subscribers about Toronto FC and Canadian soccer in general.
I'll answer the best questions submitted to me by TFC Republic readers, so feel free to drop me an email at johnmolinaro@rogers.com. You can also reach out to me via Twitter and Facebook.
(Top photo courtesy of Canada Soccer)
---
TFC Republic is a paid-subscription website. All of the content at TFC Republic is behind a paywall, and you need to be a subscriber to access it. It costs only $8 for a one-month subscription, or $50 for a full year (prices include 13% GST/HST). What a great deal, eh?  Don't miss out, and order your TFC Republic subscription today!