Newsletter
TFC Republic Weekly: May 16-22 lookahead
A road trip to D.C. United this weekend gives Toronto FC a chance to get back on track and earn its first point in over a month.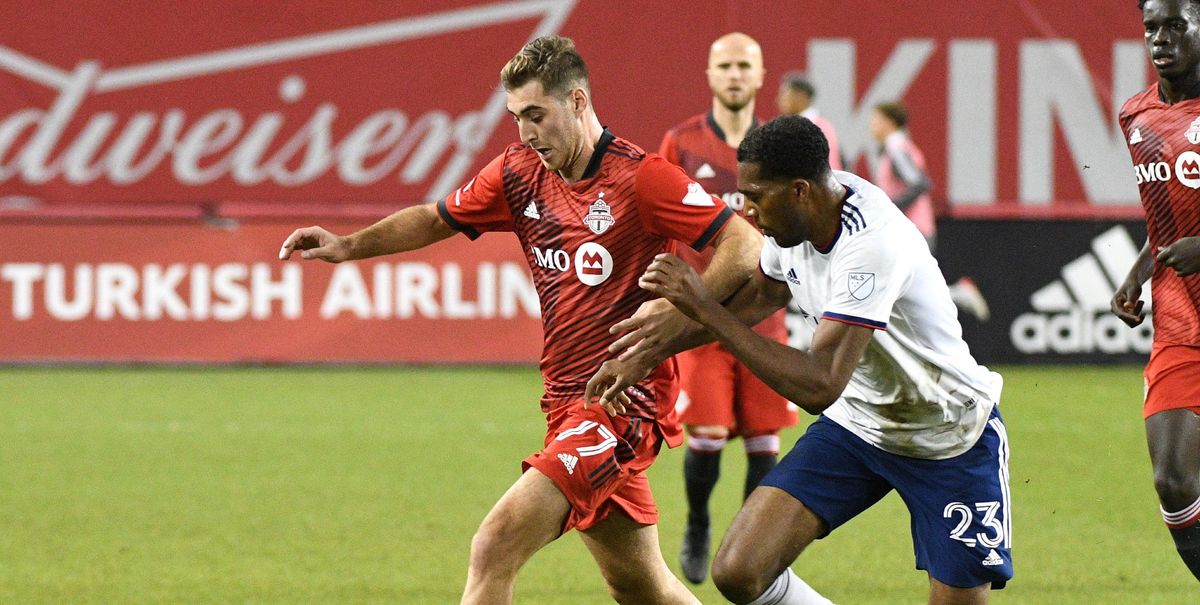 Welcome to the latest edition of TFC Republic Weekly, a free email newsletter that will land in the inbox of both paid subscribers and free members of TFC Republic every Monday.
This newsletter will look at what's in store over the next seven days for Toronto FC, and set up their schedule of games for the week.
You'll also get a glimpse of what to expect at TFC Republic in the coming days.
So, without further ado...
Toronto FC trending in the wrong direction
Conceding late goals has doomed Toronto FC in its last two games. Kyle Smith's glancing header off a corner kick deep into injury time snuck in at the far post, allowing Orlando City to earn a 1-0 win over the Reds on Saturday at BMO Field. The week before, a goal late in regulation time sent TFC to a 1-0 road loss against the Vancouver Whitecaps.
Losers of five straight, Toronto has now conceded in 41 of its previous 42 MLS matches over the last 12 months, including 20 in a row. Its last shutout came in a 0-0 draw away to the Colorado Rapids on Sept, 25, 2021.
"[It's] two games in a row now where we've had legitimate chances at shutouts. It keeps me up at night. It really weighs on me that we give up goals the way we do sometimes... I live on shutouts, so the fact that we haven't had one in a while is slowly killing me," goalkeeper Alex Bono said after Saturday's loss.
Just as concerning, the Reds haven't earned a point since posting a 2-1 home win over the Philadelphia Union on April 16. Toronto has also been shut out in three straight games with its last goal coming on April 30 in a 2-1 home loss to FC Cincinnati. TFC hasn't scored in 295 minutes.
Despite the losing streak, coach Bob Bradley continues to preach patience
"You see young guys, players that have come through, starting to get opportunities. We said from the beginning that the early part of the season meant that these guys were going to be on the field. We know the results, we're honest. But I also think people can see things there that are positive going forward, and we believe that now we just have to take the little pluses, keep working to improve areas that aren't as good as they need to be, and keep fighting for each point," Bradley said.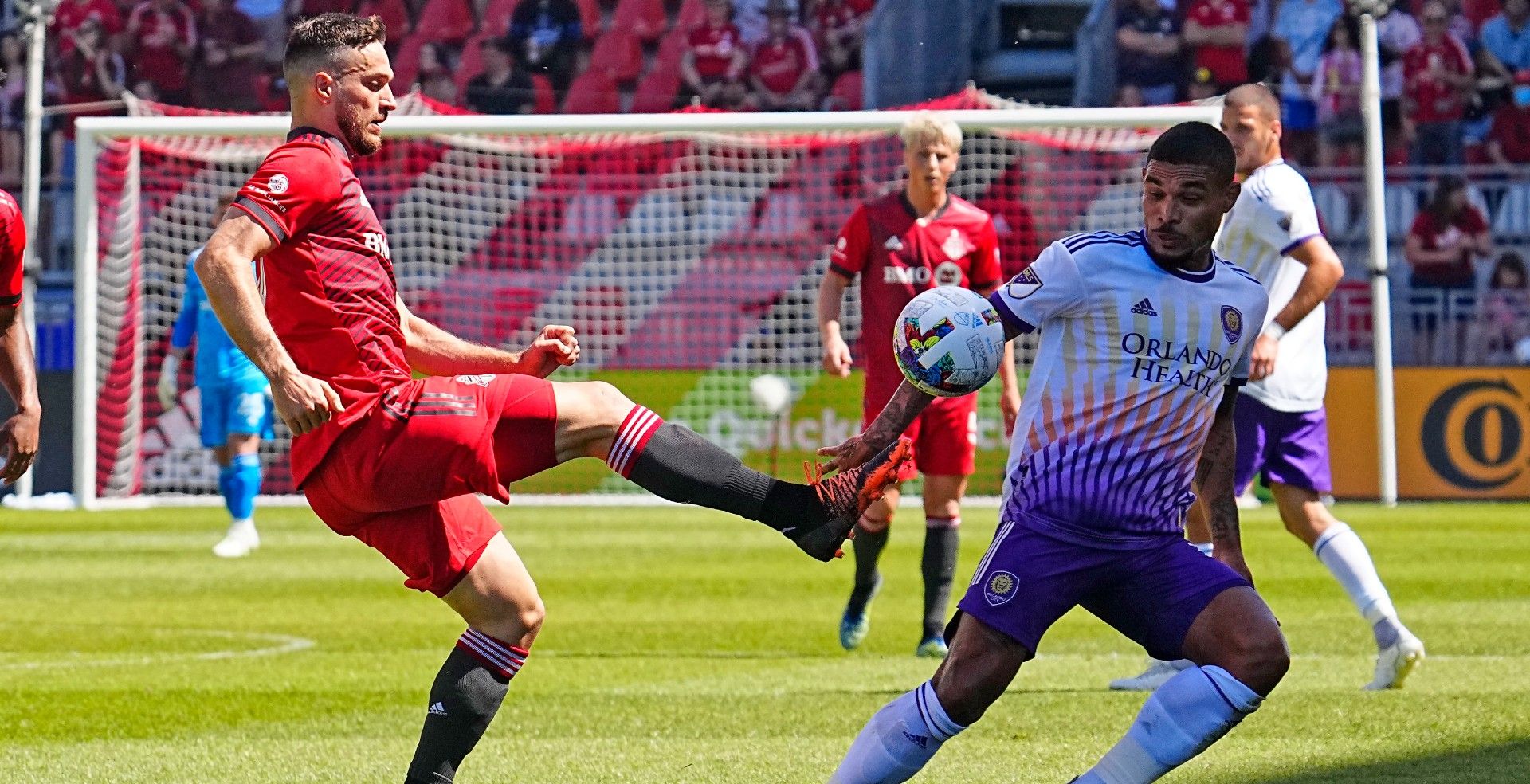 Injuries continue to hit Reds hard
With only 23 players signed to the senior team prior to the start of the season, TFC was bound to fall on tough times should they run into injury problems prior to the summer when Lorenzo Insigne arrives and more recruits are added. And so, it has come to pass, with Saturday's loss serving as another example of the team's depth problems.
Alejandro Pozuelo was a late scratch after feeling some lower body discomfort following last Friday's training session. It was a cruel blow to a team that was already missing defenders Kadin Chung and Chris Mavinga, fullbacks Jahkeele Marshall-Rutty and Jacob Shaffelburg, and midfielders Jonathan Osorio, and Noble Okello through injury, and forward Ifunanyachi Achara (health and safety protocols).
TFC was so depleted on the day that they only had six players on the bench, compared to nine for Orlando. In what has become a common occurrence over the last month, Bob Bradley had to call up two TFC 2 players - in this case, Paul Rothrock and Adam Pearlman - on short-term loan deals in order to bump up his squad numbers to a respectable level for Saturday's contest.
With such limited options, Bradley had to give a first career MLS start to 21-year-old forward Jordan Perruzza, and rely on 19-year-old midfielder Ralph Priso, who was suspended the previous week and has missed most of this season due to injury. Perruzza created very little in the final third, while Priso was subbed out at halftime.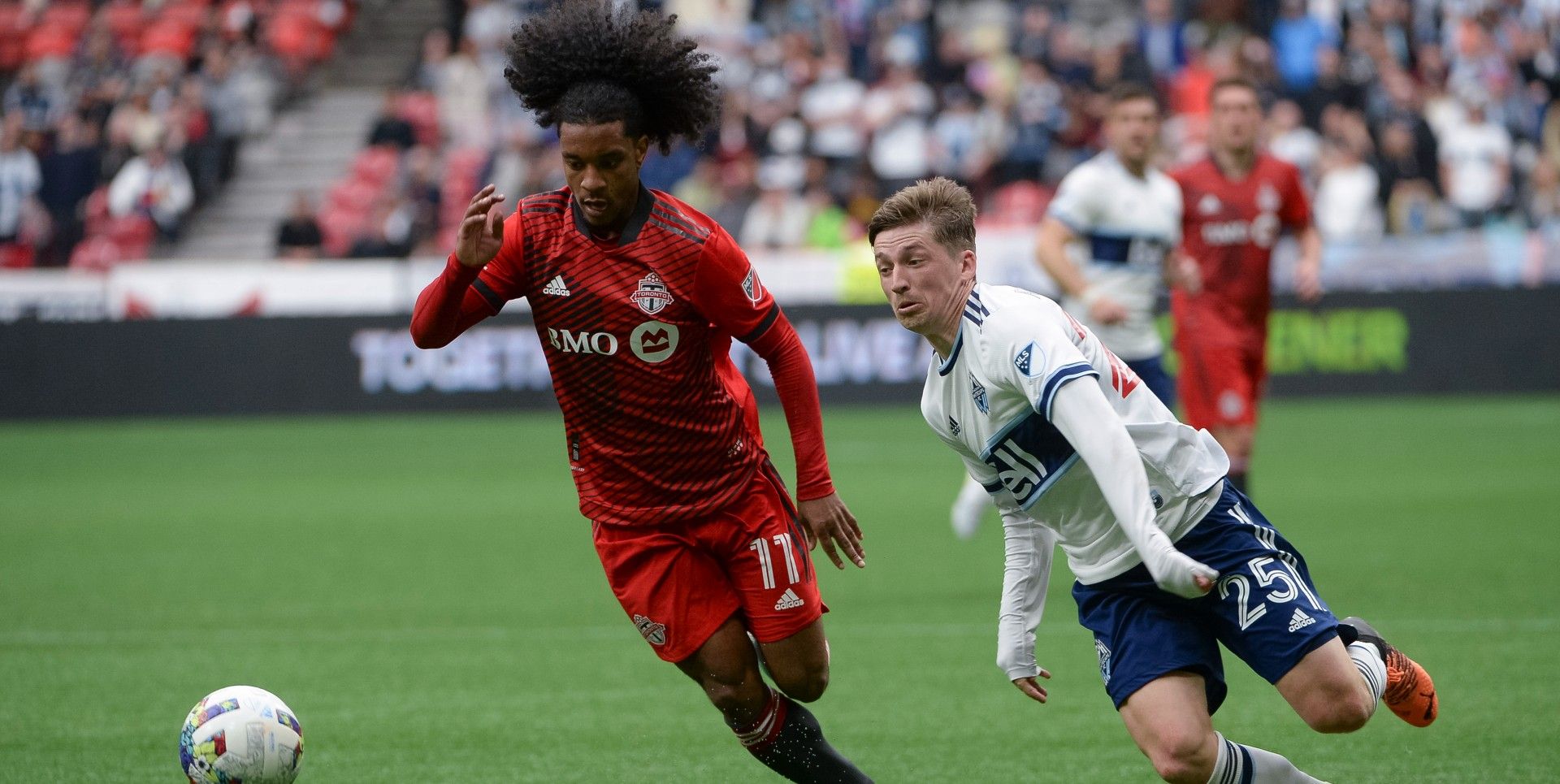 TFC vs.  DC United on Saturday
TFC hits the road when it plays away to D.C. United on Saturday (4:00 p.m. ET) in the second meeting of the season between the clubs. Toronto's first victory of the campaign came in a 2-1 home decision over D.C. on March 19. Alejandro Pozuelo and Jonathan Osorio scored for Toronto, who snapped a nine-game winless run in MLS that dated back to last October when former coach Javier Perez was still in charge. The goal was a long time coming for Pozuelo, who hadn't scored in MLS since Aug. 7, 2021, while it was the 5oth career goal for Osorio for TFC in all competitions.
D.C. (4-5-1) currently sits eighth in the Eastern Conference standings, two points and four spots above Toronto (3-7-2), and is coming off a 2-2 draw away to Inter Miami on the weekend. It's been a somewhat tumultuous season so far for D.C., who fired coach Hernan Losada six games into the campaign. Assistant Chad Ashton has taken over on an interim basis, and the club has won two of four games (with one loss) since the coaching change. Before welcoming Toronto to town, the capital club will host MLS Cup Champions New York City FC on Wednesday.
D.C. leads the all-time MLS regular season series against Toronto with 16 wins and 10 draws in 37 meetings. This is the final meeting of the campaign between the clubs.
---
---
Stories to look out for at TFC Republic
Alejandro Pozuelo was far from his best in 2021. The Spaniard was dealing with the breakup of his marriage and suffered through injury problems throughout a season that saw him score only a single goal and collect four assists in 19 appearances. Although he hasn't recaptured his MVP form of 2019, Pozuelo has started to bounce back this season and show signs of his old self. Look for my feature story on Pozuelo later this week.
Other stories that will be published later this week include:
Peter Galindo's weekly tactical and analytical column takes a look at Jesús Jiménez and the impact he's had for Toronto FC in his first MLS season.
My column on the state of the union of the team.
My story on some concerning stats about TFC.
A TFC notebook piece.
In-depth pre- and post-game coverage of TFC's road game against D.C. United.
The finale of a three-part series that looks at every homegrown player signed to the senior team out of the TFC's youth academy. Read part 1 and part 2, in case you missed them.
The latest instalment of our Toronto FC Flashback series.
Another edition of the reader mailbag.
And much more!
---
TFC Republic mailbag
TFC Republic will feature a regular reader mailbag column where I answer questions from subscribers about Toronto FC and Canadian soccer in general.
I'll answer the best questions submitted to me by TFC Republic readers, so feel free to drop me an email at johnmolinaro@rogers.com. You can also reach out to me via Twitter and Facebook.
(Top photo Dan Hamilton-USA TODAY Sports)
---
TFC Republic is a paid-subscription website. All of the content at TFC Republic is behind a paywall, and you need to be a subscriber to access it. It costs only $8 for a one-month subscription, or $50 for a full year (prices include 13% GST/HST). What a great deal, eh?  Don't miss out, and order your TFC Republic subscription today!