Q&A
Luca Petrasso looking to get new lease on life after TFC trade
In a 1-on-1 interview, the Canadian fullback talks about being traded to Orlando, losing his starting job to Domenico Criscito, and much more.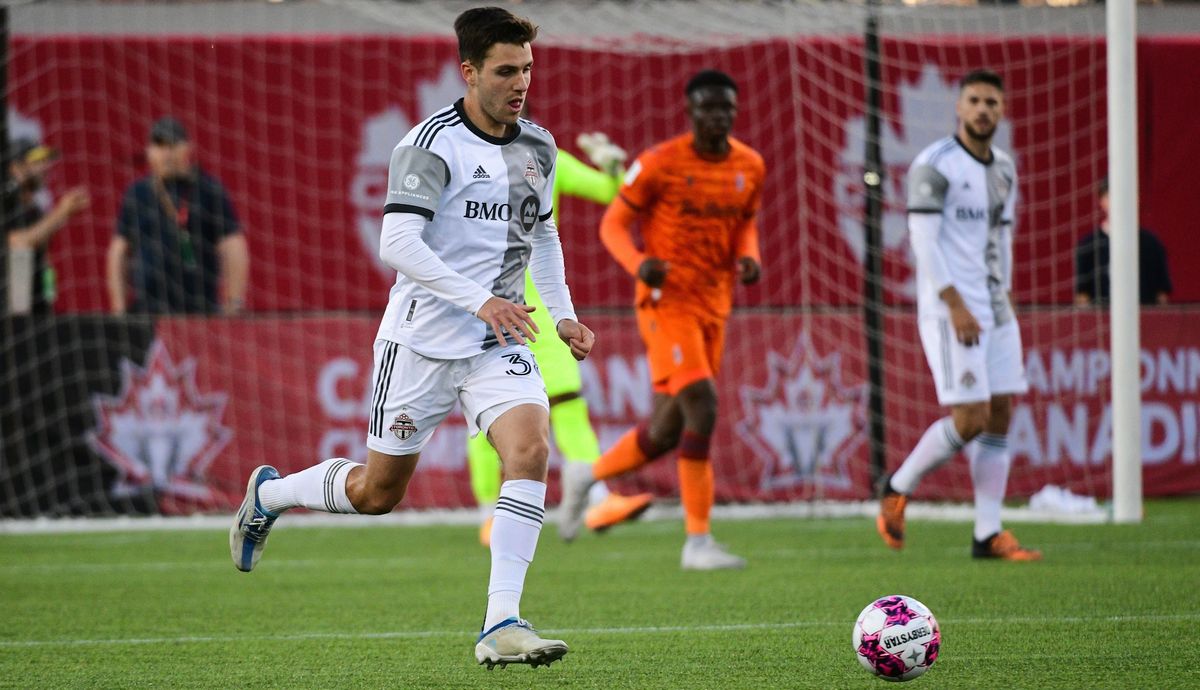 Luca Petrasso's story is the classic tale of a player living out his boyhood dream of playing for his hometown club. But in Petrasso's case, the dream didn't last very long.
Having joined the TFC youth academy at age 12 in 2013, Petrasso slowly worked his way up the system, eventually catching on with TFC 2 where he spent three seasons, appearing in 63 matches and scoring three goals. Petrasso finally saw his childhood dream fulfilled in January when he signed his first MLS contract with Toronto FC.
Petrasso hit the ground running in his debut MLS season, establishing himself as the Reds' starting left fullback in the second match. The 22-year-old from Toronto was one of TFC's most consistent players during the first half of the year, winning plaudits for his defensive skills and the way he bombed forward in support of the attack.
But Domenico Criscito's arrival in Toronto turned out to be the ruination of Petrasso. The veteran Italian took over as TFC's starting left fullback in July, and Perasso was relegated to the bench.
Last month TFC traded Petrasso to Orlando City, receiving a guaranteed $300,000 of General Allocation Money (GAM) in 2023. TFC will get an additional $50,000 in GAM in 2024 and $50,000 in 2025 if certain performance-based metrics are met. As part of the trade, the Reds will also retain a sell-on percentage in the event of a permanent transfer of the Canadian.
In this one-on-one interview with TFC Republic, Petrasso talks about being dealt to Orlando, his experiences coming up through the youth academy and TFC 2, his breakout campaign in 2022, losing his starting job to Criscito, and much more.
This Q&A has been lightly edited and trimmed for brevity and clarity.
This story is out from behind the TFC Republic paywall, and is free to read by everybody. If you've ever been on the fence about subscribing to TFC Republic, hopefully this will give you an idea of the type of in-depth content that paid subscribers enjoy on a daily basis.
You can subscribe to TFC Republic by
CLICKING HERE
, or by clicking on the subscribe button on the home page. A monthly subscription costs just $8, while a yearly subscription is $50 (a savings of 48%).
What have you been up to since being traded to Orlando City last month?
I've been keeping to my same old routine. I work out every day. I went to Orlando for a couple of days with my family to check things out. I just got back from vacation in the Bahamas with my girlfriend. Now I'm just home for a month until I go to Orlando in January.
How did the visit to Orlando go?
It was good. We went just for three or four days to check everything out, see the training facilities and meet the staff. I did some apartment hunting to find a place for me to settle in. It was a busy period when I was there to get used to my surroundings.
Did you get a chance to meet and talk with Orlando coach Óscar Pareja?
I met the coaching staff, and I met Óscar. My first impressions were good. He seems like a good guy and a good person. It was my first time meeting him. It was good to meet him in person and for him to speak to my family and introduce himself. Everything went well and it was a good conversation. I'm excited to get over there in January with the whole group and start training.
Oscar didn't get into specifics in terms of what his plans are for me. We played Orlando home and away this year, so he knows the kind of player that I am. He expects a lot from me, and I want to showcase myself for him, and hopefully be a key player for the team next year. I talked to guys like Shane O'Neal, Richie [Laryea], Greg [Ranjitsingh], Kamal Miller [of CF Montreal] about their experiences playing in Orlando. They were able to give me the ins and outs of the club and the city.
What was your initial reaction when you found out you were traded?
I wasn't shocked, but I wasn't thinking of getting traded. I know how MLS trades work; they just happen out of nowhere, and I've seen it with other players. So, I really wasn't thinking about it, especially during the off-season. I was just doing my normal off-season routine and then it just happened really quickly one morning after coming home from working out. Initially, my family and I were a bit shocked. It's my first time moving away. I was at the club for almost 10 years, so it was a shock for my family, knowing that I'm going to have to move away.
But I think this trade and this move is good for me. It'll get me out of my comfort zone and allow me to experience something different, and hopefully take another step in my career and keep playing and keep growing as a player. I'm really excited for what's to come in Orlando.
So, fair to say you didn't see the trade coming?
No, I definitely didn't see anything coming. But I don't like to look at it as a big shock. These things happen in soccer, so I just took it as it came and if something happens you just have to adjust and deal with it in a good way, and that's what I've been doing. My brother [York United FC's Michael Petrasso] went through the same thing, at first moving away to England and then going to Montreal. It's just part of the business.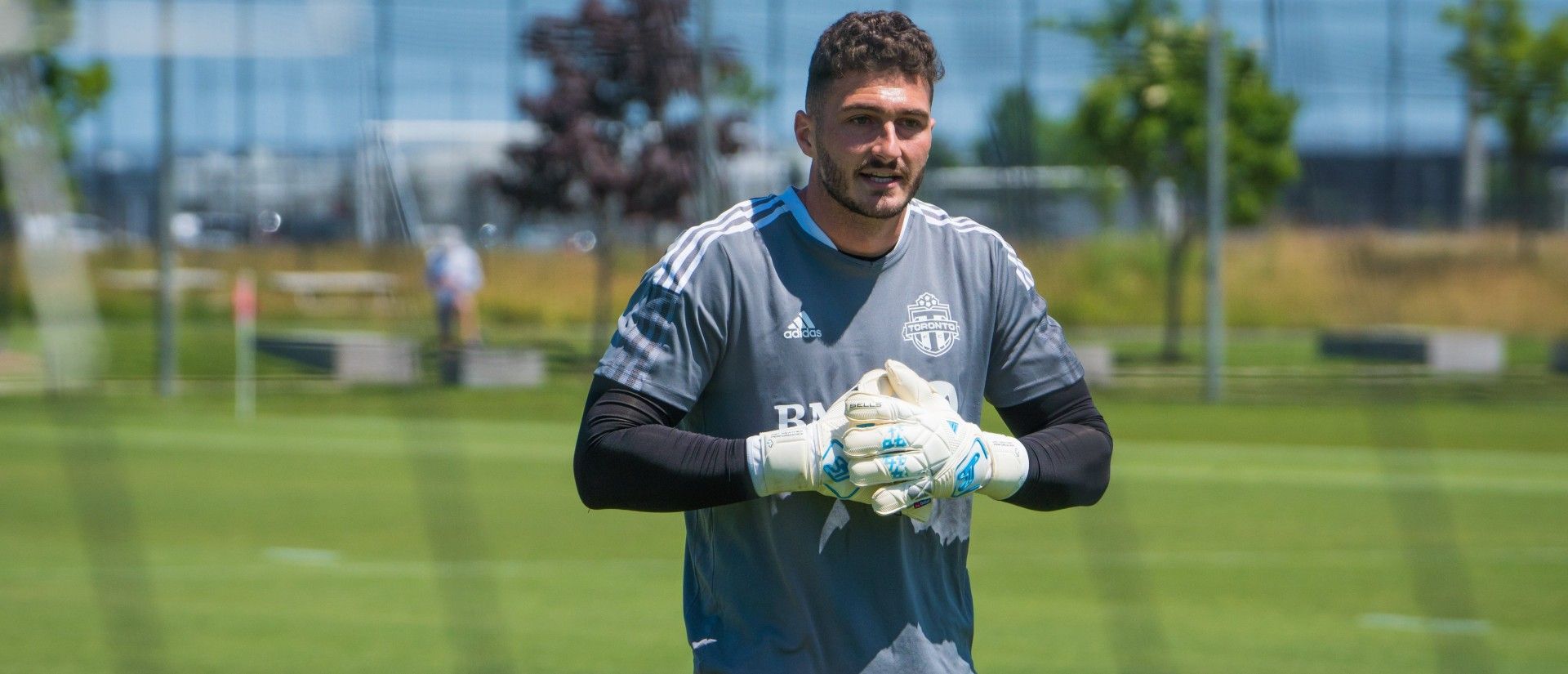 How did you find out about the trade?
I got a call from my agent who got a call from TFC saying that they decided to trade me. They traded me that day. It was a quick call with my agent, and he told me Bob [Bradley] would call and reach out to me. That happened five minutes later, and I spoke to Bob really quickly, and he thanked me for everything I did for the club. I told him I appreciated everything he did for me, giving me an opportunity to play for the first team and giving me a chance to play a lot this year. That's been my goal since I was a kid – to play for my hometown club. I was very appreciative of Bob and everything he did for me this year. After that, I told my parents and my friends. Really, it was all within an hour that it happened. It wasn't a long call with Bob; basically, a five-minute conversation. Obviously, at that moment there's much for me to say because you're still in a bit of shock and adjusting to the news of the trade. We left on good terms.
Did Bob explain why you were traded?
No, there was no typical reason given. Bob just told me that Orlando had been looking at me all year and they were interested in me. He told me they came in for me again during the trade window, and they ended up doing a deal. That's basically how it went all down.
Five days after you were traded, Domenico Criscito announced his retirement, which leaves a pretty big hole to fill on the left side of the defence. Did the timing of your trade seem odd, seeing as it came just before his retirement announcement?
I kind of knew he was leaning towards retiring. I didn't know until the end of the season when I had my individual meeting with Bob during our last week of training that he was considering it. On the last day of training, he said his goodbyes to us because he was going back to Italy. There's really not much for me to say about it. Obviously, they have to look for a new left back, or maybe two. For the fans, seeing me go and then a few days later seeing Criscito go, it looks like they lost their top two left-sided players from this year. But I'm sure they'll go and find someone new to fill that role next year.
After joining the youth academy and moving on to TFC 2, you signed with the senior team in January. You went on to establish yourself as a regular starter for Toronto from the second week of the regular season right through to the first part of the summer. How did you feel about the way you were playing in your rookie MLS season?
I had a pretty good pre-season and I knew they had Jacob [Shaffelburg] starting at left back and we tied Dallas [in the season opener]. They went to me to play on the left wing for that game, and I had a really good game in my first start. So, it left a good mark and I had the trust of the coaching staff, and they were playing me even when the results weren't going well. That gave me the confidence to go out there and do what I do. I'm grateful to have had that stretch of 20, 21 starts in a row in MLS where I was playing all the way through. That stretch of games really gave me the confidence that I could play in the league and show myself and compete and not look out of place. That really helped me.
July rolled around and even though you were firmly established as TFC's starting left fullback, you lost your spot due to the arrival of Criscito. He started the rest of the way, while you only made a few appearances off the bench for the rest of the season. Did you see that coming? Did you know that when Criscito arrived that'd you be relegated to the bench?
Yeah, I saw it coming. I wouldn't say I saw myself not being involved as much as I was in the beginning of the year. He was starting every game and he deserves to - he's someone who I looked up to and admired when he came to Toronto, and I watched him play and learned from the stuff that he did. We were trying to fight to get into the playoffs, and so I knew they were going to push with Criscito there. I knew my minutes would get limited. I didn't think I'd go a number of games in a row without playing, but that's part of it. That's something I had to deal with this year. It's just part of being a professional.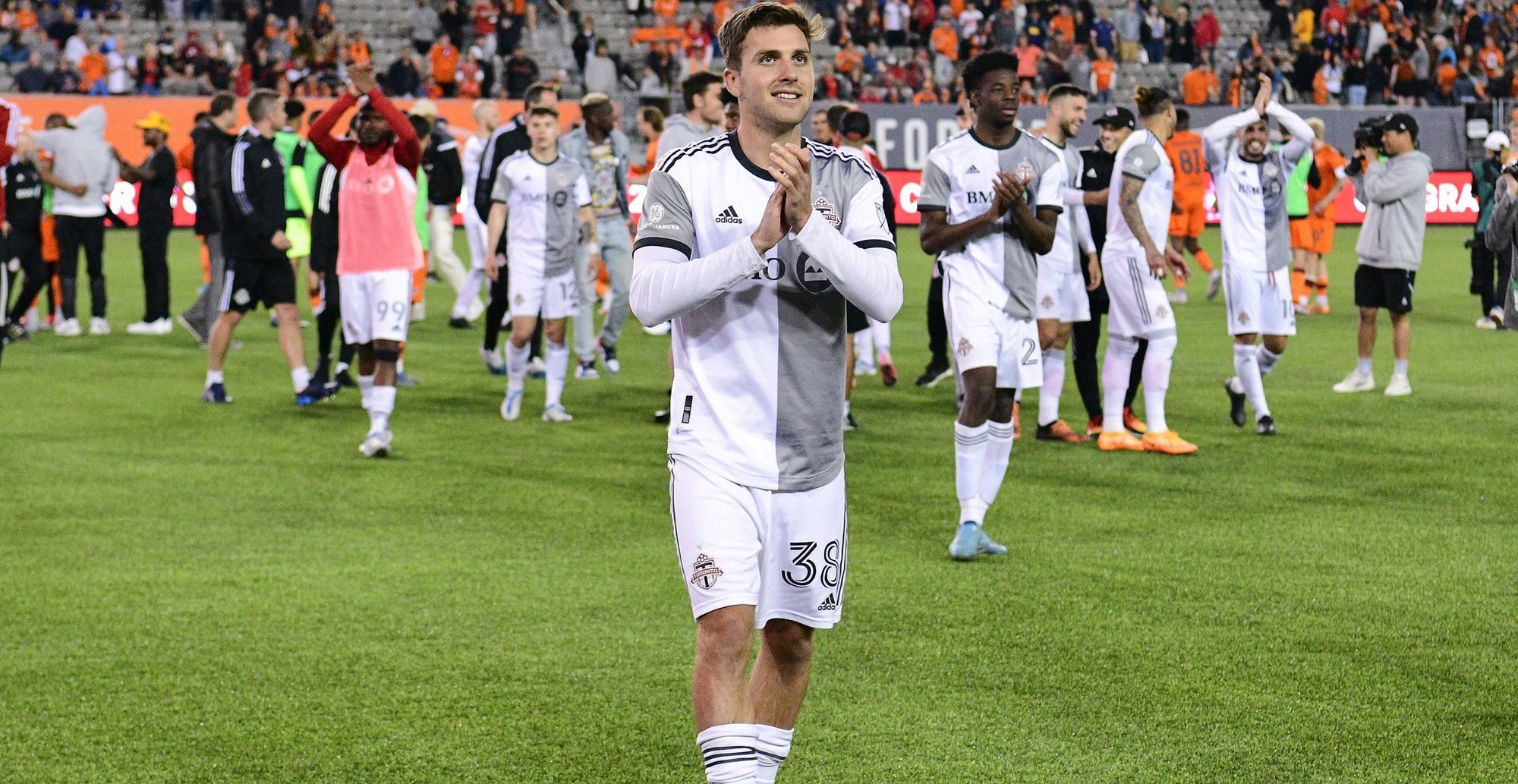 Mentally, how do you deal with something like that? I can't imagine that's very easy.
It's not. Mentally, making the adjustment is the toughest part. The good thing about that was since I was home, I was able to take it off my mind with my family and friends. That was a big thing for me. I'm not that type of person who gets too high or too down. I stay level-headed, and I've learned from my brother that it's an up and down business, and it's a rollercoaster, and that things can change in a day or a week. That's how I looked at it.
Have you had time to reflect on your personal journey, from the yuth academy, through to TFC 2 and into the senior team?
I've definitely looked back and thought about how far I came, from 12 years old with the academy to now with the first team. Maybe it took longer than I would have liked to make that jump from TFC 2 to MLS. When I was with the second team, I'd see younger players who I'd played with in the academy make that jump, and I had to stay confident in myself. I had those doubts of maybe I wouldn't get to play with the first team and maybe I had to move on. But I always wanted to play for Toronto FC and that's why I stuck with it. So, when I made my debut at BMO Field in [this season's] home opener, that was a surreal moment. It's something I'll never forget. I still have my jersey from that game, I still have to frame it.
Was there one person in particular at Toronto FC, whether it was at the youth academy or TFC 2 or the first team, who had a profound impact in helping you get to this point in your career?
Danny Dichio was a big part of my life when I was in the academy and then when I went to the second team, he was my assistant coach for my last year there. He played a big role in my career and was someone who took me under his wing, took care of me and pushed me every day. He knew my abilities and could see my potential, and he was a coach who got it out of me and got my personality to come out of me. I really looked up to him as a coach and mentor, and he's someone I still keep in touch with. He's always checking in on me to see if I'm doing well.
What if anything did you learn about yourself during the 2022 season?
At the beginning of the year, I never thought I'd be ready to make that jump right away to the first team. I thought it'd take some time for me to integrate into the team and the system, but I learned I have the ability to play at a high level – I just had to get that self-confidence and belief in myself, and I feel like I got that this year. This was the year where I really believed in myself.
---
---
You mentioned growing up at TFC and following the club as a kid. What was it like for you to play alongside Michael Bradley, someone you no doubt watched as a fan and who played a major role in turning the club around after he signed here in 2014?
It was amazing. When I was with the second team, he was one of the guys who really looked out for me and looked after me and took care of me. We had a good connection, so even before I got to the first team, he was someone who I always looked up to. He's a top-notch professional. Having a person and a player like that on your team, and where he's come from, having started out so young and is still playing at a high level, it's amazing. People see him as a very serious guy, and he is, but when we're in the locker room he's very down to earth. He's always talking to the young kids and helping them out.
How do you look back at your time with TFC?
For me, playing at BMO Field in front of my family. That's all I ever thought about when I was in the academy and at TFC 2. I wondered what it would feel like to walk down the tunnel and onto the pitch and see my family in the stands. There were times when I thought that dream would never come true. And when it came true, and I saw them in my BMO Field debut, that's the thing I'm most proud of.
You could make your debut for Orlando on March 7 away to Mexican club Tigres in the first leg of the round of 16 in the Concacaf Champions League. How do you feel about playing in the Champions League for the first time?
I'm excited. The only thing I know about the Champions League is just from watching it on TV. When I was in the youth academy and the second team, I used to watch TFC in the Champions League. But I'm excited. I've never played in environments like that and the for the first one to be vs. Tigres, that's going to be different for me but very special.
(Top and middle photo courtesy of Canada Soccer)
---
TFC Republic has a comments section! At the very bottom of every story, there is a feature where you can post your comments, so be sure to share your thoughts and views.