Newsletter
TFC Republic Weekly: April 18-24 lookahead
Toronto FC pays a visit to New York City FC this weekend, looking to extend its unbeaten run to five games.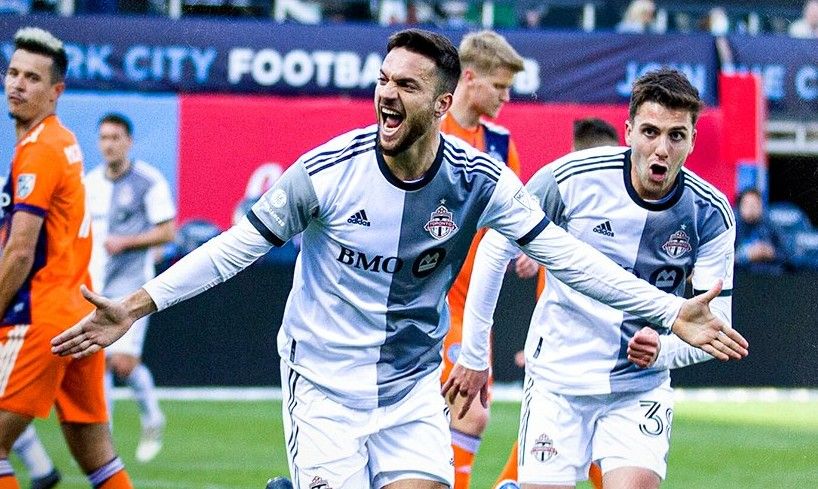 Welcome to the latest edition of TFC Republic Weekly, a free email newsletter that will land in the inbox of both paid subscribers and free members of TFC Republic every Monday.
This newsletter will look at what's in store over the next seven days for Toronto FC, and set up their schedule of games for the week.
You'll also get a glimpse of what to expect at TFC Republic in the coming days.
So, without further ado...
TFC keeps trending in right direction
Jesús Jiménez and Alejandro Pozuelo scored spectacular goals for Toronto FC in a 2-1 victory over the Philadelphia Union on the weekend, extending its unbeaten run to four games (with three wins).
Toronto (3-2-1) became the first team this season to beat Philadelphia (5-1-1), who had won five in a row and posted four consecutive shutouts going into the weekend. Taking down the league's best club was a big feather in the cap of a TFC side that is still finding itself under new coach Bob Bradley after going winless through their first three games of the year.
"I'm proud of the group. We talked about a couple of things. One, that you really need to compete as a team against Philadelphia. They are a team whose style is fight for loose balls, they run very hard, and I said we have to be up to all of those kinds of battles, and I think we really raised the level in terms of just the way we went after the game, and then, too, I said we need more guys stepping up and really giving us more. I think that that was definitely the case tonight," Bradley told reporters after the game.
He later added: "We're growing as a team. I think there's a belief in terms of the mix of our football... There's a belief that if we go out on the field, push for 90 minutes and play the way we can, that even if we go down a goal it's not going to stop us from finding ways to still win."
Jaydon Nelson suspension watch
Toronto FC could be without Jayden Nelson for this weekend's visit to New York City FC.
Nelson, 19, received a yellow card for a studs-high tackle on Philadelphia's Kai Wagner during the first half on Saturday. It was a reckless challenge that sent Wagner crashing to the ground after Nelson slid into him, and the Union defender was fortunate that he wasn't injured on the play.
Nelson was fortunate not to see a red card, but he isn't out of the woods yet. The play will almost certainly be looked at by the MLS Disciplinary Committee this week, and Nelson could be handed a retroactive suspension.
The same thing happened to teammate Carlos Salcedo when he earned a yellow card in a 4-1 loss to the New York Red Bulls on March 5 and was then slapped with a one-game ban from the MLS Disciplinary Committee. Salcedo's nasty challenge on New York forward Patryk Klimala in the second half drew a yellow card from referee Rubiel Vazquez, who decided not to upgrade it to a red after reviewing the play on a pitch-side monitor following a VAR review.
The MLS Disciplinary Committee is allowed to hand out bans after the fact when the Professional Referee Organization acknowledges an on-field referee or VAR error was made, and when such incidents are deemed to be a "clear and unequivocal red card, and egregious or repeat behaviour in nature by the committee."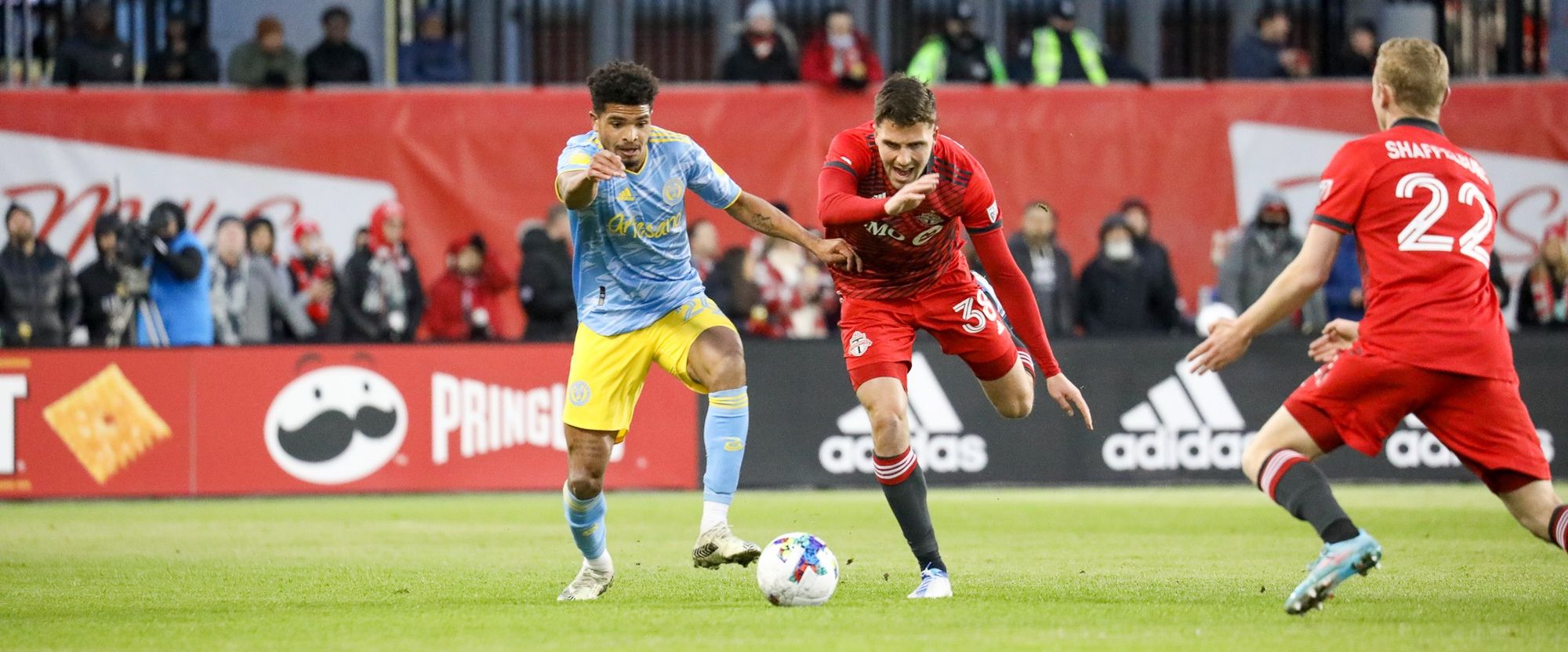 Jonathan Osorio set to play in 300th game
If all goes to plan, Canadian midfielder Jonathan Osorio will make history this weekend when Toronto FC visits New York City FC.
Osorio, a 29-year-old native of Toronto, is set to become the first TFC player to play in 300 games in all competitions. Osorio ranks third in all-time scoring for the Reds, with 50 goals in all competitions since making his MLS debut under Ryan Nelson during the 2013 MLS season. Only Sebastian Giovinco (83) and Jozy Altidore (79) have scored more often for TFC.
However, there are some questions as to whether Osorio will be able to play this weekend after he picked up a knock against Philadelphia and was subbed out after 56 minutes. As of Monday, there was no update on his condition from the club.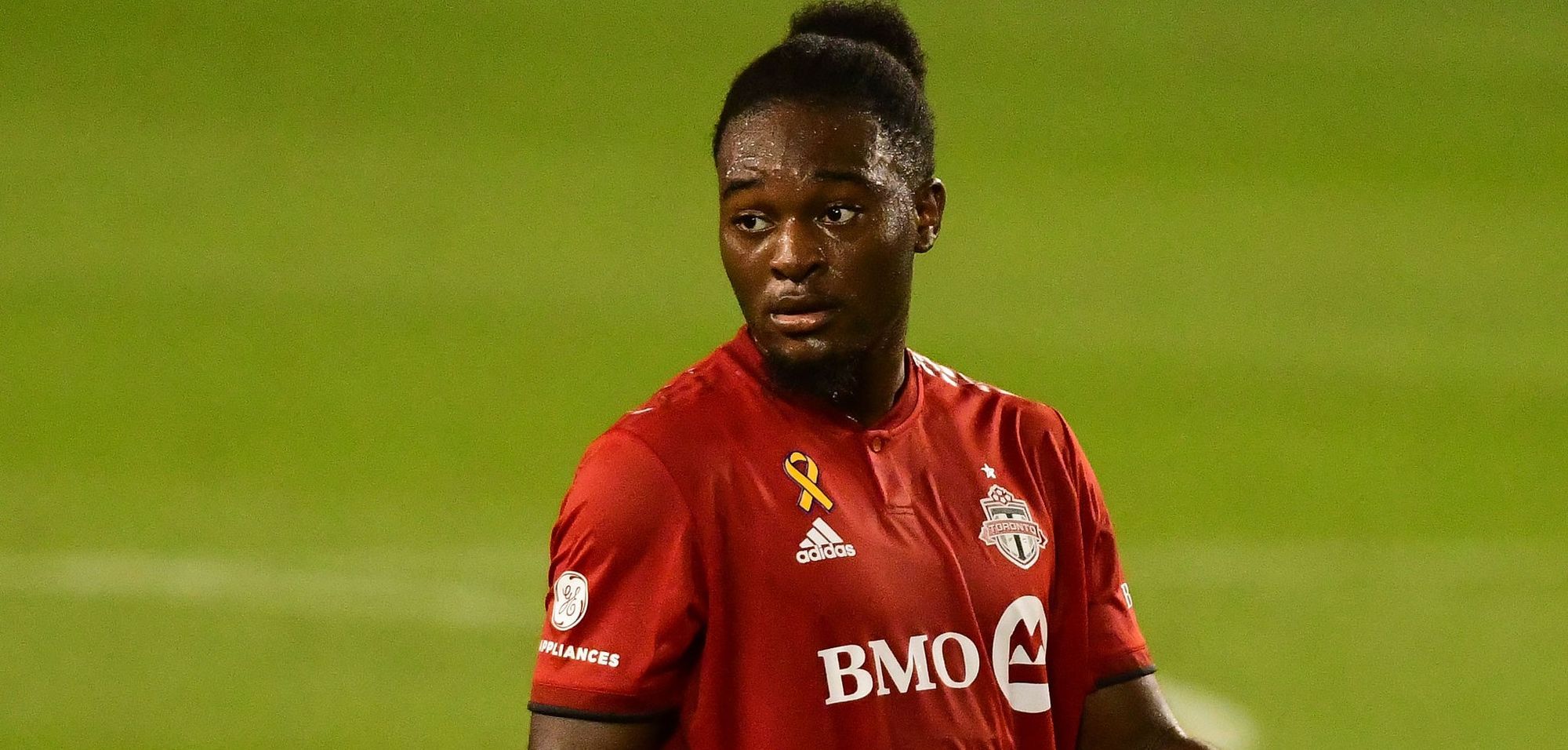 TFC vs. New York City FC on Sunday
Toronto FC returns to action when it visits MLS champions New York City FC at Citi Field on Sunday (5:00 p.m. ET).
This will be the second meeting between the clubs since earlier this month when TFC earned a 2-1 win at BMO Field. Toronto benefited from an own-goal and a strike by Jesús Jiménez to earn its second victory of the campaign, and win back-to-back games for the first time since Sept. 29-Oct. 3, 2021.
NYCFC (2-3-1) is coming off a huge 6-o win over Real Salt Lake at Yankee Stadium on Sunday. Forward Valentín Castellanos set a single-game club record with four goals, while Thiago Eduardo chipped in with a brace.  Castellanos, last season's top scorer in MLS with 19 goals, went scoreless in his first five appearances in 2022 before busting out against Salt Lake.
The all-time series between TFC and NYCFC is tied with five wins apiece and seven draws in 17 regular season meetings.
This weekend marks the final meeting of the regular season between the clubs.
---
---
Stories to look out for at TFC Republic
With 139 appearances in all competitions, goalkeeper Alex Bono is about to surpass Sebastian Giovinco for eighth place on Toronto FC's all-time appearance list. Bono, 27, has, been a stalwart at TFC since being drafted in 2015, making him the third-longest serving member of the team - only Jonathan Osorio and Michael Bradley have been with the Reds longer.
I recently chatted one-on-one with Bono about his time in Toronto, how he's become one of the club's elder statesmen, his future beyond this year, and much more. Look my feature story later this week.
Other stories that will be published later this week include:
My column on the current state of Toronto FC after the first seven games of the season.
In-depth pre- and post-game coverage of TFC's game against New York City FC.
The latest instalment of our Toronto FC Flashback series. This week, NYCFC's David Villa avoids suspension prior to a crucial playoff game vs. Toronto in 2016.
Peter Galindo's weekly tactical and analytical column takes a look at TFC newcomers Kadin Chung and Luka MacNaughton, and how they have fared in MLS since making the jump from the CPL.
My feature story on former Canadian women's team forward Lindsay Agnew and why she recently retired at the age of 26.
Should Jonathan Osorio's injury be not too serious, I'll have a special video blog and a column on him as he gets set to play in his 300th game for TFC.
I hope to be speaking to Dan Kruk, Executive Director of The Professional Footballers Association Canada, this week to get an update on where things stand with CPL players' attempting to unionize.
And much more!
---
TFC Republic mailbag
TFC Republic will feature a regular reader mailbag column where I answer questions from subscribers about Toronto FC and Canadian soccer in general.
I'll answer the best questions submitted to me by TFC Republic readers, so feel free to drop me an email at johnmolinaro@rogers.com. You can also reach out to me via Twitter and Facebook.
(Top photo courtesy of torontofc.ca)
---
TFC Republic is a paid-subscription website. All of the content at TFC Republic is behind a paywall, and you need to be a subscriber to access it. It costs only $8 for a one-month subscription, or $50 for a full year (prices include 13% GST/HST). What a great deal, eh?  Don't miss out, and order your TFC Republic subscription today!