CanWNT
Canada vs. Japan at SheBelieves Cup: What you need to know
The Canadian women's team will try to end its run at the SheBelieves Cup on a positive note on Wednesday vs. the Japanese.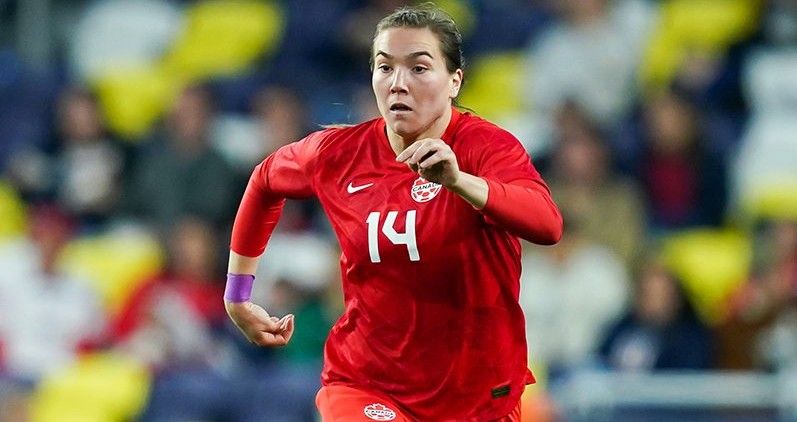 It's amazing to think the Canadian women's team has an outside chance of winning the SheBelieves Cup amidst its ongoing labour dispute with Canada Soccer.
Canada would need to beat Japan in its final match of the competition, and hope that Brazil defeats the United States. A loss by the Americans doesn't seem likely, but the Olympic champions will still be eager to earn a win against the Japanese in order to build some much-needed momentum ahead of this summer's FIFA World Cup.
Canada is No. 6 in the current FIFA world rankings, five spots above Japan who have lost both its previous games at the SheBelieves Cup.
Here's what you need to know about Wednesday's game (4:00 p.m. ET) between Canada and Japan at Toyota Stadium in Frisco, Texas.
TFC Republic is on a
free trial this week
, so please enjoy this story and many more that will come out from behind the paywall until Sunday, Feb. 26.
You can subscribe to TFC Republic by
CLICKING HERE
, or by clicking on the subscribe button on the home page. A monthly subscription costs just $8, while a yearly subscription is $50 (a savings of 48%).
Some new faces expected to see action
After an uncharacteristic performance in a 2-0 loss the United States in its opening match, Canada looked more like itself in a composed and balanced effort in defeating Brazil 2-0 on Sunday.
Sloppy giveaways and defensive miscues were the order of the day from Canada in its setback against the U.S. The Canadians cleaned most of that up against the South Americans, and scored both of its goals off set pieces.
"We adapted some things and we learned from it," Priestman told reporters on Tuesday. "I'm really pleased with how the team came out to get that two-goal [lead vs.] a Brazil team that's very, very dangerous."
As this will be Canada's third match in seven days at the SheBelieves Cup, Priestman is expected to make a number of line-up changes against Japan. She used all of her substitutes in the first two games of the tournament. Every outfield player on Canada's 23-member squad has played at the SheBelieves Cup except defender Gabrielle Carle and forward Clarissa Larisey. Canada's coach said that both Carle and Larisey will see action against Japan.
Priestman also revealed her team is completely healthy, with the exception of one player (she didn't say which one) who will undergo a fitness on Wednesday ahead of the game. Midfielder Quinn did not dress for the Brazil match due to illness.
Where things stand in the table
The U.S. sits atop the standings with six points from two games and can win the tournament with a draw against Brazil on Wednesday in Frisco, Texas.
Canada and Brazil are tied on three points, but the Olympic champions are in second place by virtue of a superior goal difference (0 vs. -1), which is the first tiebreaker. Japan (zero points) is in last place.
Canada can potentially win this tournament with a victory over Japan if Brazil beats the U.S. and doesn't overtake the Canadians on goal difference.
The U.S. are defending SheBelieves Cup champions, having won five of the seven editions of the tournament. France (2017) and England (2019) have also won the competition. The Canadians are no strangers to the SheBelieves Cup, having finished third at the 2021 event.
What to expect from Japan
Japan has failed to impress at this year's SheBelieves Cup, losing its opening two games by a combined score of 2-0 to the United States and Brazil.
Futoshi Ikeda took over as coach of Japan in October 2021 when he replaced Asako Takakura. Ikeda previously led his country to a FIFA Women's Under-20 World Cup title in 2018 when it defeated Spain in the final.
But he's found the going much tougher with Japan's senior side as of late. The Japanese have suffered four shutouts losses in row and haven't won a game since last November when they defeated New Zealand 2-0 in Nagano.
Still, Priestman expects Japan to give Canada a tough test in Texas and warned that her team must be patient and disciplined in the way they defend, as the Asians can launch quick counters.
"What we've seen from them is they're a hard team to break down. They don't concede many goals. We played them in the Olympics [in 2021] with a different coach [and they played in a] 4-4-2; standard Japanese style," Priestman explained.
She also noted that Japan is somewhat similar to Ireland, one of Canada's group stage opponents at this summer's World Cup.
"[Ikeda] has gone with a back five, 5-3-2 or 5-2-3, and so they're a hard team to break down. It'll be great for us to get some practice against a back five. Ireland plays with a back five so it's going to be good for us to test that," Priestman explained.
---
---
What happened last time between Canada and Japan
Canada and Japan last faced off at the 2021 Tokyo Olympics when they battled to a 1-1 draw in the group stage of the competition. Christine Sinclair opened the scoring in the sixth minute before Mana Iwabuchi tied things up late in the match.
Canada dominated possession and was rarely put under any serious pressure by the Japanese in a game played inside an empty Sapporo Dome due to Covid restrictions. Japan carved out one quality scoring chance, and they made the most of it.
"They're very, very technical with the ball. We knew that, but we had identified that we have to use our strengths and we wanted to impose ourselves without the ball against Japan, and I think we did that at times," Canadian coach Bev Priestman said in the post-match press conference.
She later added: "Credit to Japan. They're an outstanding team, their history shows that, and we knew we'd have a difficult game on our hands."
Japan leads the all-time series against Canada with seven wins and four draws in 15 games since their first meeting on May 5, 1995.
What's next for Canada
Canada will play France in an international friendly on April 11 at Stade Marie-Marvingt in Le Mans. Bev Priestman said Canada will just play one game during the April window, and that's by design.
"The reason for that is we feel as a group we need some grass time, some actual training time to work on us," Priestman explained.
Priestman said Canada Soccer is trying to arrange two games in Australia prior to the World Cup, and that it has already set up a closed-door game against a yet-to-be announced opponent. She also hopes Canada can play another game before the July international window in June before the team leaves for the World Cup.
"The conversation comes back to what does it look like if there's a send off [game in Canada] or not," Priestman said.
She later added: "I've yet to have discussions [about a home game] but I have a feeling that we'll be trying to do everything to make that happen."
(Top photo courtesy of Canada Soccer)
---
TFC Republic has a comments section! At the very bottom of every story, there is a feature where you can post your comments, so be sure to share your thoughts and views.