CanWNT
Canada blanked by Japan to close out SheBelieves Cup
A shutout loss on Wednesday in Texas ended things on a sour note for the Olympic champions at the four-nation tournament.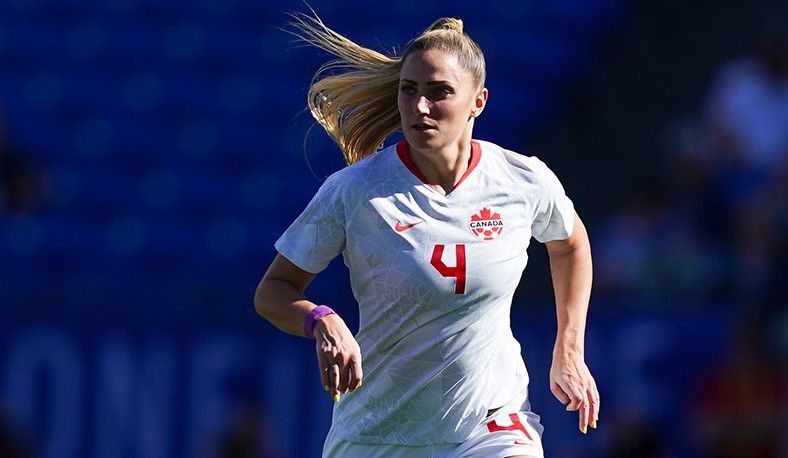 Canada 0, Japan 3 (Seike 26'; Hasegawa 41'; Endo 77')
Canadians concede 3 goals for 1st time since 2020
D'Angelo left game after 30 minutes with a leg injury
Where does the Canadian women's team go from here?
It's one of the questions that needs to be asked after the Olympic champions suffered a 3-0 loss to Japan to close out a disappointing run at the SheBelieves Cup on Wednesday at Toyota Stadium in Frisco, Texas.
Ranked No. 6 in the world, Canada put in a drab effort against 11th-ranked Japan to finish third in the final tournament standings with three points from three games.
The Canadians registered just a single shot on target and struggled to deal with Japan's systematic press and quick transition game, while also failing to break down the Asians' back five. Japan ruthlessly ripped open Canada's defence with its precise passing and movement off the ball, and the damage could have been worse if not for a lack of finishing in front of goal.
TFC Republic is on a
free trial this week
, so please enjoy this story and many more that will come out from behind the paywall until Sunday, Feb. 26.
You can subscribe to TFC Republic by
CLICKING HERE
, or by clicking on the subscribe button on the home page. A monthly subscription costs just $8, while a yearly subscription is $50 (a savings of 48%).
"For us it was a bad day at the office," Canada coach Bev Priestman told reporters after the game. "It probably reflects the [tournament] … I think it shows where the group are at emotionally, physically exhausted. I thought we were very flat today, which is really difficult as a coach. Because you know what they can do.
"I don't mind losing as long as we learn from it and take this moment and move forward."
This performance and the team's uncharacteristic showing in a humbling 2-0 loss to the United States in the tournament opener should be concerning for Canada, especially with the FIFA World Cup just five months away. The Canadians had not conceded three goals in a single game since a 3-0 loss to the U.S. on Feb. 9, 2020. This was also the team's heaviest defeat under Priestman, who was hired in late October 2020.
"I don't think what you saw out there was a Canadian performance," Priestman admitted. "I don't think I've felt like this as a coach for the two games [vs. the U.S. and Japan] that I have in this tournament ever in my time [as Canadian coach]."
Priestman made five line-up changes from Sunday's 2-0 win over Brazil in Nashville. Most notably, goalkeeper Sabrina D'Angelo earned her first start of the SheBelieves Cup, while Christine Sinclair wore the captain's armband after coming off the bench against Brazil. Also drafting in were forwards Cloé Lacasse and Evelyne Viens, and centre back Shelina Zadorsky. Coming out were Kailen Sheridan, Vanessa Gilles, Allysha Chapman, Simi Awujo and Adriana Leon.
Canada played at the SheBelieves Cup under protest after Canada Soccer told the players that the women's team budget will be cut for 2023. The women are demanding the same funding and support ahead of the World Cup in Australia and New Zealand this summer as the men received in the buildup to Qatar last year. Both the women's and men's teams have had their budgets slashed for 2023, but the cuts hit the women harder as they are in a World Cup year.
Like they did in their previous two games at this tournament, every member of Canada's team sported a purple t-shirt with the words "Enough is Enough" during Wednesday's national anthem and players on both teams wore purple wristbands as a symbol of protest during the match. The Canadian Soccer Players' Association explained in a previous media release the colour has historically been associated with efforts in the fight for gender equality.
Priestman is determined not to let the labour dispute distract the team ahead of April's international window which she'll use to prepare her side for the World Cup.
"The equal pay issue is out of my hands and that's the tough part," Priestman stated. "But what I can control is getting us back to the basics. I can only control what happens on a football pitch … The off-the-pitch part's there. I can't hide from it.
"But I know that the group, myself and Canada Soccer — especially after this tournament — will be looking to do everything they can to make sure we turn up for April how we left off [2022], which was a five-game unbeaten streak and almost six other than a 93rd-minute [goal in a 2-1 loss to Brazil] at the back-end of the year.
"You look at the two contrasts and that doesn't happen overnight. We've got to get back to work and be clear where we're going."
It was a cagey start to Wednesday's contest from both nations, and it wasn't until the 15th minute that the first scoring chance was produced. Lacasse broke forward at speed down the left side in transition and ended up firing her shot just wide of the far post.
Japan scored its first goal of the tournament nine minutes later against the run of play. Rikako Kobayashi latched onto a ball played over the top and sped down the right side with fullback Ashley Lawrence and Zadorsky caught too high up the field. Kobayashi ended up playing a lovely through ball into the box for Kiko Seike, who poked her shot underneath D'Angelo.
The Japanese defender clattered into D'Angelo on the play and she had to come out of the game with an injury to her right leg. D'Angelo was replaced by Sheridan. There was no immediate word from Priestman on the extent of D'Angelo's injury.
Japan doubled its advantage just before halftime after a hasty challenge by Kadeisha Buchanan inside the box on Jun Endo who nutmegged the Canadian defender. Yui Hasegawa converted the ensuing penalty with aplomb, firing into the top right corner past a helpless Sheridan.
Priestman made a triple change at the start of the second half. Leon and fellow forward Jordyn Huitema and defender Gabrielle Carle entered the fray at the expense of Sinclair, Viens and Jade Rose.
Those moves didn't change much for Canada as Japan continued to control the match. Lawrence made a goal-line clearance early in the second half on Hinata Miyazawa's shot after she collected a defence-splitting pass and rounded Sheridan inside the penalty area. Aoba Fujino's attempt on goal off a counter later in the half flashed beyond Sheridan and whispered past the far post.
Endo made it 3-0 when Miyazawa slipped her in behind Canada's defence and fired a quick shot by Sheridan.
"We knew what they were good at but we let them be good at it," Priestman offered.
NOTES: Japan leads the all-time series against Canada with eight wins and four draws in 16 games since their first meeting on May 5, 1995... Canada and Japan previously faced off at the 2021 Tokyo Olympics when they battled to a 1-1 draw in the group stage of the competition... Canada's next game is against France in an international friendly on April 11 at Stade Marie-Marvingt in Le Mans.
(Top photo courtesy of Canada Soccer)
---
TFC Republic has a comments section! At the very bottom of every story, there is a feature where you can post your comments, so be sure to share your thoughts and views.