Feature
Tactical breakdown: 4 things to watch from TFC down the season stretch
Toronto FC is naming younger starting 11s compared to before, which benefits Kobe Franklin, Deandre Kerr, Alonso Coello and others.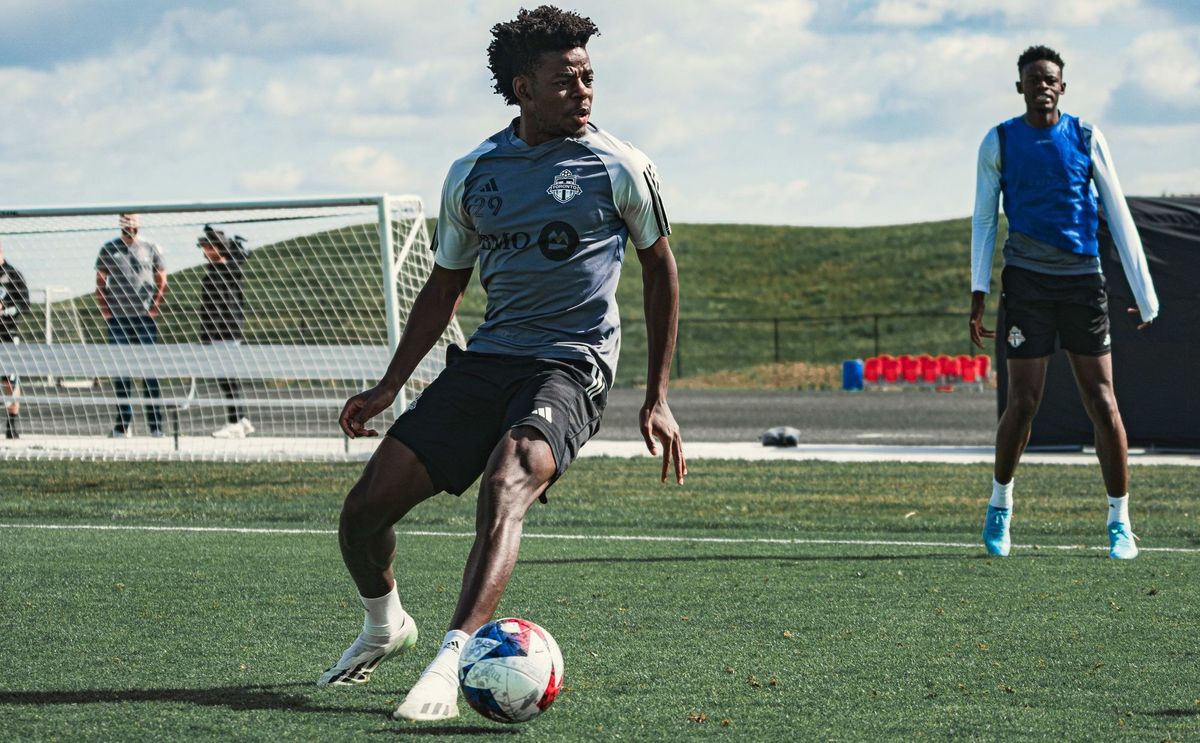 TFC Republic is on a
free trial this week
, so please enjoy this story and many more that will come out from behind the paywall until Wednesday, Sept. 13.
You can subscribe to TFC Republic by
CLICKING HERE
, or by clicking on the subscribe button on the home page. A monthly subscription costs just $8, while a yearly subscription is $50 (a savings of 48%).
Toronto FC's season will mercifully end in a few weeks, but not before new coach John Herdman officially takes charge on Oct. 1.
Considering TFC sits at the bottom of the Eastern Conference, there'll be plenty of work to do this off-season.
But before the attention shifts to what lies ahead, here's a look at four positive developments for TFC as they hit the final stretch of the season.
YOUNGER XI
When Toronto kicked off its season against D.C. United, the average age of the starting lineup was 30.7 years old.
It got fractionally younger into May, but the same issues persisted that come with an older squad. Injuries piled up, players were incapable of participating in multiple games in a week with fixture congestion and the losses piled up.
There's obviously more to it than just an old squad. Nashville, for example, regularly posts an average age of 29. But the fact TFC is now naming lineups at around 26-to-27 years old on average signals that they've realized the errors of their ways.
That'll clearly benefit the likes of Kobe Franklin, Deandre Kerr, Alonso Coello and other young players heading into 2024, especially with Herdman at the helm.
KOBE FRANKLIN'S DEVELOPMENT
In May, we broke down Kobe Franklin's run of games to that point in the season and there was a lot to like.
Most of the positives were tied to Franklin's defensive output amidst offensive struggles for TFC as a whole. Nowadays, though, the young fullback has mixed in some positive attacking qualities.
Franklin is averaging about 3.91 passes to the final third per 90 minutes and boasts a successful dribbling rate of 80 per cent, both of which are huge improvements from May.
He's still lacking that overall impact around the box, but with a revamp of the attack surely on the horizon, that might benefit Franklin in the long term.
DEANDRE KERR GETTING INTO PRIME POSITIONS
Speaking of attacking revamps, the development of DeAndre Kerr has to be a pleasant surprise for TFC fans.
The 20-year-old was given a brief run up front earlier in the season and looked bright, although he lacked the consistency to be a truly impactful No. 9.
While his expected goals (xG) per 90 is still hovering around 0.26, he is attempting higher quality shots compared to last year. He's surged from 0.13 xG per shot to 0.18 in 2023, which shows that he's getting into prime positions.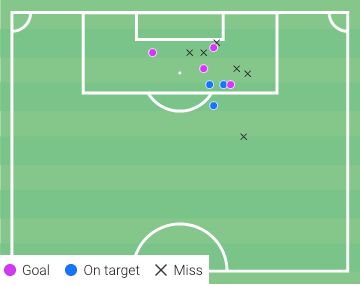 The next step is doing that with regularity.
COELLO'S VALUE
One has to wonder what could've been if Alonso Coello hadn't suffered mid-season injury problems.
On the bright side, it hasn't seemed to hinder his progress. Coello has locked down the heart of the midfield since his return from injury, proving to be a capable option as a deep-lying playmaker.
In fact, his passing accuracy under pressure is among the elite in his position in MLS (79 per cent). But it's more than just evading pressure: Coello gives TFC the ability to build and progress from deep areas.
Look at the recent game against the Philadelphia Union, for example. Coello formed a solid triangle in possession with Raoul Petretta and Lorenzo Insigne, which enabled Jonathan Osorio to exploit the space further up field. Franco Ibarra carried out the same responsibilities as Coello on the right side, giving TFC a solid shape on the ball.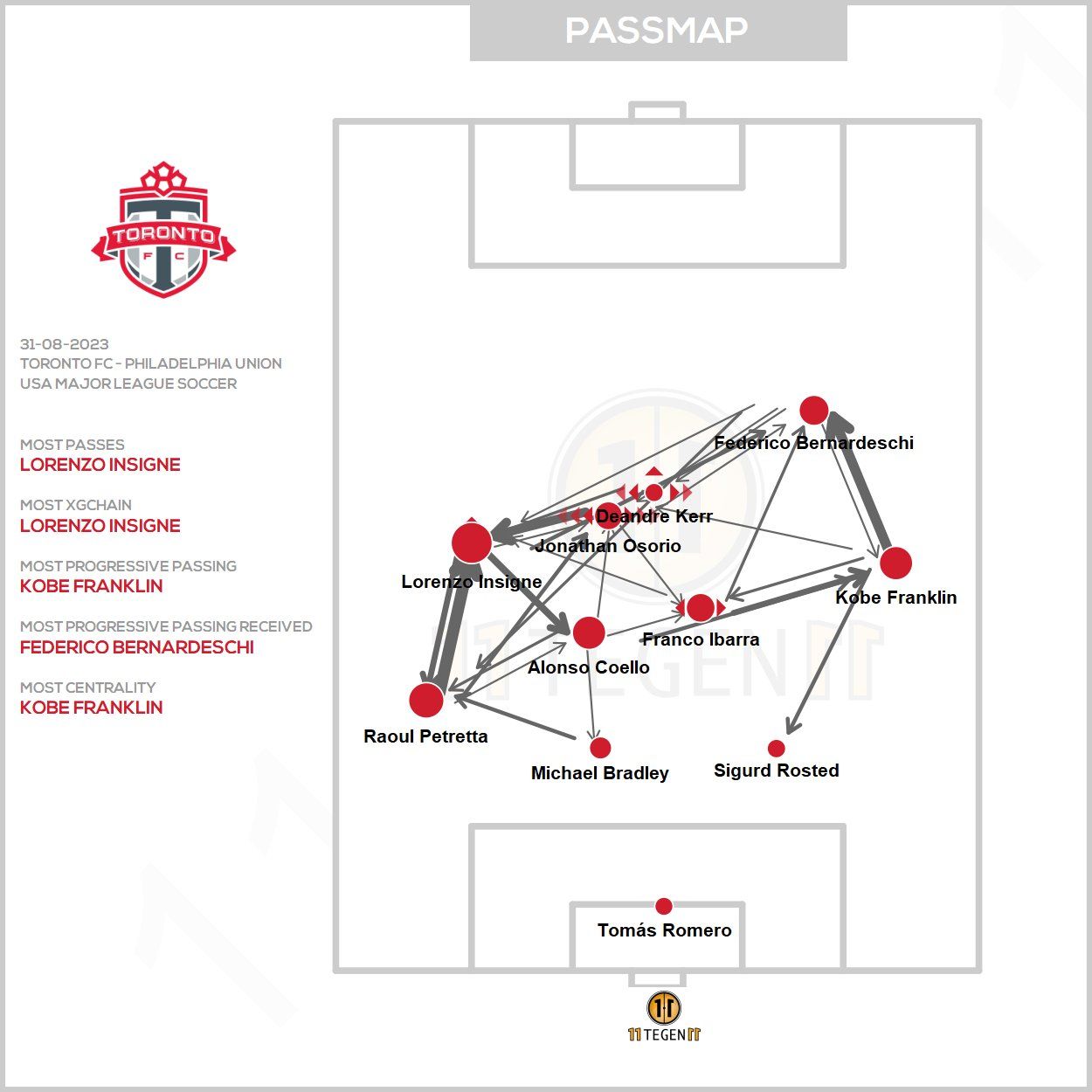 The key for Coello now is keeping fit. If he manages that, then the Reds' midfield will be in much better shape in 2024.
Peter Galindo works as a performance analyst for the Canadian men's national team. He is also a soccer writer and freelance scout based in Toronto who covers the sport for Sportsnet.ca and the MLS website, and is co-host on the Northern Fútbol Podcast, which analyzes all things Canadian soccer from the national teams to the domestic game. You can subscribe, download and stream the show on multiple platforms by clicking here. Follow Peter on Twitter.
(Top photo courtesy of Andy Truong/Toronto FC)
---
TFC Republic has a comments section! At the very bottom of every story, there is a feature where you can post your comments, so be sure to share your thoughts and views.
TORONTO FC TICKET DISCOUNT FOR TFC REPUBLIC SUBSCRIBERS!
TFC Republic subscribers can get up to a 25% discount (including no Ticketmaster fee) on ticket prices for Toronto FC home games.
To receive the special promo code, email me at
johnmolinaro@rogers.com
(Please don't share promo code with non-TFC Republic subscribers).