Newsletter
TFC Republic Weekly: April 25-May 1 lookahead
After a conceding five goals in its most recent loss, Toronto FC looks to rebound this weekend when it hosts FC Cincinnati.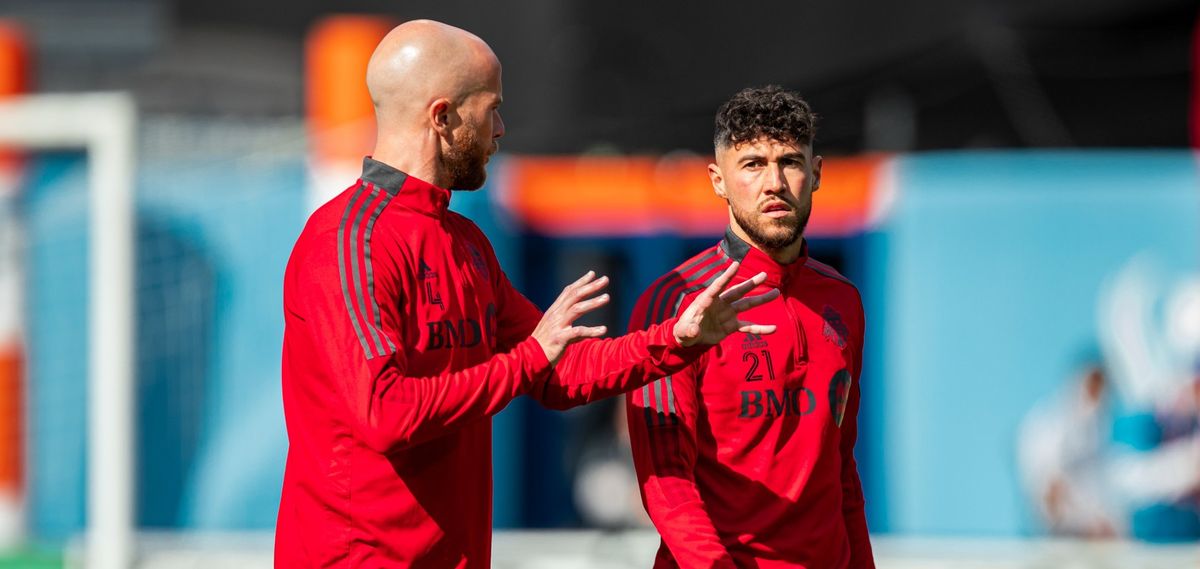 Welcome to the latest edition of TFC Republic Weekly, a free email newsletter that will land in the inbox of both paid subscribers and free members of TFC Republic every Monday.
This newsletter will look at what's in store over the next seven days for Toronto FC, and set up their schedule of games for the week.
You'll also get a glimpse of what to expect at TFC Republic in the coming days.
So, without further ado...
TFC's 4-game unbeaten run comes to an end
Sunday's 5-4 road loss to New York City FC was a stark reminder for Toronto FC that it remains a work in progress. TFC was humbled at the feet of the reigning MLS Cup champions, unable to slow down New York's awesome attack, or prevent it from routinely bossing them in midfield and getting in behind the defence.
Not even a brilliant brace from Jesús Jiménez, who continues to shine as one of the best newcomers in MLS, could put a positive spin on what was TFC's worst defensive performance of the year. Toronto's lack of mobility in midfield was exposed by NYCFC, with captain Michael Bradley struggling to keep pace for stretches of the match.
TFC, now 3-3-2 on the season, jumped out to a 2-0 lead inside the opening 30 minutes, but then conceded five consecutive goals against a rampant NYCFC side that picked them apart with their speed and dangerous play down the flanks.
"I think we got beat one-on-one on the flanks a few too many times, and all that led to just so many crosses coming through the box, and ultimately that's where for that period of time, late in the first half, and then for the blitz in the second half, that's what it felt like," coach Bob Bradley assessed after Sunday's loss.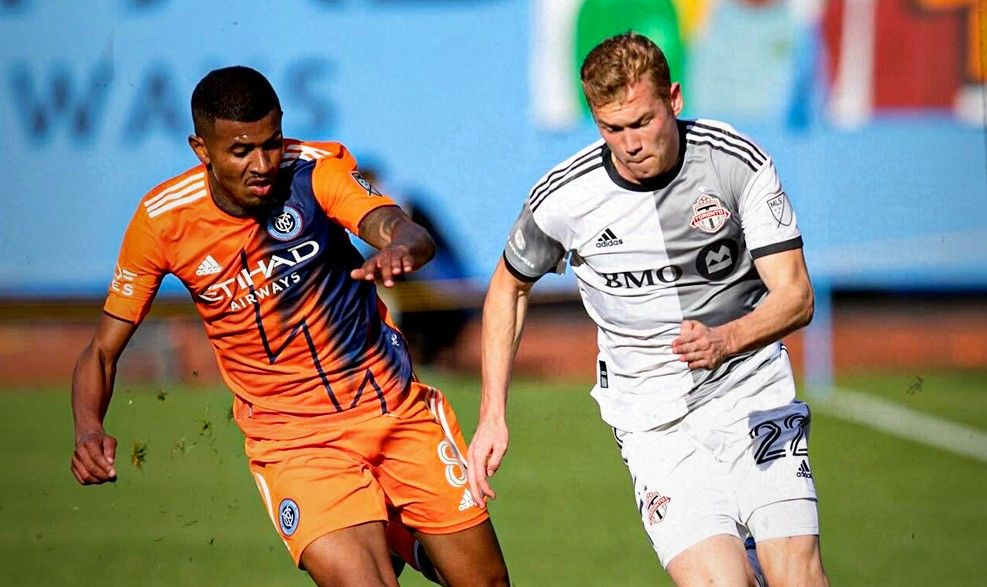 The Ayo Akinola watch continues
It's been a long and arduous road back for Ayo Akinola after he suffered a season-ending injury last summer. But the 22-year-old from Brampton, Ont., stands poised to return to the pitch after undergoing surgery and going through a lengthy rehabilitation process.
Touted as one of the brightest young forwards in MLS, Akinola has played in 46 games and scored 14 goals in all competitions across four seasons for Toronto ever since signing with the club as a homegrown player prior to the 2018 MLS campaign.
He made his league debut against Minnesota United on July 5, 2018, and scored his first league goal on March 17, 2019 against the New England Revolution. The youngster enjoyed a breakout season in 2020 when he scored a team-high nine goals, helping the Reds finish in second place in the Supporters' Shield race.
But he was limited to 11 MLS appearances (eight as a starter) and three goals in 2021. An ACL injury suffered while on duty with Canada's national team last July in a game against the United States in the Concacaf Gold Cup ruled him out for the rest of the MLS campaign. He recently returned to full training with TFC, and has dressed for the last two games, sitting on the bench as an unused substitute.
Akinola told TFC Republic on April 13 that he'll make his long-awaited return by the end of month. With just one more game in April, time is running out. Bob Bradley noted last week that Akinola has made very good progress, but that the young striker might have to wait a little bit longer before he gets some playing time.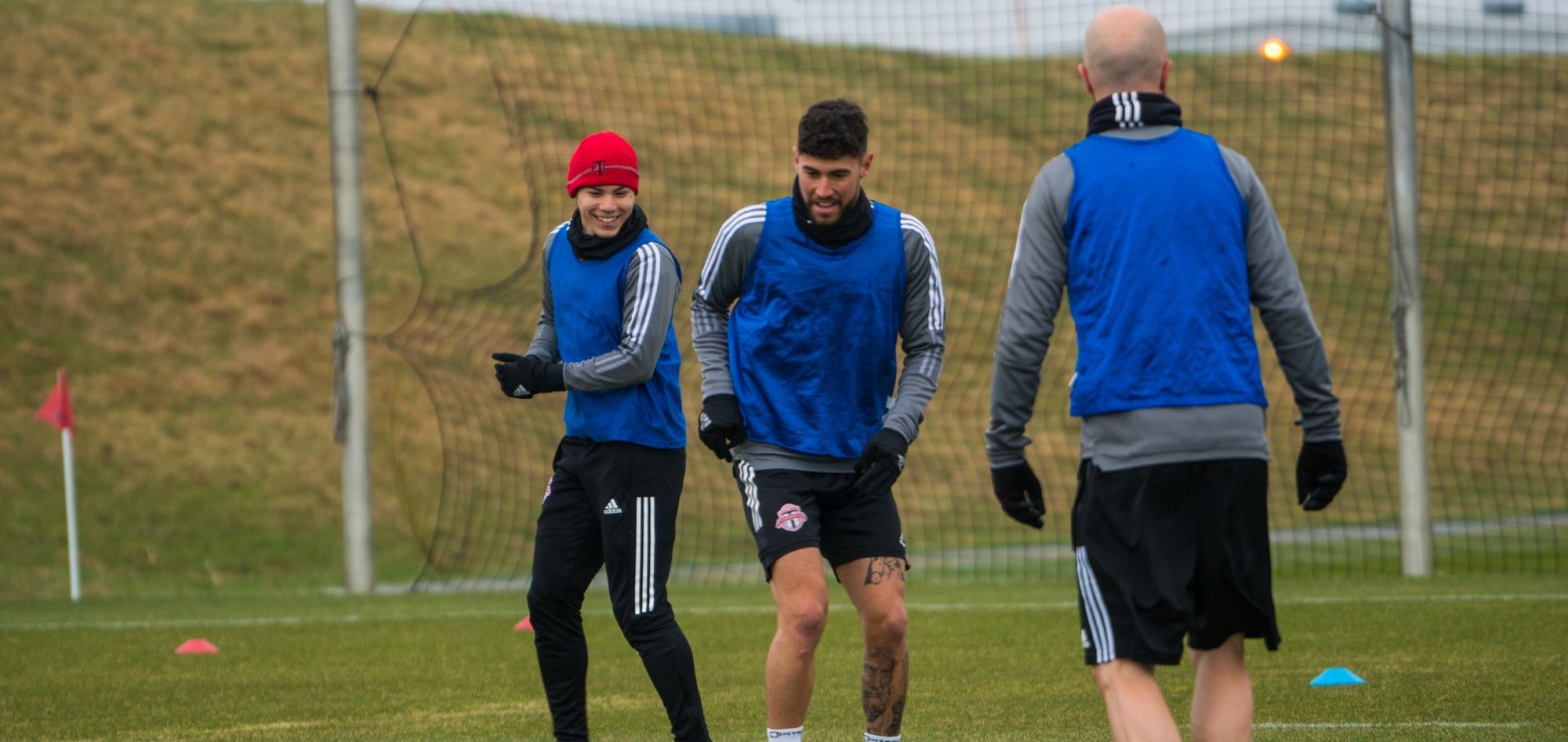 TFC vs.  FC Cincinnati on Saturday
Toronto FC returns to action when it hosts FC Cincinnati on Saturday (3:00 p.m. ET) at BMO Field.
This will be the first meeting between the sides since TFC earned a 3-2 home win on Sept, 29, 2021. Jacob Shaffelburg, Mark Delgado and Ifunanyachi Achara scored for the Reds, who were in the middle of what turned out to be a four-game unbeaten run. Shaffelburg also collected two assists in a man-of-the-match effort, allowing Toronto to climb out of last place and leapfrog Cincinnati in the overall league standings.
Cincinnati (2-5-1) is coming off a 2-1 home loss to LAFC, a result that extended the club's winless run to four consecutive matches, with three losses. Cincy has been shut out four times in eight games this season, and has only scored nine times, with five of its goals coming from forward Brandon Vázquez.
Toronto leads the all-time series against Cincinnati with four wins in six regular season meetings. The Ohio club came out on top in a pair of 2-0 victories before losing in Toronto in September last season.
This be the first 0f back-to-back games between the clubs, as they'll meet again on May 4 at TQL Stadium in Cincinnati.
---
---
Stories to look out for at TFC Republic
When Bob Bradley was looking to fill out his staff after being hired last November, one of the people he turned to was Paul Stalteri. The former Canadian national team defender had previously coached Canada at various youth levels, and was coming off a stint as an assistant coach with York United FC in the CPL.
Stalteri was a standout for Canada at international level, collecting 84 caps and scoring seven goals from 1997 to 2010, while balancing a successful club career that saw him turn out for Tottenham, Werder Bremen and Fulham. He also played for Borussia Mönchengladbach from 2009 to 2010 when one of his teammates was a young American midfielder named Michael Bradley.
I recently chatted one-on-one with Stalteri about his time playing with TFC's captain in Germany, joining the TFC coaching staff and working as an assistant under Bob Bradley, and much more. Look for my feature story later this week.
Other stories that will be published later this week include:
A column on Alejandro Pozuelo and his strong start to the 2022 season.
A feature on TFC 2 defender Themi Antonoglou, who made his debut for the senior team on Sunday in New York.
In-depth pre- and post-game coverage of TFC's game against FC Cincinnati.
Peter Galindo's weekly tactical and analytical column takes a look at the players who have stood out so far in the 2022 Canadian Premier League season.
A feature on Canadian women's team forward Nichelle Prince as she gets set to kick off a new NWSL season with the Houston Dash.
I'll be speaking to Dan Kruk, Executive Director of The Professional Footballers Association Canada, this week to get an update on where things stand with CPL players' attempting to unionize.
Another edition of the reader mailbag.
And much more!
---
TFC Republic mailbag
TFC Republic will feature a regular reader mailbag column where I answer questions from subscribers about Toronto FC and Canadian soccer in general.
I'll answer the best questions submitted to me by TFC Republic readers, so feel free to drop me an email at johnmolinaro@rogers.com. You can also reach out to me via Twitter and Facebook.
(Top photo courtesy of torontofc.ca)
---
TFC Republic is a paid-subscription website. All of the content at TFC Republic is behind a paywall, and you need to be a subscriber to access it. It costs only $8 for a one-month subscription, or $50 for a full year (prices include 13% GST/HST). What a great deal, eh?  Don't miss out, and order your TFC Republic subscription today!