Newsletter
TFC Republic Weekly: August 8-14 lookahead
With only 10 games remaining in the season, Toronto FC has to start leapfrogging teams in the table to keep its playoff hopes alive.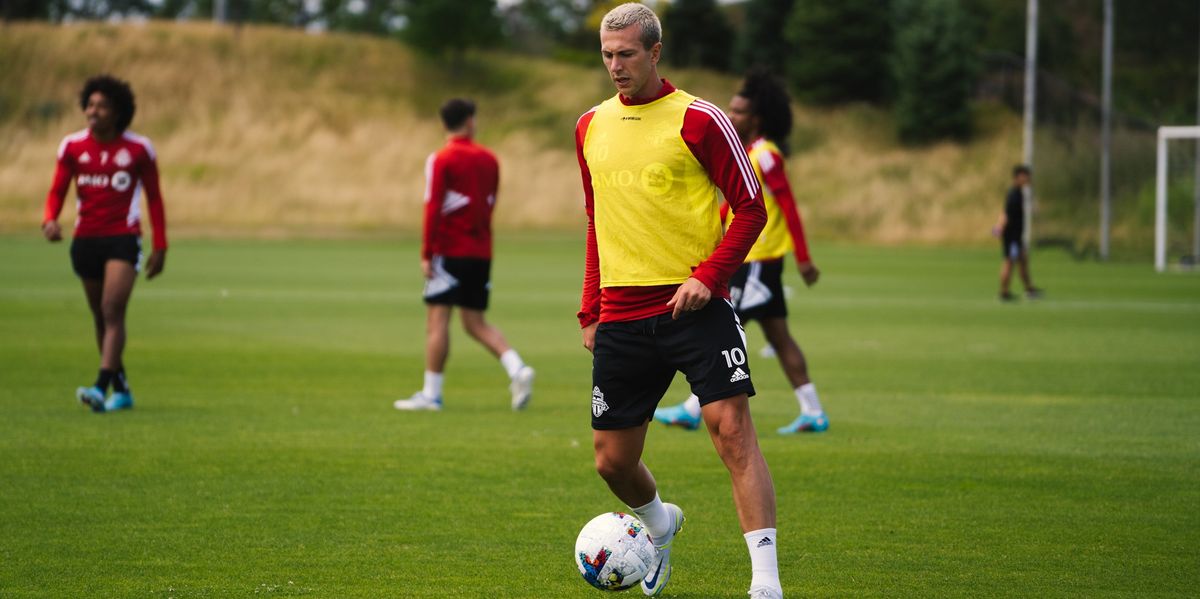 Welcome to the latest edition of TFC Republic Weekly, a free email newsletter that will land in the inbox of both paid subscribers and free members of TFC Republic every Monday.
This newsletter will look at what's in store over the next seven days for Toronto FC, and set up their schedule of games for the week.
You'll also get a glimpse of what to expect at TFC Republic in the coming days.
So, without further ado...
Toronto FC and the playoff picture
Saturday's thrilling 4-3 win away to Nashville SC saw Lorenzo Insigne score the winner via a highlight-reel effort as part of a man-of-the-match performance.
With the Reds holding onto a slim one-goal lead in the second half, Insigne accepted a short pass from Michael Bradley and then took on three Nashville players before curling a gorgeous shot from 20 yards out that majestically nestled inside the near post. It was the Italian's first goal in four games in all competitions for TFC. Jonathan Osorio bagged a brace, while Federico Bernardeschi also scored for Toronto.
TFC (7-12-5) extended their unbeaten streak to three games in MLS, with two wins, but they remained 13th out of 14 teams in the Eastern Conference. While they closed the gap on seventh place from six to four points, they're still six spots out of a playoff berth, with 10 games remaining in the season.
Bob Bradley described it as "a really important win" that featured a lot of big positives for his team. Still, the fact they didn't move up the table means the Reds remain a long shot to make the playoffs. Time is running out, and they need to keep winning and start leapfrogging some teams if they have any hope of qualifying for the post-season
"We understand the situation that we're in [with] the table and everything. So, we know that every game now is a final from here on. It's huge, the fact that it's an away win as well. ... I think this is huge for the team going forward and we're going to use this game to build off of," Osorio said after Saturday's win.

MLS summer transfer window closed
The MLS secondary transfer window closed last Thursday, which essentially serves as the league's trade deadline.
It's important to note that while teams can't make trades for players for the rest of this season, they can still sign out-of-contract players up until the league's roster freeze deadline on Sept. 2.
For instance, the Reds recently signed Doneil Henry to a short-term deal after he was waived by LAFC. If there was another unattached player in the league that TFC wanted, they could sign him. They could also fill their open Designated Player spot with an out-of-contract player from abroad. Teams can also make trades that don't involve players, such as for General Allocation Money, international roster spots, draft picks, and other assets.
But from what coach Bob Bradley told reporters last week, it sounds like Toronto is done wheeling and dealing after a busy summer transfer window that saw them make a number of important moves. Management is in no rush to fill the vacant DP slot, and will likely do so in the off-season.

TFC vs. Portland Timbers on Saturday
TFC returns to action when they host the Portland Timbers on Saturday (7:30 p.m. ET) as they look to build upon their three-game unbeaten run in MLS.
It'll be the first meeting between the clubs since Portland earned a 2-1 win at BMO Field on April 27, 2019. Jonathan Osorio gave the Reds a 1-0 lead in the 20th minute, but Portland tied things up two minutes later when Bill Tuiloma scored on a beautiful volley off a corner kick. Jeremy Ebobisse bagged the winner in the 70th minute via a brilliant diving header.
"The bigger picture on the day was it was just too easy for them to do anything that they wanted to do on the field," former coach Greg Vanney said after the loss.
Osorio added: "We just didn't take care of the ball. Guys were off their game. I think we were all doing our own thing and we weren't on the same page."
Portland (7-6-12) currently sits in seventh place in the Western Conference standings, just one point above the Seattle Sounders and the playoff line. The Timbers are riding a nine-game unbeaten run (four wins) and have drawn their last three games, including a 1-1 stalemate vs. FC Dallas at home last weekend. Portland's last loss came on May 28 in a 2-1 road setback against Inter Miami.
The all-time MLS regular season series between Toronto and Portland is tied with four wins apiece in 10 meetings.
Saturday's game marks the only meeting of the regular season between the clubs.

Canada at the FIFA U-20 Women's World Cup
The FIFA U-20 Women's World Cup kicks off this week, with Canada among the 16 teams competing at the tournament in Costa Rica that runs from Aug. 10-28.
The field is divided into four groups, and the top two teams in each group advance to the knockout round. Canada opens Group C play against South Korea on Aug. 11, and then faces France (Aug. 14) and Nigeria (Aug. 17).
Coach Cindy Tye's 21-player squad includes three members who have already featured for Canada's senior team: midfielders Olivia Smith (two caps) and Zoe Burns (one), and centre back Jade Rose (two). Goalkeeper Anna Karpenko and midfielder Nikayla Small have yet to play for Canada, even though they've been called up by Bev Priestman.
This is Canada's eighth tournament participation, and first since 2016. Its best showing came in 2002 - it was known as the FIFA U-19 Women's World Championship back then - when it hosted the event and lost to the United States in the final.
---
---
Stories to look out for at TFC Republic
The MLS summer transfer window closed last week with TFC making one last move in bringing back Richie Laryea on loan. That deal came on the heels of a busy month for Toronto, as it reshaped its starting 11 with a number of major transactions. What does the team look like now going forward? Are the Reds set up for immediate success? Or will they simply play out the season and look ahead to next year? Look for my story later this week on the current state of the union at TFC.
Other stories that will be published later this week include:
Peter Galindo's weekly analytics and tactical feature focuses on Richie Laryea and how he'll fit at TFC this time around.
In-depth pre- and post-game coverage of TFC's road game against the Portland Timbers.
My feature story of TFC fullback Richie Laryea.
My feature story on TFC centre back Lukas MacNaughton.
My weekly TFC random thoughts column.
A video blog on Jacob Shaffelburg's departure via loan to Nashville SC.
My look at Canada and the upcoming FIFA U-20 Women's World Cup.
Another edition of reader mailbag.
And much more!
---
TFC Republic mailbag
TFC Republic will feature a regular reader mailbag column where I answer questions from subscribers about Toronto FC and Canadian soccer in general.
I'll answer the best questions submitted to me by TFC Republic readers, so feel free to drop me an email at johnmolinaro@rogers.com. You can also reach out to me via Twitter and Facebook.
(Top photo courtesy of torontofc.ca)
---
TFC Republic is a paid-subscription website. All of the content at TFC Republic is behind a paywall, and you need to be a subscriber to access it. It costs only $8 for a one-month subscription, or $50 for a full year (prices include 13% GST/HST). What a great deal, eh?  Don't miss out, and order your TFC Republic subscription today!