CanWNT
Canada looks to turn the page during Olympic qualifiers vs. Jamaica
Qualifying for the 2024 Olympics would help the Canadian women's team repair its damaged reputation after its early World Cup exit.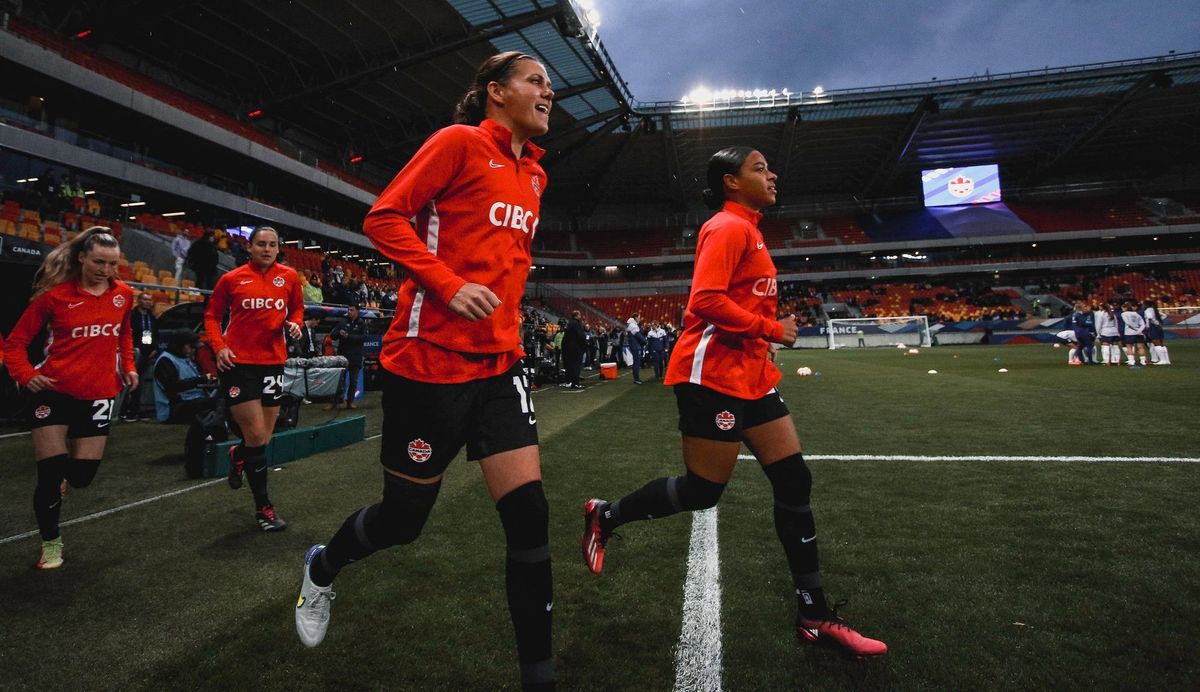 TFC Republic is on a
free trial this week
, so please enjoy this story and many more that will come out from behind the paywall until Wednesday, Sept. 13.
You can subscribe to TFC Republic by
CLICKING HERE
, or by clicking on the subscribe button on the home page. A monthly subscription costs just $8, while a yearly subscription is $50 (a savings of 48%).
As Olympic gold medal winners, the Canadian women's team entered this summer's FIFA World Cup as one of the sides to watch in Australia and New Zealand.
Canada ended up making headlines but for all the wrong reasons, bowing out of the tournament following a 4-0 loss to Australia in its group stage finale. In going home early, Canada became the first reigning Olympic champion to fail to advance to the knockout round at the World Cup.
The premature exit capped off an uneven and uninspired tournament by the Canadians who struggled to score goals and dominate their opponents for long stretches. As a result, Canada dropped three spots to No. 10 in the latest FIFA world rankings, leading to even more doubts about the Reds' standing as one of the best teams in the world.
Canada will have a chance to answer its critics this month when it plays No. 37 Jamaica in a two-game aggregate series with the winner advancing to the 2024 Paris Olympics. The nations will meet on Sept. 22 in Kingston, Jamaica. The second leg is on Sept. 26 at BMO Field in Toronto.
It's clear that the team is still hurting from its shocking performance at the World Cup. These two games against Jamaica represent a chance for the Reds to get back on track.
"We obviously want to put the wrong right," coach Bev Priestman said when she announced her 25-player squad earlier this month.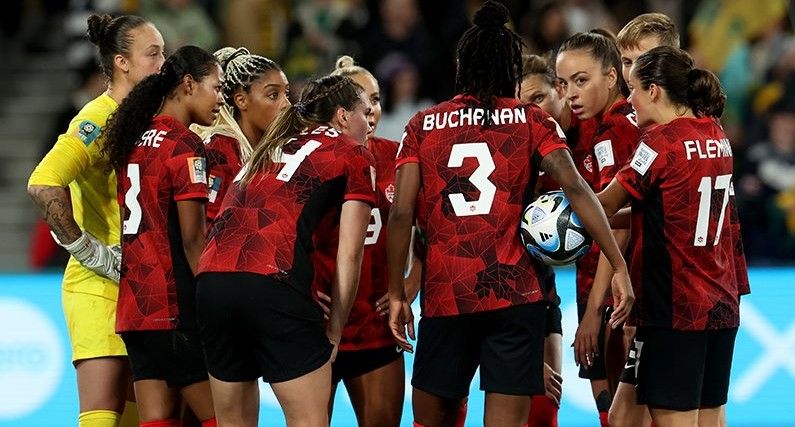 "Post-World Cup, I've had some really, really good individual conversations with each player; we had a player reset meeting. I put every ounce of myself into this World Cup. Some of what happened is on me, some is on the players, and some is luck. That last game [the loss to Australia] is probably the bit that hurts the most. The players found it very, very difficult [to get over it]."
A reset was much needed as there's no time for the Canadians to feel sorry for themselves. They have to stay focused on the task at hand: Qualifying for next summer's Paris Olympics.
That's the clear objective with these two games against Jamaica. Building the program back up will have to wait for the moment, as will any thought of undergoing a major tactical change with new faces in the team. For right now, it's Paris or bust.
"We have to turn the page, to get back on the horse and prepare for a new journey. We know how dear the Olympic Games are to this group's heart," Prisetman stated.
She later added: "No. 1, get to Paris. That is the clearest objective. No. 2, evolve, but evolve to win. We have to earn the right to be in Paris '24."
History suggests that this Olympic qualifying series should be a cakewalk for Canada.
Since 1991, Canada has faced Jamaica nine times in international competition and won all nine games by a combined score of 60-1. The previous contest was a 3-0 win for the Canadians on July 14, 2022, in the Concacaf W Championship semifinals.
But the Jamaicans are coming off a solid showing at this summer's World Cup, as they survived a difficult group that included Brazil and France before losing to Colombia in the round of 16. It marked the first time in two World Cup appearances that the Reggae Girlz advanced from the group stage.
"We're playing a team who are very hard to beat, only conceded one goal [at the World Cup] despite playing two top 10 teams… This is not the same Jamaica [that] we faced last year. We have to respect what they did during the [World Cup]. We have to beat the team in front of us, and they have been playing well. I expect a difficult game," Priestman offered.
In total, 19 of the 23 players who were part of Priestman's squad in Australia are on this latest roster, including captain Christine Sinclair. Veteran midfielder Sophie Schmidt retired from the national team after the World Cup while fullback Allysha Chapman is missing due to personal reasons. Fullback Jayde Riviere and forward Deanne Rose were originally named to Priestman's roster but have since pulled out due to injuries.
Returning to the national team for this two-game set vs. Jamaica are defenders Sydney Collins and Bianca St-Georges, midfielder Marie-Yasmine Alidou D'Anjou and 16-year-old forward Annabelle Chukwu. Defender Jade Rose, who missed the World Cup through injury, also returns to the squad. Chukwu has previously been called up by Canada but has yet to be capped.
---
---
Given the must-win nature of this two-game qualifier, Canada isn't in a position to experiment with lineups or try new things. That's why there's so many familiar faces in this latest Canadian squad and it relies heavily on players who were part of the gold medal winning team in Tokyo.
That being said, the pressure is squarely on this group of players, and it'll be interesting to see if they can quickly rebound from their World Cup disappointment and refocus on qualifying for Paris.
"I do think a huge component of that last [World Cup] game was the mental performance aspect. We have to get that part right [vs. Jamaica]. The nature of what's on the line is going to squeeze every ounce out of the players who are on the pitch. We have to want it more than Jamaica wants it. That's what it boils down to," Priestman admitted.
Canada's goal-scoring ability has long been called into question. The Reds were outscored 5-2 in their three World Cup games which included them benefiting from an own goal. In total, they've scored just five times in seven games in 2023. But the team's defence, which historically has been its greatest strength, has also looked suspect as it has conceded 12 goals this year.
Perhaps some home cooking will set the team right again. Next Tuesday's contest at BMO Field will be Canada's first game on home soil since battling South Korea to a 0-0 draw in a friendly in Toronto on June 26, 2022. Since then, Priestman's side has played 19 games on the road.
"To have hopefully a full house at BMO is going to be unbelievable, a great moment for this program," Priestman said.
"We experienced a hostile crowd twice in Australia and I'm sure we will in Jamaica so having the whole country behind this group is such an incredible moment and it's going to spur the group on for sure."
(Top photo courtesy of Canada Soccer)
---
TFC Republic has a comments section! At the very bottom of every story, there is a feature where you can post your comments, so be sure to share your thoughts and views.
TORONTO FC TICKET DISCOUNT FOR TFC REPUBLIC SUBSCRIBERS!
TFC Republic subscribers can get up to a 25% discount (including no Ticketmaster fee) on ticket prices for Toronto FC home games.
To receive the special promo code, email me at
johnmolinaro@rogers.com
(Please don't share promo code with non-TFC Republic subscribers).