Match preview
Toronto FC vs. FC Cincinnati: What you need to know
Saturday's home game against FC Cincinnati gives TFC a chance to get back on track after coughing up five goals in New York last week.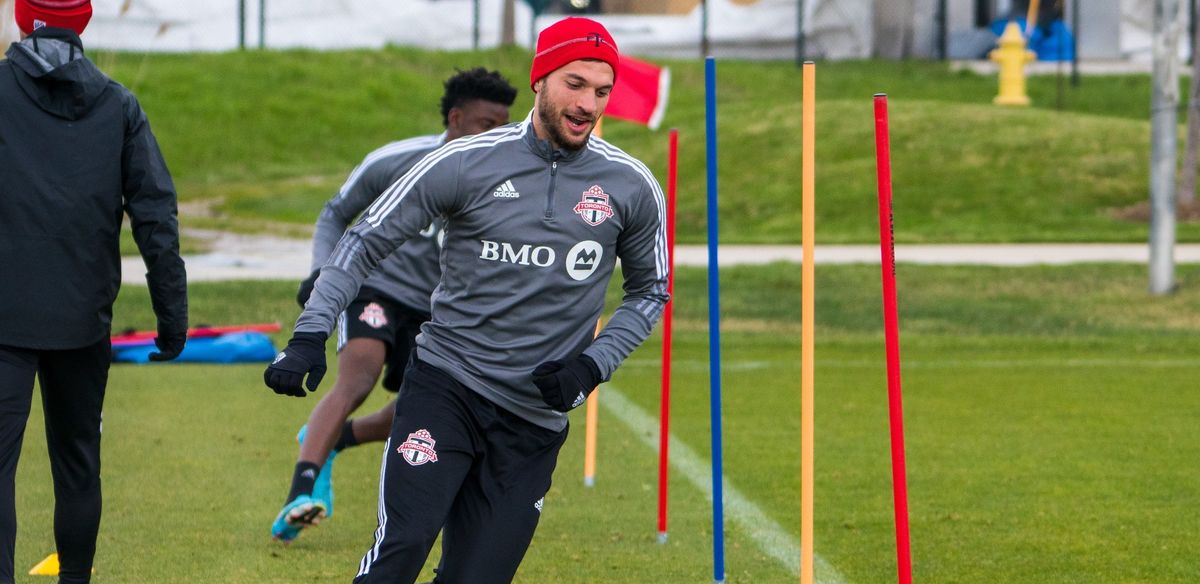 After a poor defensive performance against the MLS Cup champions, Toronto FC will attempt to steady the ship this weekend at home in the first of two consecutive games against FC Cincinnati.
Last week's 5-4 loss away to New York City served as a reminder that TFC remains a work in progress under new coach Bob Bradley, even after the club went undefeated (with three wins) in its previous four matches. New York went down 2-0 inside the opening half hour, but then blitzed TFC for five consecutive goals before holding on for a slim victory. Toronto's back line was overwhelmed, as New York convincingly won the midfield battle, exposing the Reds' lack of mobility in the middle of the park.
It'll be interesting to see how the Reds respond, and whether coach Bob Bradley will go with three centre backs for second straight match, or switch to a four-man defence.
Here's what you need to know about Saturday's game (3:00 p.m. ET) between TFC and FC Cincinnati at BMO Field.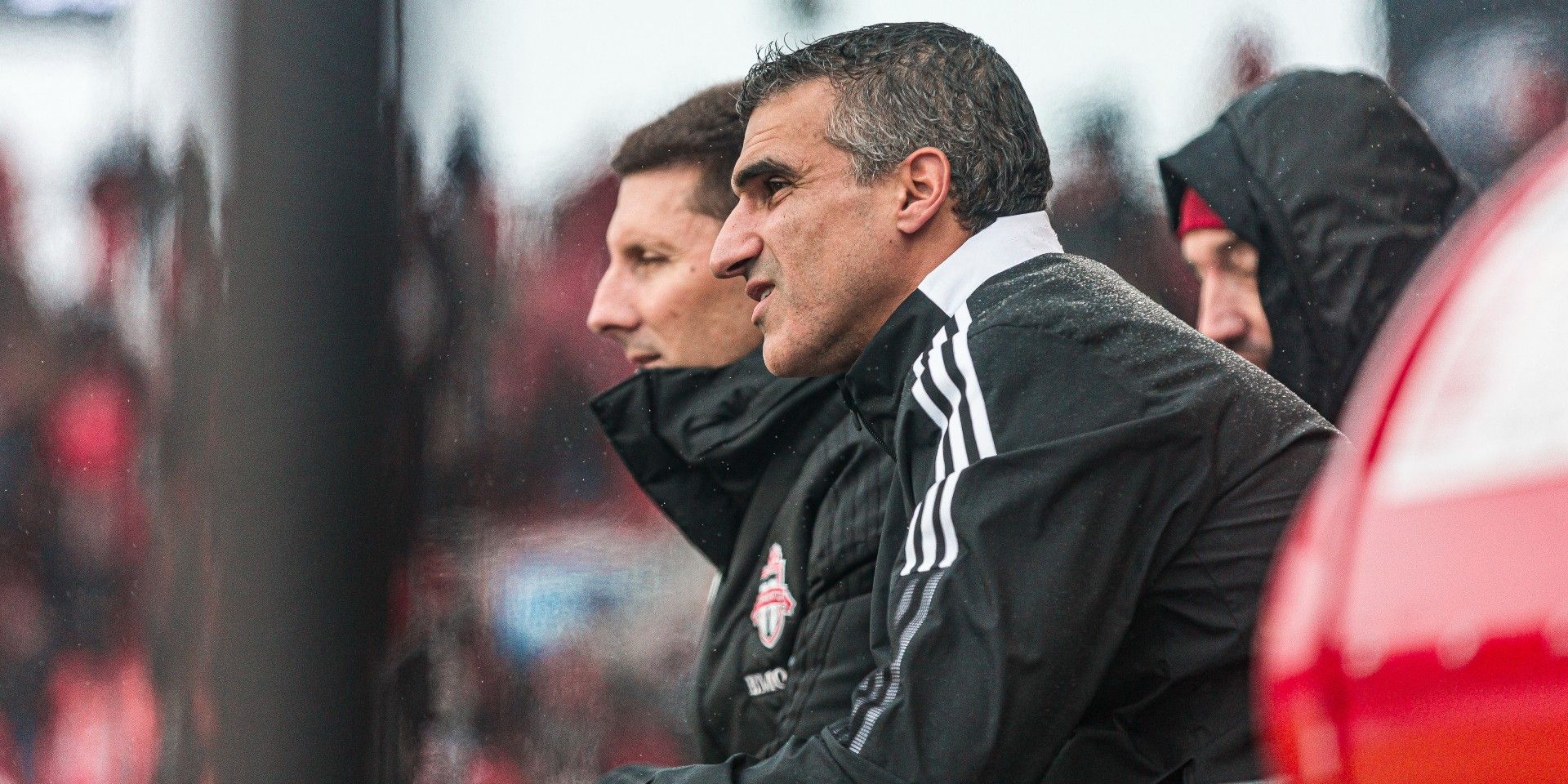 Bradley not a fan of back-to-back games vs. same opponent
This weekend's contest is the first of two straight games between Toronto and Cincinnati, with the teams set to meet again next week in Ohio.
It's a bit of a scheduling oddity for Toronto, who doesn't face any other teams back-to-back for the rest of the season.
Playing against the same side in two league games during a five-day period isn't something that sits well with TFC coach Bob Bradley.
"It's not ideal in a league schedule. For me, it's not a good thing. It's happened a number of times over the years. You wouldn't see it in any other league... You wouldn't see two league matches against the same team back-to-back, so I don't like it," Bradley told reporters on Friday.
"But, it is what it is, and you prepare for the first game and then in a midweek situation you take from the first game, figure out physically how you come out of it, and then adjust for the second game."
Reds still searching for 1st clean sheet
With 17 goals against this season, Toronto is tied for the worst defensive record in the Eastern Conference, and the second-worst in MLS. They've also given up 52 shots, more than any other team.
TFC have conceded in each of their eight games this year, which means they have now gone 16 straight league games without a clean sheet, a streak that dates back to Sept. 29, 2021. The last time the Reds posted a shutout was a 0-0 draw away to the Colorado Rapids on Sept. 25, 2021.
The Reds are one of four clubs this season without a clean sheet. Toronto was within minutes of recording its first shutout of the campaign a few weeks ago at home against NYCFC. But the MLS champions scored in injury time in a 2-1 win for Toronto.
Chris Mavinga has blown hot and cold in his three appearances this year, while fellow centre back Carlos Salcedo has had nervy moments and been hit with two red cards in quarterbacking the back line.
Bob Bradley expressed some concern over the lack of clean sheets, but he's also focusing on the big picture.
"There's these general ideas that you want clean sheets... [We] look way deeper at this stuff. I look at it from the standpoint of, are we growing as a team? What kind of chances do we give up? How many chances to we make? I think we have to continue to grow in those ways. I think when those things get better, we will have more shutouts," Bradley offered.
He later added: "[Shutouts] have to come, but they have to come as a product of a lot of different things."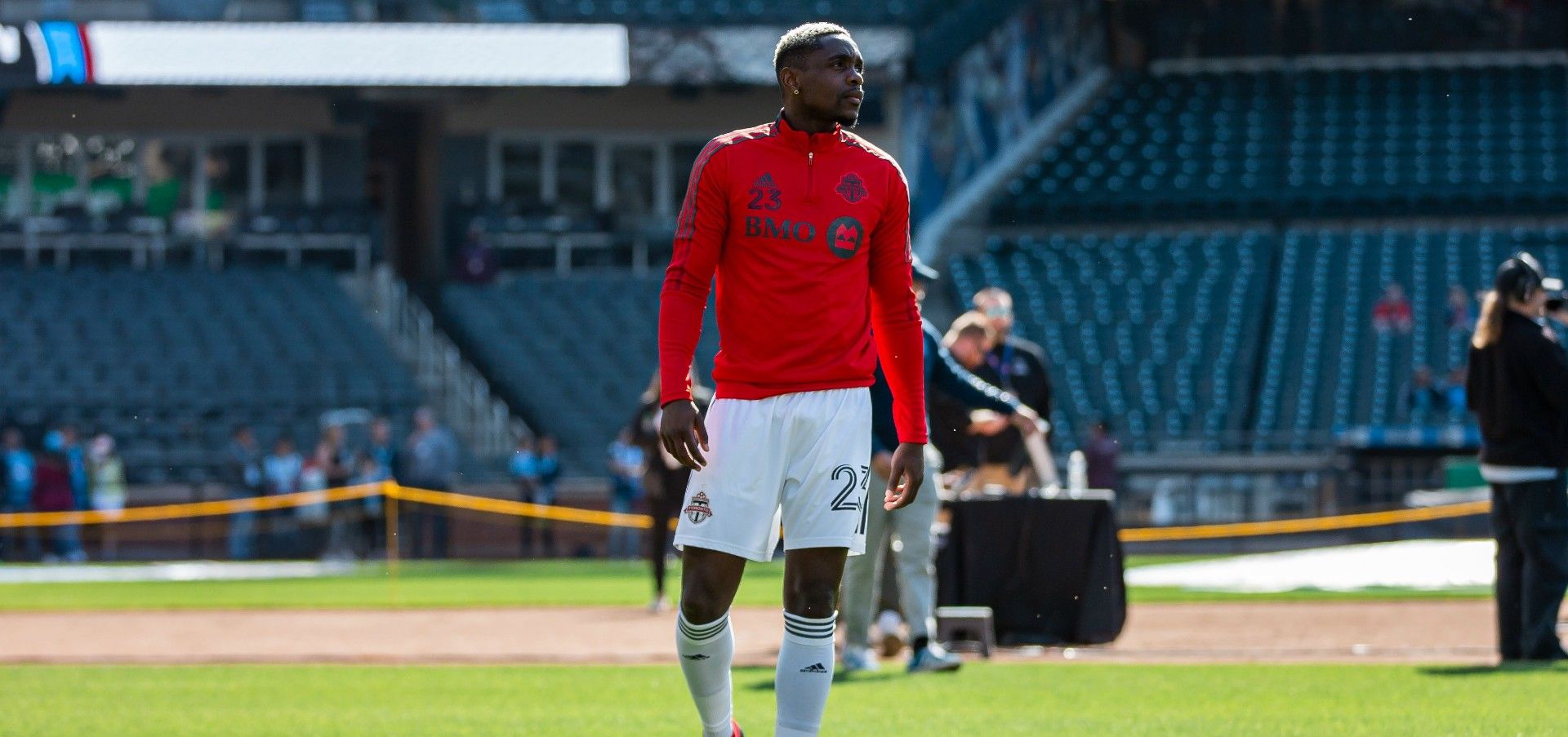 TFC injury report
Toronto continue to be without fullback Jahkeele Marshall-Rutty (recovering from knee surgery), and midfielder Noble Okello (lower body injury).
Forward Deandre Kerr (concussion protocol), midfielder Ralph Priso (lower body injury) and fullback Jacob Shaffelburg (lower body injury) are questionable. Shaffelburg didn't train with the team on Friday. Priso has been sidelined for several weeks, with his previous appearance coming on March 12.
"Ralph has been back in training this week. He'll be on the bench," Bob Bradley confirmed.
Forward Jayden Nelson is available for Saturday after being suspended for the New York game. Also, Ayo Akinola could see his first action of the season for TFC this weekend. The Canadian forward has been sidelined since last July when he suffered a knee injury while on international duty for Canada, but he has been on the bench as an unused substitute the last two games.
"This was a good week for Ayo. He had his best day [of training] on Wednesday. That's important. He was more dynamic, he had more real good actions, he was a threat, he worked harder. ... He felt very good about his training on Wednesday, so that certainly means in this next stretch, as games come quicker, he's an option," Bradley said.
For the third straight week, TFC has signed defender Themi Antonoglou to a short-term loan agreement from TFC 2.
Cincinnati will be missing defenders Ray Gaddis (leg) and Ronald Matarrita (ankle surgery). The following players are questionable: defender Tyler Blackett (leg), midfielders Allan Cruz (leg) and Yuya Kubo (foot), goalkeeper Alec Kann (lower body), and forward Brandon Vazquez (leg).
Veteran defender Geoff Cameron won't be able to travel with the club as he is not vaccinated.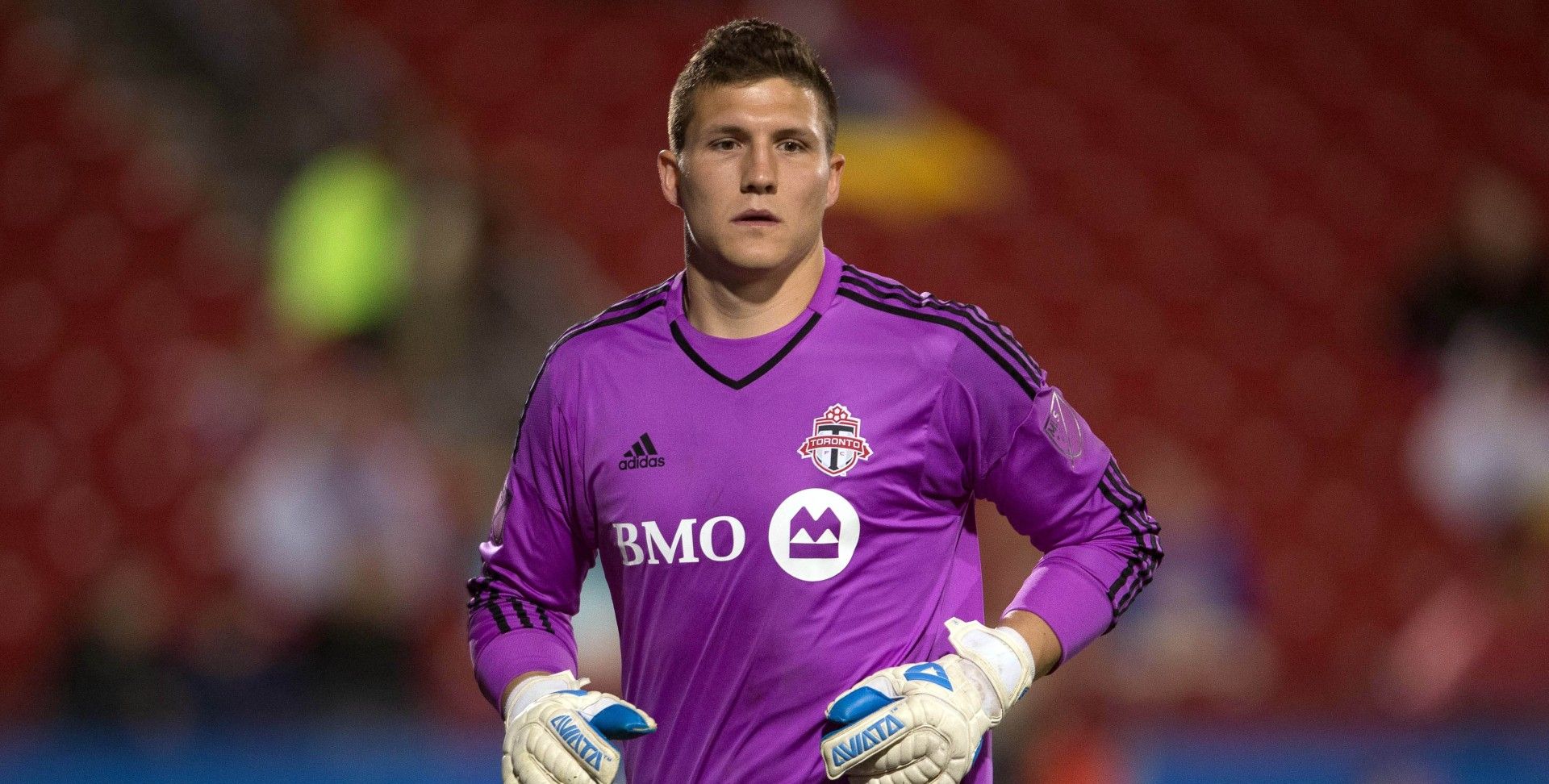 FC Cincinnati in a nutshell
Cincinnati (2-5-1) is coming off a 2-1 home loss to LAFC, a result that extended the club's winless run to four consecutive matches, with three losses. Goalkeeper Roman Celentano, the No. 2 pick in MLS SuperDraft 2022, made six saves in his first career MLS start.
After posting back-to-back wins in March, Cincinnati has collected just a single point from its last four contests. Cincy has been shut out four times in eight games this season, and has only scored nine times, with five of its goals coming from forward Brandon Vázquez. Only three Cincinnati players have scored this season (excluding own goals).
New DP signing Obinna Nwobodo arrived in Cincinnati this week and had his first training session with the club on Thursday. The defensive midfielder is in mid-season form, having joined the MLS club from Göztepe S.K. in Turkey, and he could see action on Saturday in Toronto.
"I watched him when he played in Turkey. He's got a good engine. He's athletic and quick in the way he defensively handles situations. Solid technically, but a player who deeper in the midfield is going to be responsible for putting out fires, picking up loose balls, that kind of stuff," Bob Bradley said.
---
---
What happened last time between TFC and FC Cincinnati
This will be the first meeting between the sides since TFC earned a 3-2 home win on Sept, 29, 2021.
Jacob Shaffelburg, Mark Delgado and Ifunanyachi Achara scored for the Reds, who were in the middle of what turned out to be a four-game unbeaten run. Shaffelburg also collected two assists in a man-of-the-match effort, allowing Toronto to climb out of last place and leapfrog Cincinnati in the overall league standings.
TFC leads the all-time series against Cincinnati with four wins in six regular season meetings. The Ohio club came out on top in a pair of 2-0 victories before losing in Toronto in September last season.
The Reds have won both of their home games against Cincinnati dating back to 2019.
What's next for Toronto
Toronto FC has a pair of road games next week: vs. FC Cincinnati (May 4) and Vancouver Whitecaps (May 8).
(Top photo courtesy of torontofc.ca)
---
TFC Republic is a paid-subscription website. All of the content at TFC Republic is behind a paywall, and you need to be a subscriber to access it. It costs only $8 for a one-month subscription, or $50 for a full year (prices include 13% GST/HST). What a great deal, eh?  Don't miss out, and order your TFC Republic subscription today!