Match preview
Toronto FC vs. Vancouver Whitecaps: What you need to know
TFC will try to make it two wins in a row when they host their Canadian rivals and ex-Red Richie Laryea on Saturday night.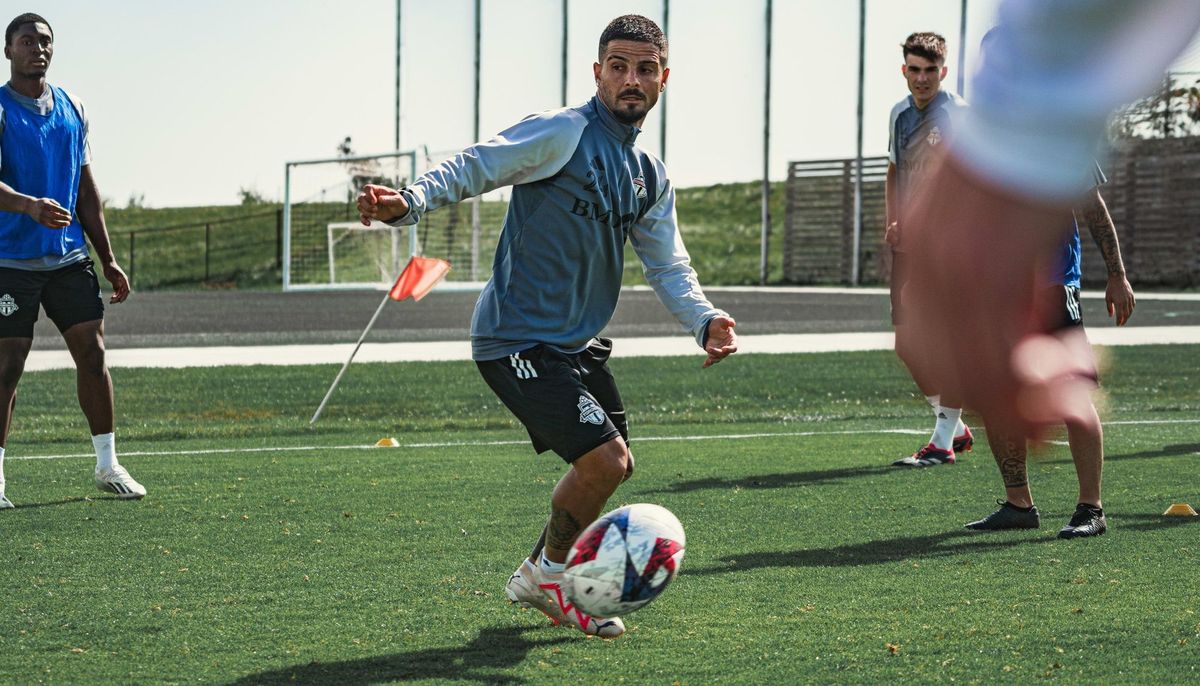 TFC Republic is on a
free trial this week
, so please enjoy this story and many more that will come out from behind the paywall until Wednesday, Sept. 13.
You can subscribe to TFC Republic by
CLICKING HERE
, or by clicking on the subscribe button on the home page. A monthly subscription costs just $8, while a yearly subscription is $50 (a savings of 48%).
It's been over a year since Toronto FC have put together a winning streak in MLS.
Not since Aug. 6-13 when it posted victories against Nashville SC and the Portland Timbers has Toronto earned consecutive league wins.
TFC will try to end that slump this weekend against one of their Canadian rivals.
Here's what you need to know about Saturday's match between Toronto and the Vancouver Whitecaps (7:30 p.m. ET/Apple TV).
Terry Dunfield: 'We're making progress'
Toronto has been idle since recording an impressive 3-1 home win over the Philadelphia Union on Aug. 30, a result that snapped a 10-game losing streak and a 13-match winless skid, both franchise records for futility.
Interim coach Terry Dunfield insists the club has been able to maintain the buzz from the win vs. the Union in training the past two week during its layoff.
"I think the feeling internally throughout has been we're making progress. Philly was a great benchmark for us... It was a nice positive sign that we're moving in the right direction and our hard work on the training ground is beginning to pay dividends," Dunfield told reporters after Friday's practice.
The victory was TFC's first in nine matches under Dunfield. The Reds' previous win came in a 2-1 home decision over D.C. United on May 27 when Bob Bradley was still in charge.
"This break has been mostly about analyzing the win over Philly, taking the positives and bringing them into our next game. The work has been very good. It was good to come together during this break and break down certain points and aspects we can work on and build on," midfielder Alonso Coello told TFC Republic this week.
He added: "There's positivity all around the club and locker room and hopefully we can translate that into another good performance this weekend."
With only seven matches left in the season, Toronto has left it too late to make up a 12-point difference in the playoff race, so it's only a matter of time before it is eliminated from post-season contention. Right now, it's about building some momentum ahead of John Herdman's arrival. The former Canadian national team boss is scheduled to take over the reins at TFC from Dunfield on Oct. 1.
"There's not that much pressure [on the team]. But I don't think there's been a switch that 'now there's no pressure at all.' I feel like we played a lot [better] without the pressure in the last game," defender Sigurd Rosted on Friday.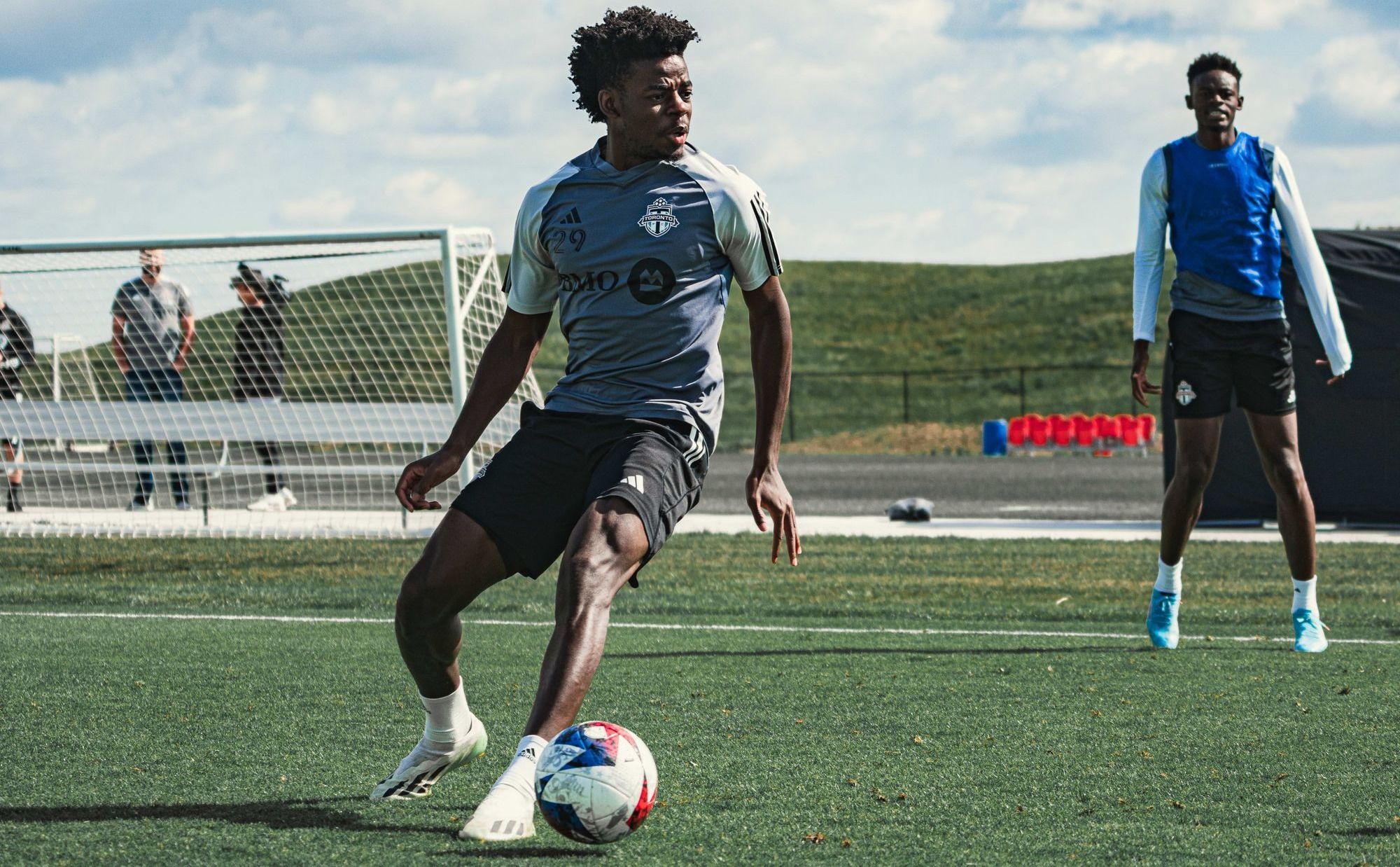 Richie Laryea returns to BMO Field as a Whitecap
Saturday's game marks Richie Laryea's return to BMO Field for the first time since leaving TFC this summer.
On Aug. 2, Laryea, a 28-year-old native of Toronto, joined the Whitecaps on loan for the rest of the season from Nottingham Forest. TFC had tabled an offer to the English club for Laryea before his original loan deal expired, but in the end the Canadian international wound up with the Whitecaps.
Laryea had been Toronto's MVP in 2023 before his departure with two goals and three assists in 18 MLS appearances (all starts). On five occasions this year, he was named to the MLS team of the week, more than any other TFC player.
The former TFC fullback has one assist in four appearances (all starts, 292 total minutes) for Vancouver.
"He's a very annoying player to play against. He loves competing and he does it very well. In terms of football quality, he has a lot of it. On a personal side, I'm very excited to see him again," Alonso Coello told TFC Republic.
Terry Dunfield turned out for both TFC and the Whitecaps during his playing career, so he knows what Laryea must be going through as he prepares to return to BMO Field. But he thinks Saturday's game is more about Canadian bragging rights, rather than Laryea wanting to stick it to his former team.
"I think the starting point is you want to be the best in Canada. When I was in Vancouver, you're fighting for that and the same here. Since I played in the league for [both teams], the rivalry has grown," Dunfield said.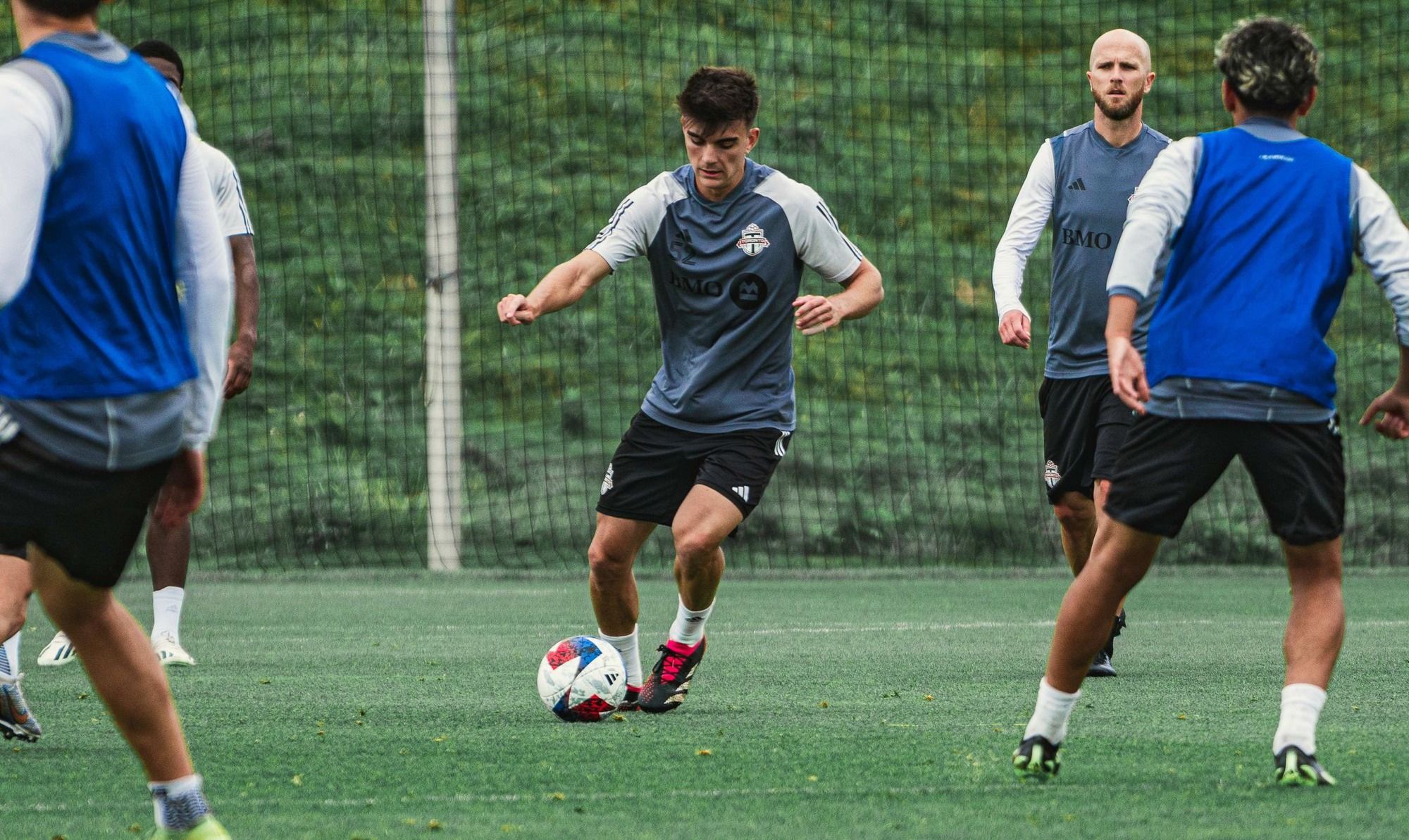 No last-minute deal for Sebastian Giovinco
Fans hoping for a Toronto FC-Sebastian Giovinco reunion will be disappointed as the club won't be bringing him back this season. However, the door is being left open for the Italian to return at some point.
Just a reminder that the MLS roster freeze deadline is at 8:00 p.m. ET on Friday, at which time clubs must submit their final 30-man rosters for the remainder of this season. Rosters can't be changed from that date through to the day after MLS Cup, subject to the league's "extreme hardship rule." Even though the MLS secondary transfer window closed on August 2, MLS teams can still sign free agents and players who are out of contract, so long as they do so by the roster freeze date.
Giovinco has been working out by himself and with the rest of the team for the past month, but the Italian won't be signed to a deal by TFC before the deadline. As such, the earliest the Reds can sign Giovinco would be the day after this year's MLS Cup final. The Italian forward has been without a club since parting ways with Sampdoria last summer.
Giovinco, who turns 37 in January, took part in Friday's practice with the rest of the team and will continue to train with TFC for the foreseeable future. Sources told TFC Republic that there is talk of him possibly being invited to pre-season training camp next year. The same sources said that Giovinco was looking to sign a contract with TFC through 2024, which may have been another obstacle to overcome, setting aside his match fitness issues.
"My thoughts are that if we were just looking for a nice moment, a nice feeling for our fans, for Seba, we probably could've pulled the trigger on a deal. But in my opinion, that's not Seba. I think Seba wants to come back and be impactful and really make a difference," Terry Dunfield said.
"At this stage, he's probably realistically two or three weeks away for roster selection. Unfortunately, this year we've run out of time. So, the plan is for Seba to continue training with the group; he'll be flying [in training] when John Herdman comes in at the beginning of October and then we go from there."
Injury report: Owusu, Mailula still out for TFC
Forward Prince Owusu and winger Cassius Mailula both (lower body) will miss Saturday's contest. It'll be the third straight game that Owusu will miss, while Mailula previously sat out the match vs. Philadelphia. Terry Dunfield said on Friday that Owusu will travel with the team for its two road games next week.
Also ruled out for Saturday's match is fullback Cristián Gutiérrez (lower body), who has made just two appearances for the Reds since being claimed off waivers on March 14.
Forward Adama Diomande (Achilles tendon) has been placed on the season-ending injury list which means he isn't allowed to play for the rest of the MLS campaign. Starting goalkeeper Sean Johnson (hand) and third-string goalkeeper Greg Ranjitsingh (knee) remain out with long-term injuries. Ranjitsingh was involved in training this week, while Johnson is still recovering from his surgery.
The good news is that centre back Shane O'Neill (concussion protocol) is available for selection after missing the Philly game. Forward CJ Sapong and midfielder Latif Blessing (both lower body) are also back after sitting out the match vs. the Union.
Goalkeeper Tomás Romero is back with the team after being away on international duty with El Salvador during TFC's recent break.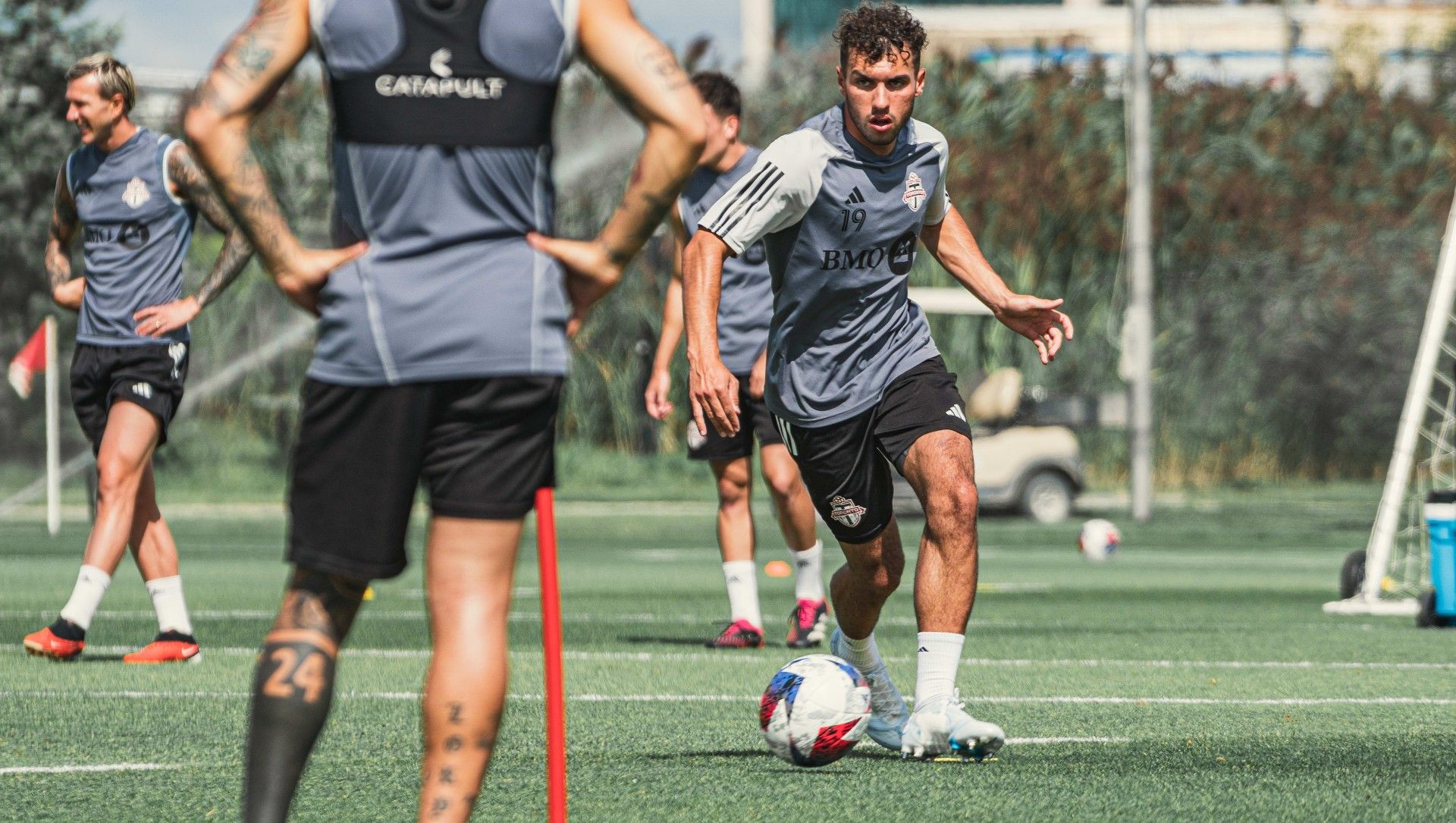 What to expect from the Whitecaps
Vancouver (10-8-8) sits sixth in the Western Conference and is unbeaten in three straight games, including a 1-1 decision away to New York City FC on Sept. 2 in its last outing.
Midfielder Ryan Gauld and forward Brian White lead the Whitecaps in scoring this season with 10 goals apiece. Gauld is also the club's top playmaker (five assists). Goalkeeper Yohei Takaoka has started 25 of 26 league games in 2023 with six clean sheets.
"Gauld and White are a handful up top," Terry Dunfield noted.
Dunfield described the Whitecaps as an aggressive side that can hurt opponents on the counter.
"They're a team that are very good in transition, that they're touch direct. They're very active, they don't stop," Dunfield explained.
Sigurd Rosted added: "If we can match the energy of Vancouver, which is really high, I feel like then we can beat [them]. So, we're going to start with that in the beginning and hopefully we can go on the same run like we did in the last game."
---
---
What happened last time between Toronto and Vancouver
Toronto and Vancouver last faced each other on May 8, 2022, at BC Place when the home side earned a 1-0 win. Former TFC player Tosaint Ricketts came off the bench in the 85th minute and scored the game winner five minutes later off a setup from fellow substitute Lucas Cavallini.
The loss against its Canadian rival was especially bitter for Toronto as Jayden Nelson appeared to have scored a perfectly legitimate goal in the 66th minute that was controversially not given by the referee, whose decision was not deemed to be a clear and obvious mistake by the VAR booth. Alejandro Pozuelo also failed to convert from the 12-yard spot in the first half.
The all-time MLS regular season series between Toronto and Vancouver is tied at six wins and three draws. This will be the only meeting of 2023 between the clubs.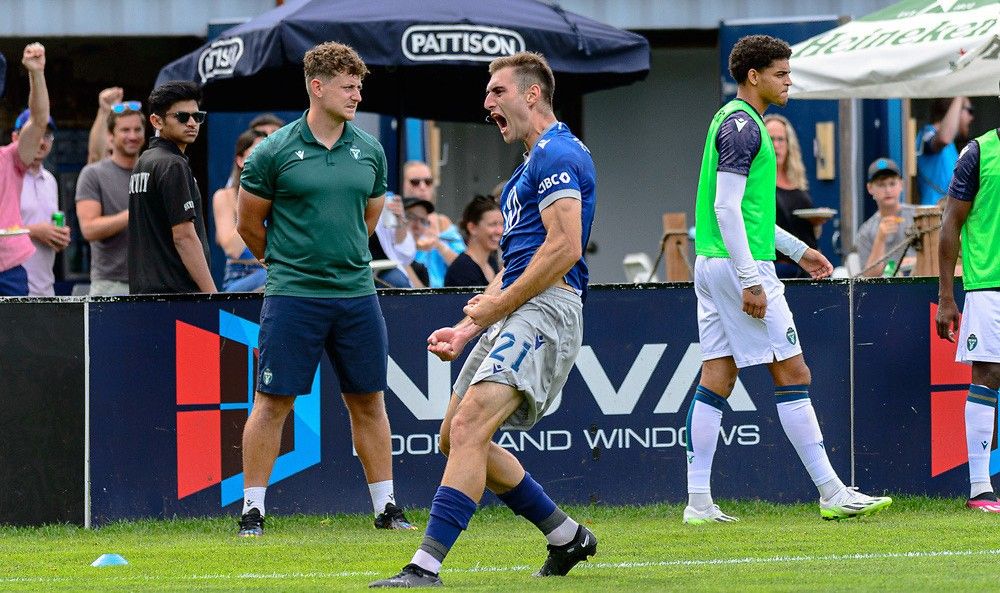 What's next for Toronto FC
Toronto FC returns to action on Sept. 20 when it visits Lionel Messi and Inter Miami (7:30 p.m. ET/Apple TV & TSN).
(Top photo courtesy of Andy Truong/Toronto FC)
---
TFC Republic has a comments section! At the very bottom of every story, there is a feature where you can post your comments, so be sure to share your thoughts and views.
TORONTO FC TICKET DISCOUNT FOR TFC REPUBLIC SUBSCRIBERS!
TFC Republic subscribers can get up to a 25% discount (including no Ticketmaster fee) on ticket prices for Toronto FC home games.
To receive the special promo code, email me at
johnmolinaro@rogers.com
(Please don't share promo code with non-TFC Republic subscribers).